Since the late 1970s, the average CEO of a large U.S. company has seen compensation rise almost 1,000%. In 1978, CEOs earned $1.5 million a year. Now they get $16.3 million, including stock options. At the same time, average workers have seen their earnings rise just 10.9%, after adjusting for inflation. In 1978, they made $48,000; now it's up to $53,200.
These huge divergences, detailed in new paper from the Economic Policy Institute, help explain one reason for the income inequality that we hear so much about these days. In the '70s, CEOs earned about 25 times as much as average workers. Now, that ratio is above 300.
"The growth of CEO and executive compensation overall was a major factor driving the doubling of the income shares of the top 1% and top 0.1% of U.S. households from 1979 to 2007," say the authors, Lawrence Mishel and Alyssa Davis.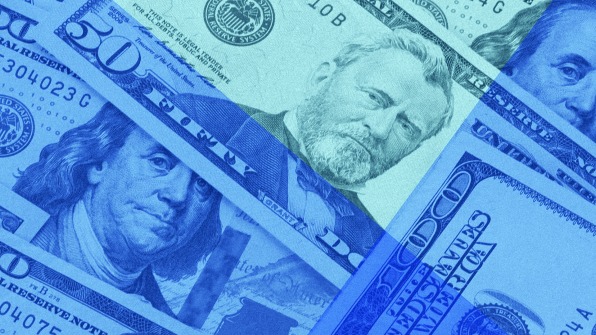 Defenders of outsized executive pay argue CEOs get what they deserve: that their performance justifies the huge outlays. But the paper doesn't find much evidence for it, at least in the aggregate. Between 1978 and 2014, the stock market rose only about half as much as CEO pay did. And CEO pay has been rising across the board, both at companies that have been doing well and those that haven't.
Mishel and Davis argue that CEO pay is driven not by a "market for talent," but rather "the power of CEOs to extract concessions," or, what in economics-speak is known as "rent seeking." That might include the ability of managers to recruit allies to company boards or pay-supervisory committees, which, because they were hired at a manager's behest, have incentives to approve high rates of compensation. Mishel and Davis say that reducing CEO pay by doing something like taxing it more should have "no adverse impact on output or employment." That's because pay is driven less by market forces than by a sort-of conspiracy to raise their own earnings.
The analysis looks just at the 350 largest companies by sales, which obviously inflates the numbers somewhat. Including smaller companies reduces the differences between higher and lower earners, as CEOs of smaller firms earn less. Meanwhile, other research indicates that the gaps between employees within the same firms have not widened as fast as among firms in general.
Still, it's pretty clear which way the trend has been heading and that things have got out of whack. Mishel and Davis argue for increasing corporate taxes for those companies with high CEO-to-average pay ratios and reducing the tax deductibility of stock options. Both ideas sound like they might work.