The news is all over the place today. Massacres in Kuwait and Tunisia, a literal decapitation in France. But then we also have the Supreme Court going full Oprah, except instead of bees it's giving everyone health care and gay marriage. Was that last sentence just an excuse to use the Oprah Bees gif, you may be wondering? Yes it was! Let's roll that gif: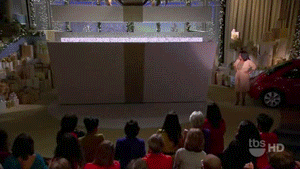 But what about all the unimportant things that happened? Like "Google's self-driving Lexus cuts off self-driving Audi," leaving us all with a new understanding of driverless cars as robot suburban commuter assholes. Someone named a cat "The Buzz About Twitter!" and has apparently not yet been arrested? Abstinence poster child Bristol Palin continues to exemplify the effectiveness of abstinence education as a birth control strategy. Remember #seapunk? MTV does. The only person still confused about what the Confederate flag means is 2016 Democratic hopeful and lifelike mashed potato sculpture Jim Webb, who later clarified his thoughts on his website:
Can You Have It All? (20s) Can you have a super-fulfilling career but also a full social life and still make a "moderately comfortable living" asks Cataloguer of Thoughts and literal 26 year old Chelsea Fagan.
Can You Have It All? (30s) But what if you find yourself in your 30s and you already own your "luxury dream home" on one salary because you carefully budgeted and scrimped for the necessities like a ride-on lawnmower and a generator, but your "uterus literally aches" for a third child? What if you went to the Child Store and all the children they had were too expensive for you to buy?! What then? If you are Sarah Scott, you just bravely make your "quiet sacrifice," never mentioning it except in the pages of Elle Decor, and you content yourself instead with knowing when there's a storm a-comin' on account of the ol' achey uterus.
Picture in your mind's eye the friend that you think will be the first to get gay married this summer. What do they look like? Themselves? A fuzzy collection of shapes? You might have aphantasia. Or, you could just be measuring your abilities against your own subjective experience, leading to some pretty shaky data that would never hold up in court. Hopefully in the future we'll be able to pull raw, objective information out of people's heads. Which should work out great.
Speaking of that glorious future, it's looking like that'll include the unfettered harassment and doxxing of women. ICANN is currently considering a move to disallow proxy registration services, meaning that unless you are willing and able to shell out for Whois privacy protections, your full name and address will be easily searchable by any sad sack with an extra thirty seconds and the desire to do you harm. And if you don't get why that's a big deal, "congratulations on your white penis", asshole.
Commercial WHOIS protection is a tax on women with websites. WHOIS protection should be default and free, not *removed*!

— a psymple psyduck (@sarahjeong) June 24, 2015
Not-at-all-speaking of assholes, despite only publicly supporting same-sex marriage since 2012, President Obama celebrated today's SCOTUS ruling with a speech that went off without a (forgive me) hitch. Unlike his address at an LGBT function earlier this week, which was interrupted by Jennicet Gutiérrez, who sought to draw attention to the plight of LGBT immigrant rights. Luckily, the most powerful man in the world told her, "You're in my house," reminding us all that the only way to get change is to behave respectably.
Remember that time that patient, polite, chummy national LGBT organization got the whole country caring about trans detention?

OH WAIT.

— Carlos Maza (@gaywonk) June 25, 2015
She says this is 249 words but I think that's only if you consider "Not-at-all-speaking" to be a single word, which: hmmmmmm.
Today's Romance Novel: FROSTINE: Portrait of a Lover by DVS.
Today's Song: How about any of these potential Songs of the Summer offered up by former guest Tabs intern Vijith Assar.
~The world is a tab fire~
I caught a cold in New York so Today in Tabs is more (•_•) than ᕕ( ᐛ )ᕗ today. Fast Company is our ☃. Subscribe by email to gay marry me. I don't care if Monday's blue, there will be more Tabs then.
things fall apart in the streets; the center cannot hold in the sheets

— mark leidner (@markleidner) June 25, 2015