In London's Notting Hill, one man's love of brands has grown into something of an obsession. Over 30 years, curator Robert Opie has collected the chocolate bars, cereal packets, and washing powders of yesteryear, using them to build a public collection: the Museum of Brands, Packaging and Advertising. The artifacts may not be valuable, but they form a crucial part of the nation's culture–a shared heritage that goes beyond individual memory.
Yet the objects in Opie's collection require some explanation in order to hold meaning. On their own, they fail to capture what makes a brand, because, if you really boil it down, brands only exist in our minds. They are, in David Ogilvy's words, "the intangible sum of a product's attributes"–a mix of objective fact, emotion, and association, constructed in the memory.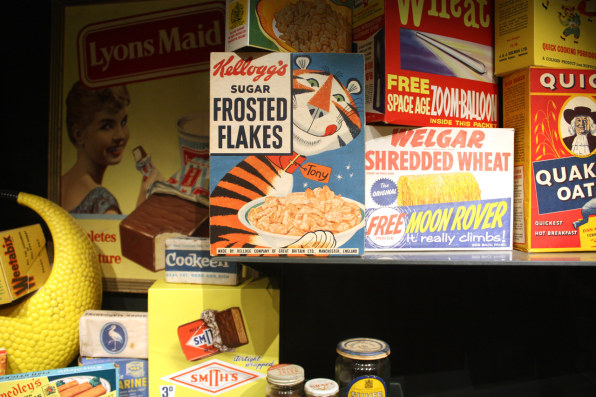 You can split brand memory two ways: we have individual associations, implicit to us alone, and then collective ones that form part of our shared culture. Collective brand memory allows us to have an experience as a group in ways we can't as individuals, and that makes it more powerful. Indeed, collective associations can have such a big impact that they change us as a society. Think of the connective force of Facebook, Google, Uber.
The Power of Memory
But if brands are built of memories, why aren't companies spending more time and money curating their history online?
In a digital age, the Internet is obvious place to do this, yet many companies are failing to manage their own digital heritage. The money spent establishing their brands over the years is being wasted, as the curation of their history is just being left to Facebook, Wikipedia, and Google's search algorithm. It's a massive oversight and lost opportunity.
Company and market disruption is now everywhere and causing concern in boardrooms as companies strive to evolve. As already established brands, long-standing companies have a big competitive advantage: their heritage and the brand memory they've cultivated over time.
The history we have with a brand shapes our views of it for the long-term. If a brand is associated with positive memories, it is more able to diversify into new sectors. A customer will trust it to offer the service they have come to expect, just in a new category.
So what can brands do?
Companies need to curate their history in an engaging, inter-connected way that allows people to access visual stories and memories, told through the individuals that shaped and built them. This would have three effects: building a digital presence that educates people internally about the company and shows externally its relevance in today's world; preserving the company history and curate it for the future; allowing for mass education about a brand through ubiquitous access, invoking a collective memory.
Whereas just 20 or 30 years ago, these stories might stay confined to a book or on-site exhibition, or worse, buried in file boxes, the digital age in the form of the Internet offers the perfect way to both tap into collective brand memories and also preserve history. Here are three practical steps for sharing memory.
1. Digitize an accessible archive
Every company with heritage has an archive of content that needs to be digitized and made accessible. The content–pages may number into the hundreds of thousands– must be structured and made easy for anyone to navigate.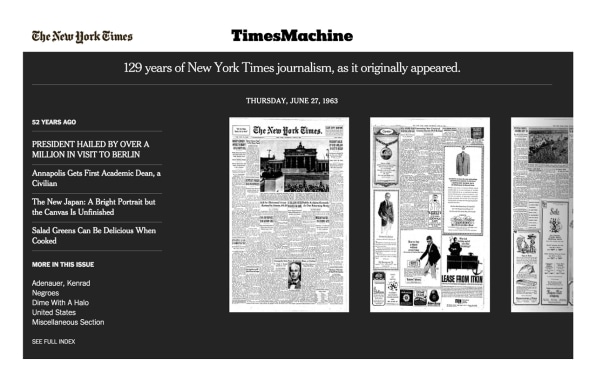 Brands can learn from the example of publishers, who have led the charge in designing effective digital archives. The New York Times is a great example. Instead of leaving back issues to grow dust, the paper unlocked the value of its old content with the Times Machine, which resurfaces historic interviews and features to give context to current news stories, boost reader dwell time and cultivate a strong brand story as a long-established "newspaper of record."
2. Design an interface that enables users to discover content
The design of the interface should allow users to discover content easily and intuitively, and provide an emotional hook that encourages people to delve deeper. The most crucial aspect in the creation of a digital archive is its visual and interactive design; it should look amazing and work beautifully on all devices. Analyze the user data to understand behavior and then shape and evolve the user experience accordingly.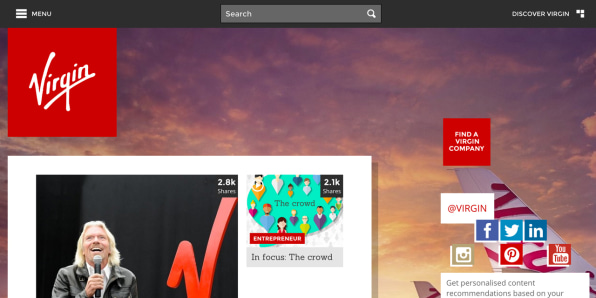 This requires good programming, so archive material can be resurfaced in response to a user's habits. Virgin.com is an example of a site that does this. Using a piece of technology called "The Kinetic Engine," the site determines the type of content users are consuming and recommends relevant content in response. This delivers a more immersive, meaningful, and engaging brand experience.
3. Create a searchable visualization of the company
In essence, brands will be creating a digital record encompassing their entire history and culture. The simplest way to do this is to create "exhibits" that allow users the opportunity to explore specific time-periods or events that might be relevant to them.
.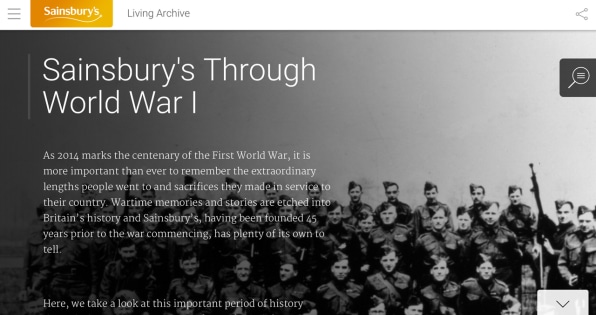 The British supermarket Sainsbury's is a great example of a brand that has done this. Its "living archive" is like a digital museum, using historic collections to showcase the company's long-standing values and cultural heritage. Material is displayed through interactive stories, grouped around themes such as World War I and Christmas Past and Present.
The advancement in digital technology and location-based services over the past decade has given us the ability to preserve culture and history in an unprecedented way, so that it can be accessed by anyone at any time. It could be rudimentary browsing on a homepage, moving to more complex thematic discovery. Tying into maps, it could also be contextual discovery on-site at a particular location, creating delightfully surprising moments. It's through journeys like these that new memories are forged and, possibly, shared.