I ask questions for a living. Lots of questions, especially about the critical but often mysterious intersection of creativity and business. Where do you get your best ideas? How do you turn them into hit products, technologies, or services? How do you cope with failure?
As I arrive at Los Angeles International Airport on a recent afternoon, I'm mulling over a few other inquiries as well: What's next for London's thriving tech scene? How does the center of activity, the area known as Silicon Roundabout, compare to Silicon Valley? What can we learn from Great Britain's great geeks?
I'm headed to London in search of answers from such dynamos as Simon Robinson, co-founder of the Foundry, whose software is the secret ingredient in Hollywood special effects and increasingly computer-assisted product design as well; Imran Amed, a management consultant-turned-fashion player as the founder of the must-read site and magazine, The Business of Fashion; and Eileen Burbidge, a Valley transplant and former tech exec who's one of the city's most influential—and unconventional—VCs.
That's not all. Etsy, Microsoft, Mind Candy, and Made by Many are on the jam-packed agenda as well. Andy Chen, the former CEO of Tidal, Jay Z's new company, is a late addition, courtesy of JC Oliver, Microsoft's global head of innovation.
Mind if I bring him along to dinner? asks Oliver.
You kidding? Bring him!
This is no ordinary reporting trip. I'm leading a team of creativity scouts who have their own questions and interests. As a follow-up to our FC/LA conference in May, Fast Company and Virgin Atlantic, the trip's sponsor, chose five attendees for an all-expenses-paid insider's tour of London. The winners were selected based on tweets describing how they put the airline's "Business is an adventure" philosophy into action.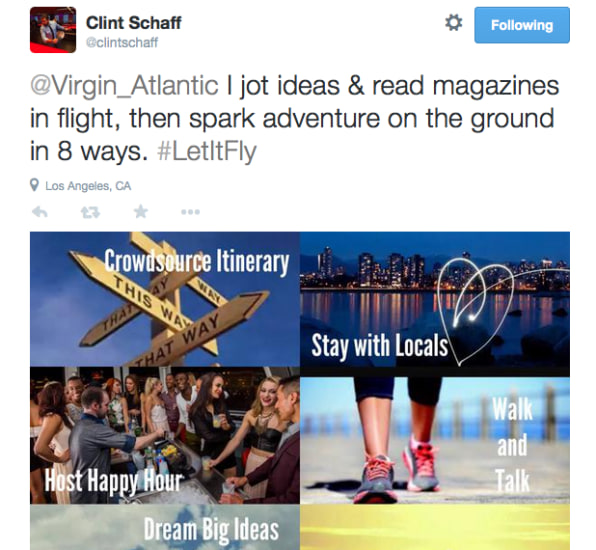 The group represents an eclectic and impressive array of brands: Johnna Marcus, senior director of Sephora's Innovation Lab; Adam Britten, strategy manager at Meredith Xcelerated Marketing, who handles social media for NBC shows; Jill Kinney, a Gatorade, Nike, and Beats By Dre marketing veteran; Kristin Guy, a food and lifestyle creative director and brand consultant and editor of Dine X Design; Clint Schaff, the U.S. general manager for the integrated marketing and communications agency Camp Playa and a startup advisor.
The tour kicks off even before we board the plane. Jeremy Brown, Senior Design Manager, Customer Experience at Virgin Atlantic, leads a behind-the-design walk-through of the Clubhouse, the airline's new lounge for Upper Class passengers (read: business class) and Flying Club Gold members. It opened in April in conjunction with the introduction of the Boeing 787-9 Dreamliner for the LA-London route.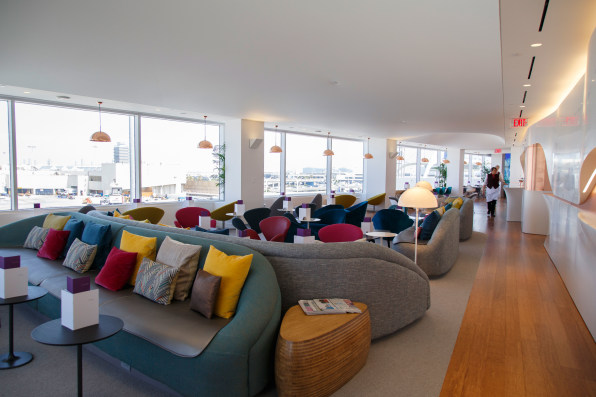 "We designed an emotional experience," says Brown. The minimalist entrance—a white desk in front of elegant, curving white walls—sets up "the big reveal," he says. The serene, sun-splashed interior could not feel more different from the frenzy and drabness of a typical airport terminal. The lounge overlooks the runways and the Hollywood hills (and, on clear days, the famous Hollywood sign), and features colorful contemporary chairs, oversized couches, and tables. The bespoke furniture and original artwork look right out of a beach-front jewel on the Pacific.
Like Virgin Atlantic's other Clubhouses, the LAX space reflects the locale. There's a surfboard-like table running the length of an expansive window, skateboard-themed bathroom tiles, copper wall panels and light fixtures, and a complimentary full-service menu including recipes by the popular L.A. restaurant Hinoki & the Bird. Although the 4,000-square-foot space is one-fifth the size of Virgin Atlantic's flagship lounge at London Heathrow, which has a spa, hair salon, and showers, it's an equally inviting escape.
As for the Dreamliner, Virgin Atlantic's designers went beyond Boeing's phonebook-thick catalogue of options, customizing the plane's interior. At one end of the Upper Class section is a stylish, compact bar, with four stools and a large touchscreen, for in-flight gatherings, even presentations. "They use us as a model to show what's possible," Brown says.
A discerning designer, he takes pride in the details. A new foam composite that provides a soft seat while saving an inch of leg room—no small thing on a nine-hour-plus flight to London. Cabin lights that are programmed to change—purple to silver to orange—throughout the journey signaling the shift from night to day. The lack of branding; other than a sign at the Clubhouse entrance, the airline keeps a low profile.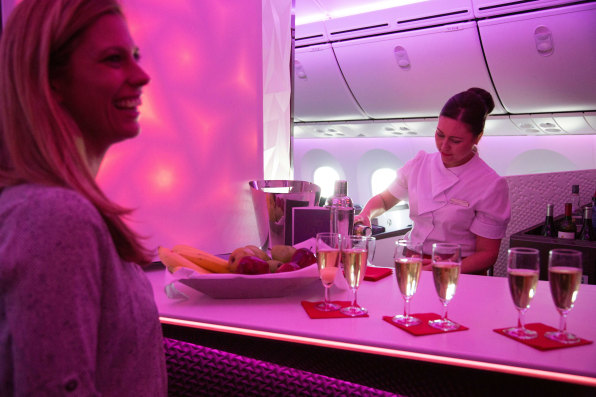 As Kinney, our group's Gatorade, Nike, and Beats alum, points out, it's a counterintuitive strategy: the subtle touch makes the brand stand out.
Being distinctive, being true to your brand—those are themes that we're certain to explore with the companies in London. Such as Microsoft, which is working with NASA to save lives with smartphones; The Business of Fashion, which uses its outsider's perspective to its advantage; And Tidal, an obscure music streaming service that somehow got the attention of one of the most famous musicians on the planet.
That's all in my next dispatch from London. For more coverage of the Fast Company/Virgin Atlantic #LetItFly creativity tour, go here.
---
Chuck Salter for FastCo Works, Fast Company's content studio.