The 2011 Tōhoku earthquake triggered a tsunami off Japan's coast that killed almost 16,000 people and injured 6,000 more. Tsunami early warning systems prompted evacuations, but some physically couldn't leave–mostly children, the elderly, and the infirm. What if you could protect the immobilized from nature's worst? Survival Capsule, a small company just north of Seattle, Washington, is channeling its founders' decades of aerospace experience into building ultrastrong spheres for people to shelter inside during catastrophic storms.
The clock is ticking: experts expect another colossal tsunami to wreck Japan's coast in the next 20 years. Can the Survival Capsule company convince Japan that its impregnable bathyspheres will save Japanese people?
In theory, crawling inside a Survival Capsule and bolting the door will save you from anything a tsunami can throw at you–impacts, heat from fires, and even survive underwater with a 60-minute air tank. So long as the pod isn't submerged underwater, survivors can stay inside it indefinitely and use it for shelter after the storm has passed. Tsunami waves typically flow around 25 mph, so the capsule would have to withstand impacts from objects carried by the wave at that speed–but Survival Capsule's tests have found that the capsule can withstand impacts from objects at up to 75 mph, says the company's president and cofounder Julian Sharpe.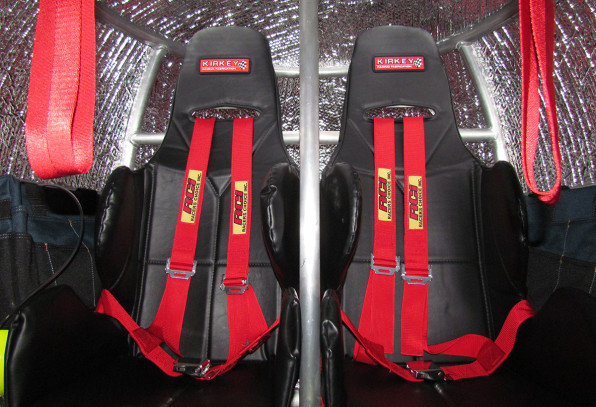 The capsules themselves are spherical metal cages sheathed in an aircraft-grade aluminum shell and the inside of the shell is lined with a ceramic thermal blanket to protect from extreme heat and keep the capsule from cooking its inhabitants. If it looks like a spaceworthy escape pod, that's for a good reason: Sharpe and Survival Capsule's other cofounder Scott Hill each have decades of aerospace experience designing commercial aircraft and spacecraft. At any altitude, maintaining the structural integrity of an aircraft is key: a single breach could rip the plane apart. The same applies to the Survival Capsule.
"The capsule is similar to an aircraft–it has to maintain its structural integrity. An aircraft is designed to do 20,000 flying hours. You can't afford failure," says Sharpe.
But in an environmental immersion test last January, a Survival Capsule did experience a failure–a human failure. The team had hauled one of their experimental two-person survival capsules to an Oregon river and, when a computer technician rebooted the computer sensors inside the capsule, the technician failed to completely bolt-lock the door while closing it from the outside. The capsule sunk. That's only possible when you're closing it from the outside, says Sharpe–inside, you can clearly tell when the door bolts engage, as can be seen at the end of Survival Capsule's capsule development video. For the following test in February, the Survival Capsule team were extra careful to bolt the door–and no flooding occurred. Still, it has led Sharpe to plan for emergency instruction cards to include with the capsules like the ones used in airplanes.
Is the Survival Capsule too complex–especially for disaster-panicked users? We probably will not find out until a Survival Capsule gets used as intended in a natural disaster. More importantly: should survival pods be part of a disaster preparedness plan at all?
Patrick Corcoran, a coastal hazards outreach specialist at Ocean Sea Grant at Oregon State University, dislikes the weak planning infrastructure around survival pods. Not everyone can afford a $10,000 pod, he says, and if a tsunami warning is sounded, people have only 15-30 minutes to get to their pod. What if they're at work, too far from their pod? What if they're having guests over and can't fit them in the pod? Ultimately, Corcoran believes that survival pods are an engineering solution to a human behavior problem. Survival pods are unproven in a disaster, while tried-and-tested human evacuation plans still save many people–why not just improve the human behavior?
"It seems more efficacious to 'move to high ground after a big earthquake,'" Corcoran wrote in an email. "This will also make people think about evacuation routes, assembly areas, and the public investments needed to develop these proven approaches."
Sharpe and Hill built the Survival Capsule expressly for less-mobile people–the elderly, the infirm, and the young–who cannot evacuate to higher ground in time (if at all). But the Survival Capsule also aims to be a failsafe for freak storms that very quickly become far more dangerous than originally thought. The computer-modeled predictions immediately following the 2011 ōhoku earthquake told residents near the epicenter of the tsunami to prepare for 6-meter high waves, according to Nature. The predictions were wrong and 20-meter waves crashed over city sea walls–and reportedly some of the 9,540 killed in Miyagi prefecture believed they had retreated to a safe distance. The tsunami destroyed sea walls and leveled three-story buildings that people were sheltering inside.
While people living in Japan and elsewhere along the tsunami-prone Ring of Fire regularly train for tsunami evacuation, Americans do not. Changing people's minds is a huge undertaking, says Dr. Eddie Bernard, advisor for Survival Capsule and former head of the tsunami-tracking agency National Oceanic and Atmospheric Association.
"With hurricane Sandy, not everyone evacuated. Some people stayed in their homes. There's plenty of evidence that this is a bigger problem than people are admitting," says Bernard. "Globally, 60,000 people per year are at risk. If you start to look at the numbers, at the concentration of people and the growing urban centers, you start to look at ports: New York City, Seattle, Los Angeles, Miami, Singapore, Shanghai, cities in India."
Sharpe thought up the capsule after the devastating 2004 Indonesia tsunami, but fully committed to the Survival Capsule project after the 2011 Japanese earthquake and tsunami. A local reporter wrote about Sharpe and Hill's nascent Survival Capsule and introduced them to Bernard. The Survival Capsule team entered their capsule idea in a May 2011 NASA Tech Brief competition and placed 9th out of 350 entries. The Survival Capsule team took their prototype capsule around Japan to annual disaster preparedness expositions in Yokohoma and Sendai in 2012 and 2013. That's where they met the competition: fiberglass capsules. Sharpe was not impressed.
"When I went to Sendai [post-tsunami] I saw rebar everywhere. If you're running at 16 or 17 miles per hour in a water flow and happen to hit those, glass fiber doesn't absorb that impact–but aluminum does," says Sharpe. "In the drop tests with our capsule at 10 feet with a maximum load of supplies and weight representation of people, simulating an impact of 20 miles per hour, all we got were a few dents. Drop a plastic capsule the same way and you'll get cracking and your structural integrity will get impaired."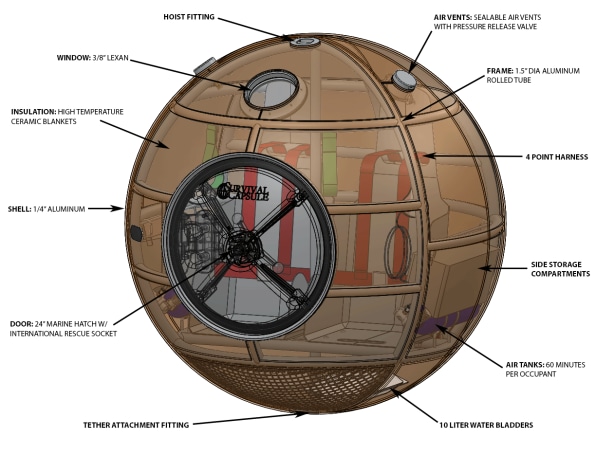 Competing survival pod designs have surfaced since the 2011 tsunami, including Noah, a spherical pod that looks strikingly similar to Sharpe and Hill's Survival Capsule. But watch this CBS video report and you'll see that Noah is a simple fiberglass shell without the Survival Capsule's steel internal frame or thermal coating. Building in fiberglass keeps cost down–Noah had retailed for $3,500 and could squeeze in 4 adults while the basic 2-person Survival Capsule costs $10,000–but fiberglass melts under extreme heat and exudes toxic fumes, says Bernard. Worse, if the fiberglass warps, the door might no longer seal shut. But the comparison might be moot: the Noah survival pod does not appear available for purchase anywhere online, and it's former domain is now for sale.
Survival Capsule is selling its made-to-order capsules through its website. Survival Capsule has already sold 10 two-person capsules in Japan through a local company, says Bernard, and long-distance adventurer Alex Bellini is preparing to live within a 10-person Survival Capsule for a year atop an iceberg as part of his Adrift endurance stunt. Unfortunately, public interest in disasters is fickle, leaving with the tide as new stories capture the public imagination.
"It's been four years since the last major tsunami and that's probably about the time when people start forgetting that the hazard exists, so we're fighting amnesia," notes Bernard. "They say, 'why am I worried about this?'"
That means Survival Capsule's business might not pick up until after another disaster. All they can do in the meantime, Bernard says, is make a product that lasts.