The notorious lack of women in leadership roles in STEM seems to run rampant everywhere–everywhere except NASA, an administration that not only puts women at the helm, but continually gives them a platform to drive the larger conversation around the need for more women in the sciences.
Case in point: Dr. Ellen Stofan serves as the chief scientist of NASA. Deborah Diaz is NASA's chief technology officer for IT. Teresa Vanhooser runs one of NASA's largest facilities in the U.S. responsible for building rockets.
Dr. Tara Ruttley manages the science programs aboard the International Space Station. For the first time, half of an astronaut class consists of women. And now, through the convening of a new user community called Datanaut Corps, NASA is unlocking opportunities for women entrepreneurs in the tech and maker communities to use the agency's infinite gigabytes of open data to pioneer space-inspired data science.
The Datanauts program is emerging at an ideal time. As big as big data is, it needs diversity in order to thrive. According to a 2011 report by the Economics and Statistics Administration, women have seen zero employment growth in STEM jobs since 2000. Considering five of the top 10 jobs for millennials are of the tech and maker space, with "data scientist" coming in at No. 4, the need for the inclusion of women in STEM is more pressing than ever. The only way society will get closer to having a 360-degree perspective is through the democratization of roles across male-dominated industries.
"For women in science over the centuries, our contributions to so many fields are there, but they are not talked about as much as they should be," says Stofan. "So while most women in science have persevered by making significant contributions to every field, I think women in science today need to and are speaking up louder and louder to say, 'We are here, we are doing amazing science, and we are the role models for the next generation of STEM girls.'"
The convergence of open data and female leadership has the potential to challenge traditional decision making across sectors and facilitate more data-driven and collaborative approaches in creating new ventures and solving problems. Datanauts was born out of NASA's open-data priorities as a means to bring more women to the open-data table. While the program is intended for women and men, the founding class is made up entirely of women to encourage other female techies and makers to take the "data leap," as Beth Beck, Open Innovation program manager at NASA's Office of the Chief Information Officer, calls it. Future classes will include men.
"If you think about it, the small niche community of developers, mostly male, is the filter for NASA's open data as they develop tools to interpret NASA data according to their interests and priorities," says Beck. "Citizens consume what the developer community produces with our data. If the developer community had more women, I would imagine the tools created to interpret NASA's data would reflect different issues and priorities."
NASA's Datanaut Corps Founding Member Jennifer Lopez (no, not that one) is working to shape the direction of the Datanauts with NASA's Open Innovation team. She's hoping to inspire future engineers, scientists, entrepreneurs, and young people to learn more about data science and collaborate with NASA.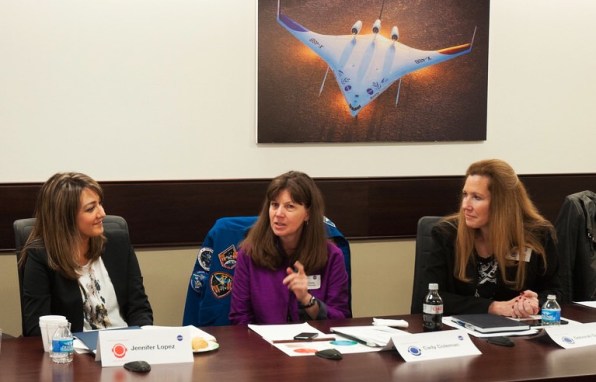 "We're providing the tools and the outreach to enable more women [and men] not only in STEM to collaborate and utilize NASA's open data, but we want the world to know everyone has access," says Lopez. "You don't have to be a developer or a coder or a scientist to participate. The more diverse the participants, the more opportunities we will have to find newer, more innovative solutions and approaches to using the data."
While there is no silver bullet to bridging the gender gap, open data itself stands for universal participation. That's why improving diversity and accessibility is part and parcel to NASA's broader open-data strategy. NASA has been sharing its scientific data since 1958. Since then, an unforeseen amount of external applications have been created using NASA's data to address challenges such as climate change, agricultural development, airline safety, space missions, and more.
As part of the agency's commitment to expand the audience for the vast body of knowledge captured in nearly 100 years of U.S. aeronautics and space data, NASA calls upon outside technologists, developers, entrepreneurs, students, citizen scientists, and others to help create new ways to explore space and Earth and look for valuable data. To help people navigate the ever-increasing amount of tools and data catalogs that are available on NASA's websites, the data.gov directory features information and direct links to more than 100,000 datasets.
One of the top priorities of the Datanauts is to develop strategies with NASA to engage the broader community in using and studying these enormous data, which are in their highest form when the storytelling and collaboration humanize the numbers.
The founding Datanauts class is currently helping the Open Innovation team understand the needs of their communities so they can create the kinds of engagements that matter most to them. There are five objectives for the program design. These include encouraging new data problem-solvers with an initial focus on women, advancing data science, building and enhancing the data innovation community of practice, enabling leapfrog skills development, and creating an environment to foster breakthrough innovations. As Beck says, these objectives may shift or change as the conversation evolves.
For the full program rollout, the Datanaut Corp team is aiming to build virtual problem-solving activities, such as online data treasure hunts, mini-data challenges, and next-generation community engagements including data dinner clubs and pop-up challenges where communities can gather for a few hours to discuss and analyze an issue or challenge.
To kick off the founding class, the Open Innovation team gathered top NASA executives to share their stories about the twists and turns in their careers.
"The lesson we wanted to pass on is that the future simply doesn't exist until we create it," shares Beck. "The future is bright for the founding class of Datanauts, and I'm excited to see where they take us as they create their future in this new world of data and making."
Diaz says it's the communication skills of women that may be their strongest asset when working with open data. "Women are poised to significantly enhance the data science field with their innate ability to strategically analyze and communicate," says Diaz. "While it is helpful they have a strong technical and leadership background, in my experience it is a woman's ability to collaborate, provide positive energy toward new thought processes, and her desire to share that will significantly enhance this field. The next generation of women must be versed in creating new data visualizations and have an ability to translate or story-tell the meaning of this data."
Lopez adds, "We have an important responsibility to ensure the program's success, paving the way for future members and inspiring the public to engage with NASA in this unprecedented collaboration."
As new technologies are built and deployed, open data and the emergent data science field will continue to soar. But the value of any data is only as high as the quality in which it is mined, or analyzed, from different perspectives. And when building communities and cultivating inclusive processes, the perspective of women isn't a commodity–it's a necessity.