For $20,000 each, every school in the developing world could have a room full of computers, so students can access educational resources and get online.
That's the price charged by Aleutia, a London startup founded by an American named Mike Rosenberg. Since 2007, Rosenberg has been building ruggedized desktop computers for African schools and clinics, all powered from solar panels. This summer, it's delivering not only computers and panels, but 47 full prefab container classrooms, one for each of Kenya's counties.
The PC-classrooms, which are 20 feet by 9 feet, will go into schools chosen by Safaricom Foundation, Africa's largest telco, which is funding the project and providing logistical support. "They're getting it out there, we're providing the ready-made structure," Rosenberg says. That includes 10 computers, a server, 11 monitors, a switch, batteries, and the solar panels.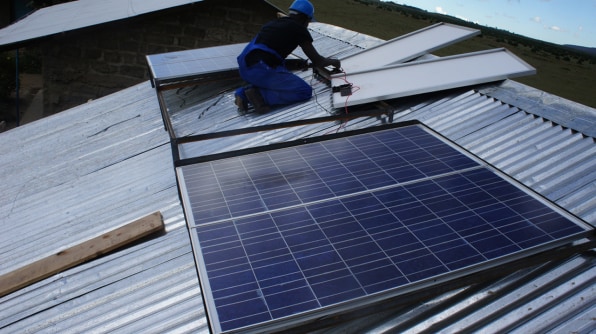 He says it costs about $10,000 for the structure, which is built using a rapid-build "frame cad" steel beam technology, and another $10,000 for the equipment.
Of course, there's a huge need for school facilities in the developing world. Fifty seven million kids globally don't have a proper school to go to, according to UN figures. Millions more kids don't have access to electricity, meaning they don't have access to computers or online resources. Aleutia has worked in eight African countries, installing a total of 366 classrooms (most of these were in existing school buildings) and 13 prefab clinics, all in Nigeria.
In the Kenya project, two whole classrooms fit on a standard 40-foot flatbed trucks. The classrooms come fully preloaded. The roofs already have their panels installed, and the computers come with a range of software and apps, including the offline version of Wikipedia and educational games like Skoolbo, a popular math challenge.
"Usually when we install solar, there are issues with the panels pointing the wrong way or at the wrong angle. Here, because it's all pre-installed and optimized, there's no need for a site survey and other retrofitting costs," Rosenberg says.
At the center of these projects are Aleutia's "ruggedized" computers, which are designed to stand up to temperatures of 50 Celsius, humidity, and sand and dirt. They have solid state drives, no fan, no spinning hardware, and are meant to keep running come-what-may. Rosenberg admits to some virus issues with some of the projects, but the computers for the latest project will run Linux, which should be more virus-free.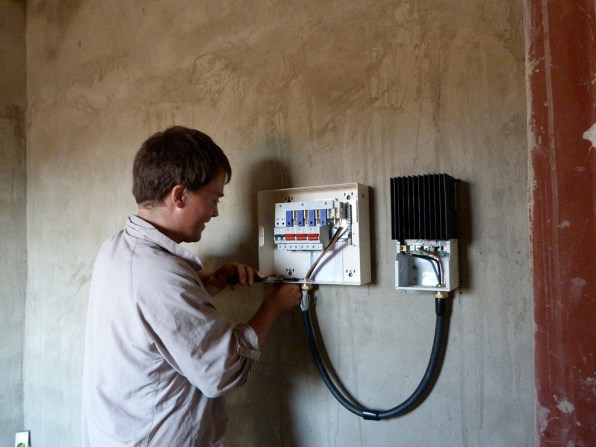 Aleutia sees itself as a flexible provider of products and services, mixing up its computers and solar expertise in different ways. In some countries, it leaves procurement and installation to local partners. In others, like Angola, where there is less local knowledge, it installs everything itself. It's also worked with UNICEF on a Internet-cafe-in-a-box project, which is basically an aluminum box with a local panel and four computers inside. (Samsung has its own shipping container school in South Africa).
The schools can run some additional equipment off the system, like phone chargers and projectors. But it will shut down if someone tries boiling water or running power tools too often. Rosenberg hopes to tie together schools and clinic buildings into local micro-grids, where communities transfer power locally according to need.
"There is more space on the clinic roof. We can put more panels there," he says. "The most exciting thing about that is the most important institution in the community always has light and power to run [essential things like] the sterilizer and vaccine refrigerator."
By combining its low-power computers with basic solar technology, Aleutia has opened up education and health services in places that have been starved of both. As it builds more classrooms and the cost of solar power continues to fall, it should be able to build out many more sites.