It was the night of the Tony Awards, and as Kevin McCollum settled into his seat, he was feeling optimistic. McCollum had built a career as a Broadway producer, in a way, on optimism. He had a strong appetite for risk. He favored bringing original work to the stage—like the musical Rent, which he produced 20 years ago—in a business where revivals are often a safer bet. And he had favored edgy material—like the foulmouthed Sesame Street sendup Avenue Q—over the tame. The glowing track record of those two shows, along with many other hits, had often shown McCollum's optimism to be justified.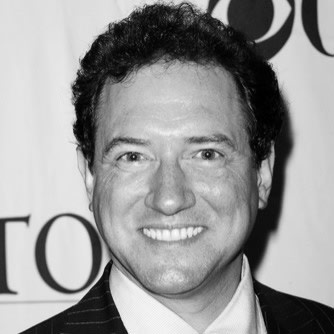 At the Tonys on June 7th, McCollum's optimism centered around his latest production, Something Rotten!, an original musical about the fictional Bottom brothers, who invent musical theater in an effort to outshine their rock-star contemporary, William Shakespeare. The show was itself written by brothers named Karey and Wayne Kirkpatrick, together with John O'Farrell; all were accomplished in other realms of entertainment (Karey as a screenwriter, Wayne as a pop songwriter, O'Farrell as an author), but Something Rotten! marked their first musical. McCollum had signed on to produce back when the show was just a pitch and a handful of songs.
He had been right to do so. The show was doing brisk business, and despite its brief tenure on Broadway, it earned 10 Tony nominations, including those for Best Score, Best Book, and Best Musical. "We were thinking and hoping we would win," says McCollum now, "and we thought we deserved to win."
As the lights went down at Radio City Music Hall, the Tonys opened with a showstopping Act I number from Something Rotten!, in which an Elizabethan soothsayer channels Broadway musicals of the future. "The crowd went wild," recalls McCollum. The awards began, and soon, in the Best Featured Actor in a Musical, Something Rotten! indeed took home a Tony, awarded to Christian Borle. The evening was off to a great start.
But as the night wore on, the fortunes began to turn. Awards for Best Orchestrations and Best Choreography went to An American in Paris. And then the award for Best Book arrived—one McCollum felt the writers had surely earned. But the award went to Fun Home. When Fun Home also took Best Score, "I basically knew then," says McCollum. "I knew we were not going to win Best Musical." Indeed, Fun Home took that prize, too.
"Of course it was disappointing," says McCollum. "But a producer has to think about best-case scenarios, and disappointing scenarios." And deep down, he felt he had still produced a great show. Now he faced a challenge: How was he going to sell this show to audiences, when his competitors would get to boast "Winner!" in their newspaper ads?
---
Meanwhile, in the week prior to the Tonys, the ad agency SpotCo, which repped Something Rotten!, had also talked about the question of how to sell the show should it fail to win. Out of superstition, SpotCo rarely discussed what strategy to implement in the event that a client lost a show. But on the Friday before the Tonys, McCollum had pressed SpotCo for ideas in the event of a loss.
The group began spitballing ideas. McCollum pointed out that plenty of worthy, even canonical, shows, had lost the Tony for Best Musical. Perhaps there was a silver lining in Broadway's historical record…
Meanwhile Jimmy McNicholas, SpotCo's creative director of Content, had an idea, but he was a bit shy about it. "I kept it to myself, for fear that it might be too out there," he recalls. But as the meeting drifted along, and none of the ideas felt edgy enough, finally McNicholas blurted out his idea.
If the show lost, said McNicholas, why not own it? Run an ad with the headline "Loser! Best Musical." After all, it fit with the ad campaign's cheeky tone so far, not to mention the themes of Something Rotten! itself (in which—spoiler alert—the Bottom brothers fail to unseat the Bard).
Everyone in the room laughed, including McCollum. And then the idea was shelved, in the hopes that it wouldn't have to be used at all.
---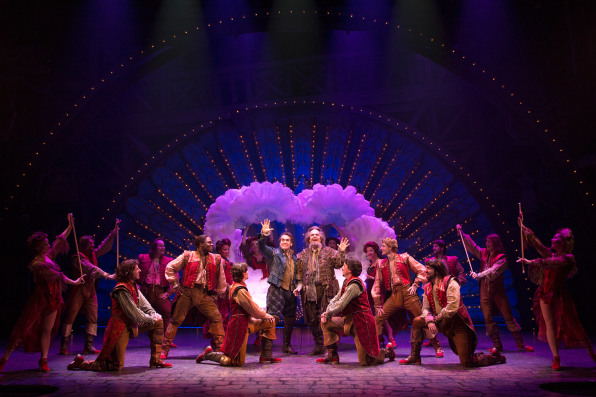 But now, on Sunday night, Something Rotten! had emerged, well, a loser. At the after-party at Bryant Park Grill, SpotCo cofounder Tom Greenwald pressed his way toward McCollum. "We were asking ourselves," he recalls, "Do we have the balls to do this, or not?"
McCollum's gut said to go with it. But Something Rotten! had a lot of stakeholders, and he began to consult with members of his team. He consulted with the owners of the Saint James Theatre, where the show was running. He consulted with other producers. Some people loved the idea. Others hated it. "A lot of the team felt no one would get it,"recalls McCollum. "People would just read 'Loser,' and think it's a bad show." McCollum told Greenwald and McNicholas to draft a layout of an ad, to be examined tomorrow.
The next morning, the group convened at SpotCo's offices, where the creatives had put together the layout. "Loser! Best Musical" it announced in bold, red letters, with smiling cartoon images of the Bottom brothers. "We're in great company…" continued the mocked-up ad, listing over a dozen classics that had likewise been snubbed, including West Side Story, Chicago, and Into the Woods.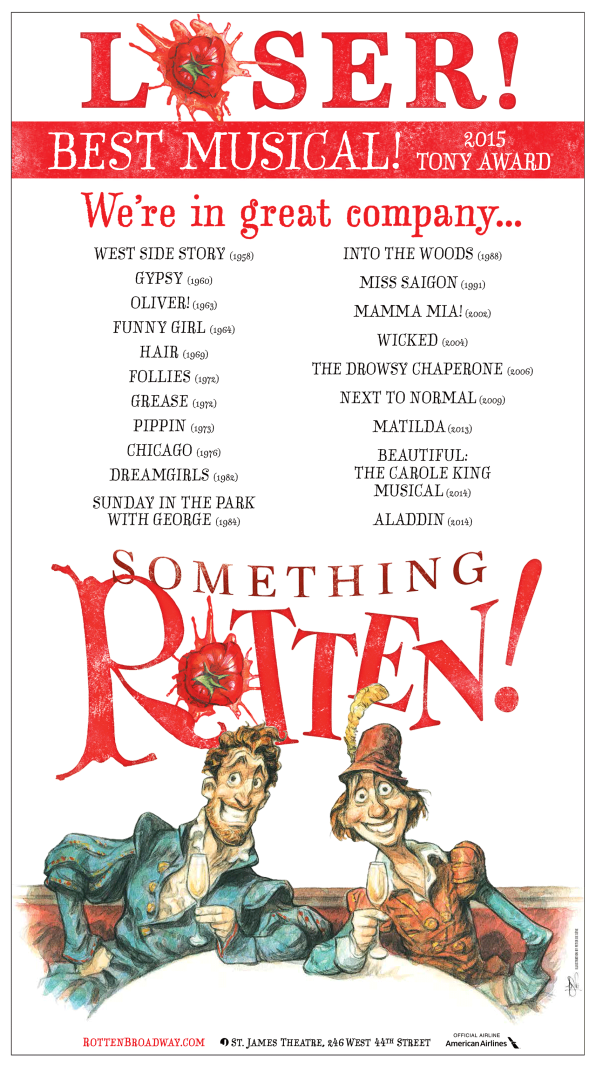 McCollum looked the ad over. "I was a little nervous," he admits. "But then I had to make the call." He signed off to push the image on Facebook and Twitter, then held his breath.
He needn't have worried. The post was liked and shared thousands of times. Soon, a few entertainment publications wrote items just about the campaign. McCollum then pulled the trigger on a "Loser!" New York Times ad. It ran this past Sunday.
The response has been overwhelmingly positive, according to SpotCo and McCollum. The Times even ran a story Monday focusing on the bold advertisement in its pages the day before.
"I think everyone will relate to the fact that, hey, it's a contest," says McCollum. "We lost a contest, but the contest is not the thing. The show's the thing."
Meanwhile, Something Rotten! just celebrated its best week ever, with a weekly gross of $1,178,048, up by $140,000. "Loser is the new winner," says McCollum.