He spent the morning in meetings, then came home around noon. He packed up a wide variety of Norwegian foods (he lived there for several years), and took them to our son's school. He gave a presentation on Norway to a room full of 5-year-olds. After, he did more work from home, then had family dinner and went swimming with our kids. He left the house around 7:30 p.m., got on a train, and went to Newark airport, where he got on a flight for Europe.
It's the sort of schedule that might get repeated at work/life panels, batted around as an example of the craziness of trying to be an involved parent and a driven professional. Yet I doubt my husband will ever hang out with other dads comparing such stories. Men want to have family lives in addition to succeeding at work, and use many of the same techniques women do to achieve this, and have many of the same stresses–but in general, they spend a lot less time talking about it. There are some downsides to that, but I think there are upsides to this quiet way men balance as well.
Society changes slowly, and yet time-diary studies reveal that men are spending significantly more time interacting with their children now than they did two generations ago. Since time-diary studies also show that men generally work more hours for pay than women do, it's no surprise that in some surveys, men report more work/life conflict than women. With the expectation of being good workers, men wind up being "dads in the shadows," in the phrasing of Josh Levs, author of the new book All In: How Our Work-First Culture Fails Dads, Families, and Businesses–And How We Can Fix It Together.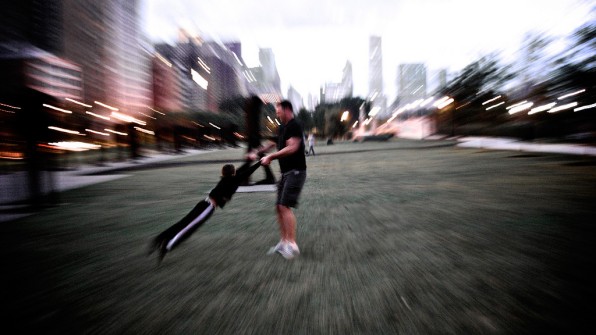 To be sure, many men do find ways to achieve balance and, interestingly, they often use the same techniques as women. As I've studied the time logs of high-earning mothers over the past few years, I've found that close to half work "split shifts"–leaving work at a reasonable time, hanging out with their families, then doing more work after the kids go to bed. This is what Peter Paul van de Beek, an IT architect for an online retailer in the Netherlands, tells me he does. He leaves work between 5 and 5:30 p.m.: "Because I bike home in about 20 to 30 minutes, I'll typically be home in time for even an early dinner." He plays with the kids, does household stuff, and puts the kids to bed. Then, two to three days a week, he starts working on email and proposals again between 8:30 and 9 p.m.
Others discover the amazing work/life possibilities that come from working at home. Matty Williams, a software engineer, works from home in part to spend more time with his nearly 3-year-old son. He doesn't just get family time, he finds the set-up quite productive too. "Lots of people talk about how useful it is stepping away from the keyboard to give yourself time to think," he says. "This is an excellent time to take the kids to the park or just a walk. After three years, I've never been on a walk with my little one that didn't end up with some positive thought or action coming out of it."
There are plenty of other strategies for achieving balance. People might consciously work longer on some days so they can meet the school bus on others. Some might do weekend work in order to buy themselves more reasonable hours during the week.
None of this is about compromising one's ability to work. Indeed, a recent study of a consulting firm by Boston University professor Erin Reid found that men would often "pass" as ideal workers, quietly going to preschool events, or leaving work in time for dinner. These men were working reasonable workweeks, while delivering results. They were achieving balance without calling attention to it.
To be sure, there's an argument that men should have conversations about work and life. "I say do have the conversations," Levs says. After all, it might work to visit a school three times a year and not call attention to it, but what if you want to coach a Little League team every Monday after school? It's going to be harder to pull that off with no one noticing, and yet this commitment could be honored in most workplaces with a little group coverage.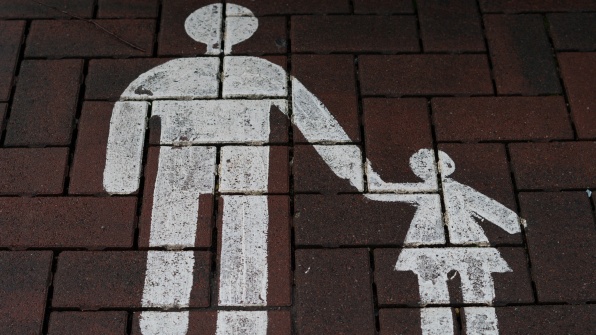 Indeed, many organizations at least claim they're willing to grant flexibility, but "it turns out that people aren't asking," Levs says. He lives this philosophy of asking. He asked for an extended paternity leave from his old employer, was denied, and cobbled one together with vacation days. Then he filed a complaint against his employer with the EEOC, and eventually got a policy of better benefits for his colleagues. Change happens when people stick their necks out.
There's also the argument that you can't be what you can't see. Younger men may not know that their managers are living reasonable lives, and so they assume it can't be done. They assume that the only notion of masculinity that exists is one that doesn't involve hanging out with 5-year-olds in the middle of the day.
On the other hand, not everything in life needs to be formally recognized. Sometimes it's better to ask for forgiveness than permission. Negotiating for a change from the "right" way to work implies that there is a right way, and that's often no longer the case. If someone delivers for his clients and his employer, then that's all that really matters. The details don't, even if they make for really good stories.