After months of speculation, Apple officially entered the music subscription market this afternoon with the official debut of Apple Music.
Built in part on the guts of the Beats Music streaming service Apple acquired last year, the new service will offer a Spotify-style on-demand music library alongside human-curated Internet radio and playlists.
Apple's new music streaming service will be available on June 30 in iOS 8.4 with the subscription component costing the standard industry rate of $10 per month (or $15 for a family plan). Its new radio feature will be anchored by a global radio station called Beats One, which will be DJed by well-known personalities like Zane Lowe, a veteran of the BBC that Apple poached earlier this year. (And rest assured, Silicon Valley fans, the "radio on the Internet" thing did not go unnoticed on Twitter.)
In addition to music subscriptions and radio, Apple Music will include a social feature called Connect that will let fans follow artists and see unique updates from the likes of Drake, Chris Cornell, and a host of others.
Apple is putting a decidedly star-studded, human-focused spin on a market that is often dominated by algorithms. Pandora, Google Play, and Spotify (which bought music intelligence firm The Echo Nest last year) all rely on some blend of human and machine smarts to curate music, but Apple seems to be erring more on the side of using real live DJs and tastemakers than things like machine learning and acoustic analysis.
Instead of baking machine intelligence into the back end of music discovery, Apple is putting it closer to the user. In a demo of Apple Music at WWDC today, Apple senior VP of Internet Software and Services Eddy Cue showed how Siri can be used to search for music in a more nuanced way, using only the user's voice. As examples, Cue did a voice search for the most popular song from May of 1984, allowing Siri's artificial intelligence to figure out which song he was referring to. In another demo, he asked Siri to play "the song from Selma," at which point Apple Music automatically called up the main track from that movie's soundtrack.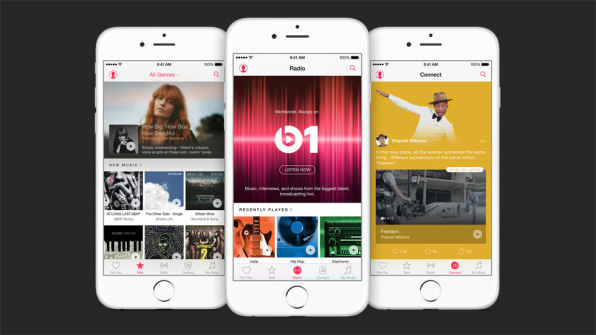 Apple is entering a crowded market very late, joining archrival Google alongside the likes of Rdio, Rhapsody, Jay-Z's new Tidal service and, of course, Spotify, which dominates this space in the U.S.–and just announced a host of new features of its own, including an innovative new way to play back music during exercise. With so many other players, Apple is hoping that star power and human curation will be enough to set it apart. It's also offering Apple Music subscriptions for free for the first three months, which should help the company at least somewhat in its ambitious quest to bring on 100 million paying subscribers. Spotify currently boasts 60 million subscribers of its own.
One thing that wasn't made clear was how expansive Apple's streaming music library is. Deals with major labels were reportedly still being hashed out as recently as last week, so it's possible that that exact makeup of the library isn't nailed down yet. But to stay competitive with Spotify, it will obviously have to include all three major labels and the indie labels represented by global music rights agency The Merlin Network, at a minimum. Winning over big-name artists like Taylor Swift wouldn't hurt either.
Of course, Apple Music's biggest advantage in the streaming music market may wind up being the simple fact that it's coming from Apple. By virtue of being included in iOS 8.4 and the next version of iTunes, the new service will have the advantage of being available on every modern Apple device. The service will also offer the advantage of merging people's digital downloads and MP3s with a massive streaming library. That's something Google Play already does well, but that Spotify could make easier.