When it comes to the human body, the sexes are not equal. Sure, men and women share a lot of parts, such as hearts and legs and lungs and breasts. But physiologically, their bodies respond differently to the same stimuli.
Chalk part of it up to a woman's monthly cycle. Ovulation, menstruation, and contraceptive intake create a rollercoaster of hormone fluctuations that, depending on the day, can affect everything from temperature to respiratory rate. So if a woman wears a fitness device that tracks those measurements as if they were taken in a vacuum, without factoring in the larger physical picture, she's getting skewed data that is useless at best and potentially harmful at worst.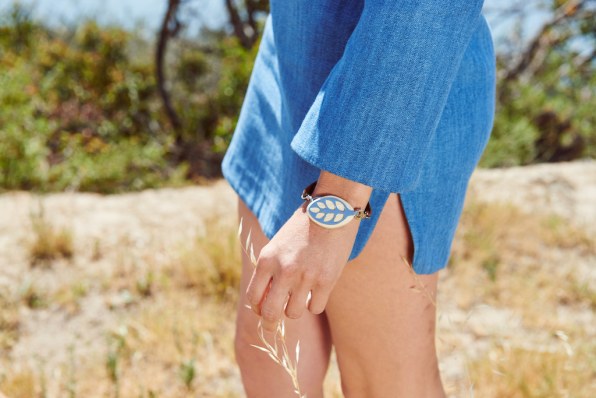 That realization inspired Bellabeat's Leaf. A wearable device and attendant health system, it is the first to combine a woman's biometrics with data about her reproductive cycle.
"We felt the quantified-self movement was overlooking women," says Urska Srsen, Bellabeat co-founder and chief creative officer, dismissing some of the other female-targeted wearables such as the Fitbit and Misfit Shine. "And no one was working on the software, which is the crucial part. So we created a platform that could holistically measure women's health, both emotionally and physically."
The platform's first piece is Leaf, a wisp of medical-grade stainless steel and sustainable wood that measures daily activity, quality of sleep, and breathing rate. The jewelry can be worn as a clip, on a necklace, or on a leather bracelet; it also comes in a limited-edition gold-plated version. "We wanted to make something women would be happy to wear even if they didn't need to," explains Srsen. Leaf has a six-month battery life and wirelessly syncs with a smartphone.
But the second part, Leaf's proprietary app, pairs this information with reproductive data that the user enters manually. The app's algorithm contextualizes the results, creating actionable points, such as breathing exercises, and sleep recommendations, which take that female user's full health state at that very moment into consideration.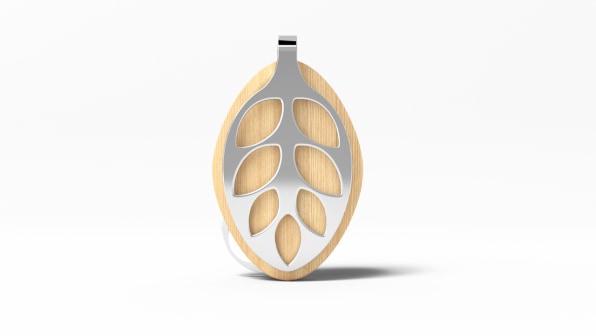 Leaf is Bellabeat's first step in a far more ambitious goal: to create a platform (and attendant devices) that will help women track their well-being at all stages of life. "We're trying to create a system that includes all possible metrics that can influence a woman's health," says Srsen. The company plans on adding weight- and temperature-tracking to its app next, offering a variation from the usual biometrics tailored around strength and performance.
The evolution makes sense, considering Bellabeat's debut product: a fetal monitor and app that allowed mothers-to-be to hear, track, and share their babies' heartbeat. "When we started to do research on fetal monitors, we found all these clunky, cold devices that looked technical and that you'd need a license to run. They were not adjusted to the more sensitive periods of a woman's life, such as when she is trying to conceive," says Srsen of the experience. "It was also hard to understand the kind of data they were producing, and why it was relevant to the mother's or baby's health."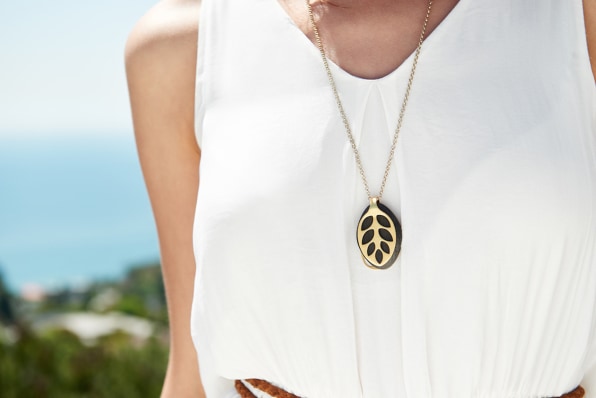 Those lessons directly fed into the design and interface of Leaf, from the use of sustainable materials to the way the app presents the digested data. They also drove Bellabeat to develop its platform into, "something that let women understand their health in general, not just during pregnancy," says Srsen.
"We're not trying to make everyone jog every day," she says of the company's motivation. "We just want women to lead healthier lives and get from the product what they truly want or need at that moment."
Leaf is currently on preorder for $119, with the first batch shipping this month.