"Ladies and gentlemen, start your robots!"
With those words from Gill Pratt, the program manager of the DARPA Robotics Challenge, the final round of the three-year competition to crown the human/robot team best able to respond to a man-made or natural disaster were under way.
Today and tomorrow, 24 teams from six countries will be competing for a $2 million top prize and, more importantly of course, the opportunity to revolutionize how the world responds to disasters.
Starting with the challenge's kickoff in October of 2012, dozens of teams from industry and academia set out on the long path to this week's finals. In the end, just 24 teams made the grade, and over the course of the next two days, one will emerge as the champion.
Over the years, DARPA–the Defense Advanced Research Projects Agency–has pioneered navigation technology like GPS, stealth technology, and even the Internet. Now, said the agency's director, Arati Prabhakar, "it's our turn to step up to the plate."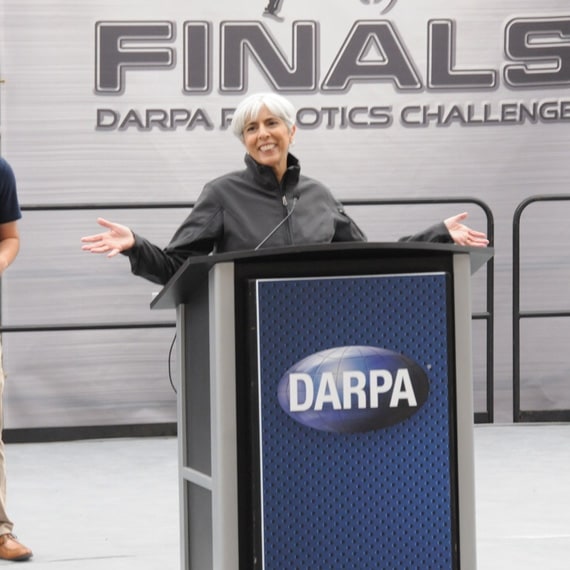 Added Prabhakar, "Yesterday, we lived in a world where robots lived in a constrained environment….Tomorrow, robots will work with us to do the hard work in disaster relief [and] open this path into a future where humans can be part of a team we form to deal with dynamic, shifting environments we deal with every day."
Pratt, who conceived of the challenge, said he was inspired by the inability of robots to successfully release pressure valves in the Fukushima nuclear plant following the earthquake and tsunami that struck Japan in 2011. The pressure that built up inside the facility led to explosions, "and that area continues to be a no-man's land today, [which] had a profound effect on many of us at DARPA, including me."
The goal now? To enable a new generation of robot and human teams to mitigate disasters "during those golden days and hours when it's still possible to make a difference," Pratt said.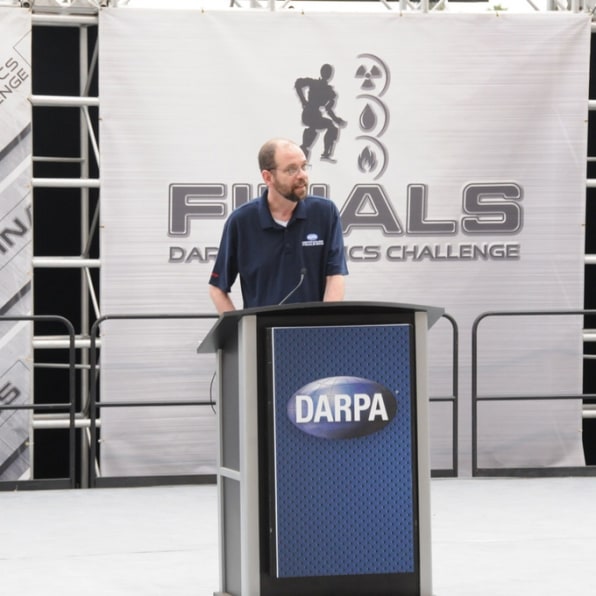 According to an official handout, "The goal of the DARPA Robotics Challenge is to develop robots that can operate in spaces that are designed for humans, use tools that are built for humans, and can be controlled with only minimal training by people who are not robotics experts. Achieving these goals would mean that robots could be rapidly put to use assisting in human-led response to future emergencies."
During the competition, the teams–from the U.S., Germany, Italy, South Korea, Japan, and Hong Kong–will work to send their robots into an environment that mimics what might be found in a real-life disaster area. This includes terrain full of rubble, broken metal and wood, and a lack of clear paths to move. The humans and their robots work together as partners, "each doing what they're best at, despite terribly degraded communications," according to Pratt.
The teams will send their robots down one of four courses at the Fairplex in Pomona, California, encountering physical and communications challenges they've prepared for as well as many that will come as a surprise.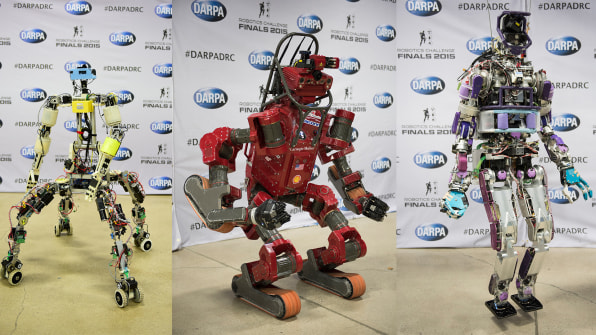 Some of the features of the robots in the competition include protective cages that shield fragile sensors from damage, a "wireless e-stop," that lets humans shut the robots down with the press of a button, hydraulic actuators, hands for picking up and manipulating a variety of items, LIDAR sensing technology (which stands for "Light Detection and Ranging"), wireless antennas, stereo cameras, batteries, and more.
The teams will rely–partly–on wireless communications to send and receive data and commands from and to their robots, but they must also be prepared for the robot to operate autonomously when the communications disappear. That means there will be times when the human teams will have no input from the robots, and the machines must be able to continue their tasks without human help.
The robots' batteries must be able to last an hour, and it must be able to recover on its own if it falls–or teams can take a point penalty if they intervene manually. The team with the most points at the end of the challenge takes the top prize. And earns tremendously respectable bragging rights.
As Prabhakar put it, in her best sports announcer voice: "Good luck to all of you, and may the best robot win."