On Monday, Vanity Fair unveiled its cover of Caitlyn Jenner, the world-renowned decathlete formerly known as Bruce, in a stunning, cream-colored corset. On Tuesday, the phones at Trashy Lingerie started to ring. Word had gotten out that the iconic Los Angeles store had designed the $200 "Edy Corset" that Jenner wore with such panache that she immediately inspired comparisons with classic Hollywood beauties like Rita Hayworth and Lauren Bacall.
According to Mary Loomis-Shrier, the owner of Trashy Lingerie and its online site Trashy.com, one buyer placed an order for 500 of the very same corset, although she wasn't sure exactly what he was planning to do with them. Trashy.com is now proudly featuring the corset on its homepage, in case any other big spenders decide they're in the market for the Edy Corset. Since the store makes all the costumes in-house, it is easy for them to accommodate this sudden spike in demand.
While Loomis-Shrier is thrilled about the Vanity Fair cover and the new wave of interest in her company, this isn't a new experience for her.
For nearly four decades, Trashy Lingerie has been Hollywood's sexy outfitter of choice. Remember the bunny outfit Reese Witherspoon wore in Legally Blonde? Or the one that Renée Zellweger wore in Bridget Jones's Diary? Those were from Trashy. Emma Stone's black corset emblazoned with a scarlet letter in Easy A? Yup: Trashy. In fact, a slew of celebs–from Madonna to Dolly–have slipped into the brand's frisky looks, as their Instagram feed reveals. And Trashy is responsible for keeping many of the Playboy playmates clothed (if only barely so). Loomis-Shrier tells us that O.J. Simpson's prosecutor, Marcia Clark, bought a sexy dominatrix outfit from Trashy to wear under her trial outfit to feel empowered during the proceedings in 1994 and 1995. (We've tried to contact Clark to confirm this, and have not yet heard back. We'll update the story if we do.)
A-list celebrities often stop at Trashy to be fitted for Halloween costumes and fancy dress outfits. Jenner's stepdaughter, Kim Kardashian, is a regular at the store, says Loomis-Shrier. Every year, according to Loomis-Shrier, Kardashian buys 10 separate costumes for Halloween so that she has a different look for each of the parties that she is invited to attend. On any given October over the last decade, you may have seen Kardashian strutting her stuff as a mermaid, a cat, or Wonder Woman; these were all costumes created by Trashy Lingerie designers. "We've been doing all the Kardashians' costumes forever," Loomis-Shrier tells Fast Company. "Kim has an unusual body with her booty and her boobs, and we can accommodate that."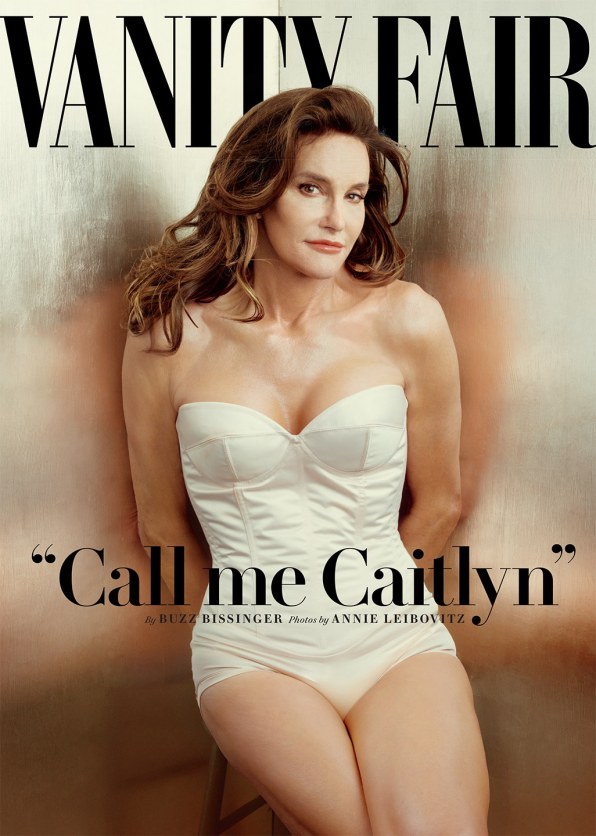 It isn't clear whether Jenner herself or Vanity Fair's fashion and style director, Jessica Diehl, was responsible for picking Trashy's corset for the photo shoot; we reached out to Diehl, but she said she was too overwhelmed with press requests to speak with us, and Jenner's PR team did not respond to interview requests.
Loomis-Shrier says that Vanity Fair has used Trashy outfits over the years, but given how closely she has worked with the Kardashian family in the past, she wouldn't be surprised if Jenner suggested looking at Trashy designs to create the right look for the cover.
Jenner didn't actually come into the store for a fitting. Instead, an unassuming stylist arrived, requesting three different corsets made to particular measurements. "We had no idea who it was for," Loomis-Shrier says. "We had no idea that it would land on the cover of Vanity Fair. That was really just stupid luck for us."
But, in some ways, this is just par for the course for Trashy. Given how many high-profile clients the company serves, stylists and personal assistants often visit the store to select outfits on behalf of a celebrity, so the Trashy team often has no idea when their outfits will be splashed on the pages of a magazine. Trashy designs show up in the media on a monthly basis, with stars and models wearing them in Elle, Rolling Stone, Harper's Bazaar, Nylon, and of course, Playboy, among many other publications.
Sometimes, celebrities want to deliberately distance themselves from Trashy simply because they don't want to be associated with the store's name. But the name of the store wasn't really meant to be all that scandalous. Trashy actually began as a shoe store in 1973 by Mitchell and Tracy Shrier, who named it after one of their most popular shoe designs. Customers wanted to wear stockings with these sexy shoes, so the Shriers started to hand-dye hosiery to match the shoes and then eventually made matching garters.
Before they knew it, they had a full-blown lingerie business on their hands. Mary Loomis-Shrier eventually married the Shriers's son, Randy, and got involved with the family business. It was her idea to launch the company's website in 1998, which ended up driving more sales than the brick-and-mortar store. (Trashy has no immediate plans to change the store's name, even if it makes some celebrities cringe.)
Loomis-Shrier thinks that celebrities and movie designers have used Trashy as a resource because the store is able to customize any design and transform it from a sketch into an outfit in a matter of days.
The company employs a team of 35 sewers and designers who are highly skilled at tailoring barely-there lingerie designs to suit the customer's body type. "We design and manufacture everything ourselves, and you can custom-make anything to suit your body," Loomis-Shrier says. "We offer that to all of our customers at no additional expense, and people really like that."
Trashy costume designs average between $200 and $300, which makes it less expensive than a competitor like Agent Provocateur, whose playsuits can cost several thousands of dollars. Of course, Trashy customers can also request more elaborate costumes that might run as high as $900.
Loomis-Shrier is hoping to give the store and the website a major revamp over the next year. Currently, the brick-and-mortar store in Los Angeles is a giant concrete building that is painted cotton-candy pink with a sign that features a retro picture of a girl in a garter and boots holding an umbrella.
Inside, the store feels like a warehouse, with some designs that have been on the floor since the store opened. Visiting the store is an experience in itself: It requires customers to have a membership to enter, and even then, they need to pay $2 to be in the building. "We do this to have the legal right to kick people out," Loomis-Shrier explains. "Otherwise, there would be these weirdos who want to drool on everybody."