Every day, 750,000 workers log into enterprise chat software Slack to communicate with colleagues. Todd Kennedy, a 37-year-old CTO at a software startup, also uses the service–to talk with his wife, Julie.
The couple created a fake company name, "TheKennedys," to sign up for the two-member Slack chat that has replaced iMessage for them as the way they discuss everything, from coordinating childcare to potential Ikea purchases. "Fifty percent of my Slack communication is work, and 50% of my slack communication is nonwork at this point," says Todd, who also uses Slack to keep in touch with a group of Brooklyn-based programmers. "It's on my phone. It's on my iPad. It's on my computer. And it's always open."
This is a very odd way for someone to talk about enterprise software. Occasionally a consumer-facing product like Dropbox expands into the workplace, but rarely do people bring tools designed for their companies into their personal lives. But now it seems Slack is becoming an exception. Users have appropriated the platform for extracurricular use cases like staying in touch with groups of friends, backchanneling at events, and creating chat rooms around interests like books or entrepreneurship–or dating. In addition to being a place to work, Slack is becoming a virtual hangout spot.
A change the company made to its interface in May, which allows users to easily toggle between different Slack groups, unwittingly aided this type of extracurricular Slack-ing by helping users merge their work and personal interests under one tab. It is partly appealing for nonwork exactly because people use it for work. "Everyone is already in Slack all day and it's the easiest to set up," says Eric Willis, who started a Slack group for the startup discovery app Product Hunt. "It's just the least amount of friction for everyone involved."
He says the group, called Maker Hunt, now has about 850 members who exchange more than 10,000 messages per week. They host a few AMAs each week in which founders answer questions from the community. Other Slack chats have popped up for interest groups ranging from guitar enthusiasts to suicide survivors to black men in tech and even, naturally, people who moderate Slack communities.
Part of the draw is that, unlike IRC, a chat protocol commonly used for chatting around interests, there's some ability to curate the group, which creates a sense of exclusivity that is missing from forum boards.
In order to join the Maker Hunt group, for instance, potential members need to verify that they've posted a product to Product Hunt. Other Slack groups require a GitHub link to prove coding chops. One group, an "NYC founders" Slack with members that include wine entrepreneur and social media guru Gary Vaynerchuk, former NPR producer and current podcast startup founder Alex Blumberg, as well as "founders of all sorts of tech companies," charges $45 to join.
Communities on Facebook and Twitter don't have this sense of insider cohesiveness, and to participate in them, one needs to "post" something, which has an air of formality that Slack's group chat does not. "When you think of something like Facebook, you're composing a post," says Curtis Herbert, who set up a Slack for the Philadelphia chapter of a group for Mac and iOS developers called CocoaHeads. "And you feel like that has to be meaningful. Something like Slack, you'll throw something out there like you're talking with somebody at a bar. It's a lot less friction mentally to want to say something." The CocoaHeads use the chat primarily to discuss coding problems, but they also have channels for "off-topic" conversations and, of course, animated gifs.
That casual "at a bar" dynamic may also be what led at least one enterprising Slack user to start a Slack for dating. Yes, there's a Slack for dating, though it's unclear how many people participate, and the group did not invite me to join after I signed up, a process that involved–like an old AOL chat room A/S/L inquiry–merely reporting my first name, gender, and age.
I found the dating group, and 350 other Slack groups, on a website called Chit Chats (it was initially called "Slack Chats," but changed its name at the request of Slack). "For me, it became this tool to meet interesting people all over the world," says Jeffrey Morris, who created the website in December after bemoaning the fact that Slack had not built a search function for group discovery.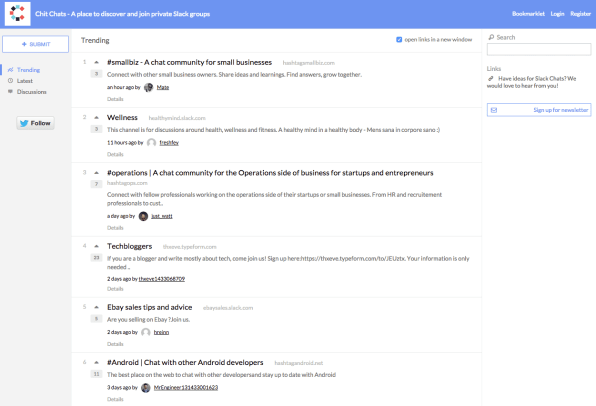 So far, Slack's reaction to its emerging group of extracurricular users can be summed up as: ¯\_(ツ)_/¯.
"We're not going to discourage that use," Slack CMO Bill Macaitis tells Fast Company, "but we just aren't actively supporting it."
And right now there doesn't appear to be a compelling reason for them to change that approach. The startup raised $160 million in April at a valuation of $2.8 billion. Macaitis says the company added the toggle feature to make it easier for large companies, who often organize teams using several different Slacks, to work together. Any benefit to nonwork Slack groups was incidental.
Considering Slack's current business model, its ambivalence to personal use cases makes some sense. Free users can access an archive of 10,000 messages, with no limit on time or number of users. Companies pay Slack for things like unlimited archiving, simple usage statistics, and unlimited external integrations–features for which couples and clubs are unlikely to pay. As Kennedy puts it, "I'm not super interested in who had to pick up the kids two months ago."
Cultivating nonwork activity on Slack could also hamper the startup's sales pitch to corporate customers, who are subscribing to the software with hopes that their teams will work together more efficiently–not that they will chat with their significant others and meet people who share their interest in woodworking.
That won't stop some people, like Morris, who actively participates in eight different Slack chats, from using it that way. "Slack is not just enterprise," he says. "People created this consumer usecase that [Slack] didn't intend."
That sort of accidental innovation in a word? Slick.