Before Emma Watson became the global face of U.N. Women's HeForShe campaign, giving an impassioned speech that took the Internet by storm, another woman was behind the scenes crafting the fine print of a movement that would invite men to participate in the struggle for gender equality. Elizabeth Nyamayaro, senior advisor to the executive director of U.N. Women and the mastermind behind HeForShe, has a unique perspective about men's roles in the fight for women's rights.
"I grew up in very humble circumstances," Nyamayaro told Fast Company last week before delivering her 12-minute talk at TEDWomen in Monterey, Calif.. Impeccably dressed in a black trenchcoat and shiny brogues, you could easily suppose that she was a lifelong New Yorker, but looks are deceiving: Nyamayaro spent her childhood in a village in Zimbabwe that was ravaged by both famine and HIV. Like other girls in her village, she didn't go to school, instead spending her days tending to household chores and scrounging for food.
"Sometimes, there just wasn't enough to eat," Nyamayaro recalls. "It was such a relief when U.N. aid workers in their blue uniforms showed up in our village. It meant that I would have something to put in my belly that day." When she was 10 years old, during a particularly devastating period of hunger, her family shipped her off to a nearby city to stay with an aunt who was better off, allowing her to attend school for the first time.
Gender inequality was part of everyday life in Zimbabwe. Boys were given the opportunity to attend school, while girls were expected to stay at home. During the height of the AIDS crisis, men would unilaterally decide whether to use a condom in order to prevent their wives from being infected by the disease. Women were helpless if their husbands abused them or squandered money that the family should have spent on food. It seemed like men and women lived in separate worlds.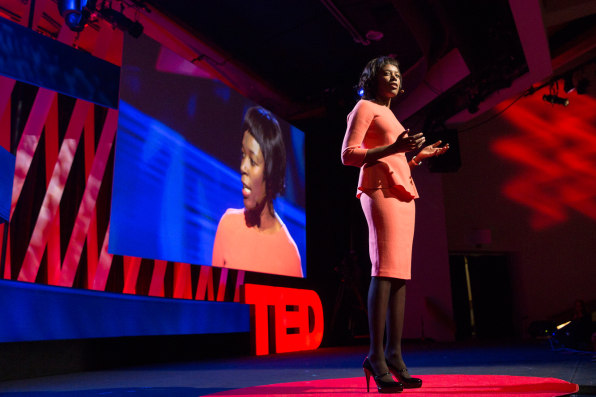 Over the next 20 years, Nyamayaro doggedly pursued a single goal: to get a job at the United Nations to help people the way she had been helped by the aid workers in the blue uniforms. Her dream was to lift her family, and perhaps even her village, out of poverty. With her meager savings and some help from her family, she bought a ticket to London and had enough money in her pocket to pay for a single month at a youth hostel. "I was so naive," she recalls. "When I arrived, I kept telling people that I was here to get a job at the U.N. and they laughed at me." But after taking a range of temp work and acquiring a degree, Nyamayaro proved her naysayers wrong by landing an unpaid research internship at the U.N., which she converted into a full-time job.
As she worked her way up the United Nations hierarchy in Switzerland and the United States, this issue of bringing men into a dialogue on women's empowerment stayed close to her heart. She saw new forms of gender inequality in her working life, such as the gender wage gap, in the underrepresentation of women in top jobs and in the number of women who fell out of the workforce after they had children. She believed that if men stopped thinking of themselves as a separate category from women, but realized that the entire economy could benefit from women's empowerment, things around the world—from her village to the C-suites of big corporations—could change dramatically.
In her most recent position, as a senior advisor within U.N. Women, Nyamayaro had the opportunity to transform this idea into the HeForShe campaign, a program that seeks to engage boys and men to be agents of change in the fight for women's rights. "I realized, from the beginning, that this would be a controversial program," Nyamayaro admits. "Not everybody believes that this is the right answer."
To make her case about the value of HeForShe, Nyamayaro points to data about how well the program has worked. Three days after the campaign went live, 100,000 men had already committed to prevent violence and discrimination against women, a number that included one man from every single country in the world. (Today, more than 300,000 men have signed up.) It prompted 1.2 billion conversations on social media. In Nyamayaro's own village in Zimbabwe, one man was so inspired by the campaign that he launched a "Husband School," in which he taught men who abused their wives to be better partners. In Pune, India, a young man invited other men to cycle into villages to spread the message about how men had a valuable role to play in women's empowerment.
The HeForShe movement has had a significant impact in the corporate sector as well. U.N. Women has partnered with large companies that have agreed to be "champions," committing to make gender equality an institutional priority. The French hotel company Accor, for instance, has vowed to eliminate the pay gap for all 180,000 of its employee by 2020 and create 50,000 male HeForShe leaders throughout the organizations. Unilever has promised to improve the safety of women in communities where it operates; for instance, the company has been advocating for women regarding sexual harassment issues for the 12,000 permanent workers and the 5,000 seasonal workers in its Kericho tea plantation in Kenya. PriceWaterHouseCoopers, for its part, has developed a male-focused educational curriculum to share with the hundreds of thousand of students who participate in its university program around the world. Tupperware has vowed to achieve complete gender parity across the company, including all 14 of its factories, both in terms of hiring and pay.
While these results are impressive, HeForShe has critics. One of them is Roxane Gay, the author of Bad Feminist, who shared the TEDWomen stage with Nyamayaro. "Let me say, from the outset, that I support any organization that promotes feminism," she tells Fast Company. "But I do have issues with how it achieves its goals." For starters, Gay thinks that it is problematic that men need to be encouraged to fight discrimination against women. She believes that gender inequality is so morally reprehensible that it should not be necessary to invite anyone to support it. "It is ironic that women have been repeatedly kept out of male spaces—the workplace, for instance—and had to fight our way through everything," Gay says. "And yet, today, we're warmly inviting men to be part of a movement that they should be supporting anyway. Men are so used to being welcomed that they expect us to lay out a welcome mat for them to do the right thing." Gay makes the case that framing gender equality as an optional cause for which men can volunteer minimizes the importance and urgency of the problem.
Nyamayaro realizes that the HeForShe campaign is trying to achieve a lot with a very simple message. The organization is meant to reach men across many cultures and confront different forms of gender discrimination, so she is fully aware that it cannot possibly always hit the mark in every context. "This was never the most popular or obvious solution," she says. "The door has always been open to men, but we are hoping that with HeForShe is going to accelerate the process of change."
But she always comes back to the concrete early results: the large corporations that have vowed to promote institutional change and the thousands of letters that come in from around the world every day from men who want to be part of the solution. "We've found that we've tapped into something in men," Nyamayaro says. And even if it sometimes seems like she is bending over backwards to invite men into this movement, Nyamayaro's focus is squarely on all the women whose lives will improve as a result of this campaign.