When Siggi Hilmarsson moved to New York City from Reykjavik, Iceland, in 2002, he quickly grew nostalgic for the thick skyr yogurt he grew up eating as a kid. At the time, all the yogurt in the U.S. was so runny and packed with sugar, he couldn't stomach it. Hilmarsson was getting his MBA at Columbia and went on to take a job as a consultant for Deloitte. But his hankering for skyr, the thick tart yogurt traditional to Iceland, never faded.
In 2004, Hilmarsson's mother faxed some recipes for skyr from her local library in Iceland, and he began tinkering in the kitchen of his Manhattan loft. The first batch was terrible and the next couple were hit or miss. Hilmarsson quickly learned that making yogurt requires controlled temperatures he couldn't get in his drafty Tribeca loft.
The following winter, Hilmarsson told his boss at Deloitte he was going on a ski trip, and instead went upstate to a university dairy plant he rented out for three days. There he made his first batch of professional yogurt. He still didn't know if this was a nerdy hobby or a viable business idea. He just wanted to make tasty yogurt.
After three days, he had 300 containers of skyr on his hands. All that yogurt wouldn't fit in his fridge, so Hilmarsson started giving it away. He gave samples to a friend who worked at Murray's Cheese, an artisanal dairy shop in Manhattan. Not long after, the store's buying committee reached out to Hilmarsson wanting to start selling Siggi's. He gave some skyr to a former business school professor at Columbia who wanted to invest in the business. With his first customer and investor in hand, Hilmarsson decided to quit his consulting job and give yogurt making a fair chance as a business.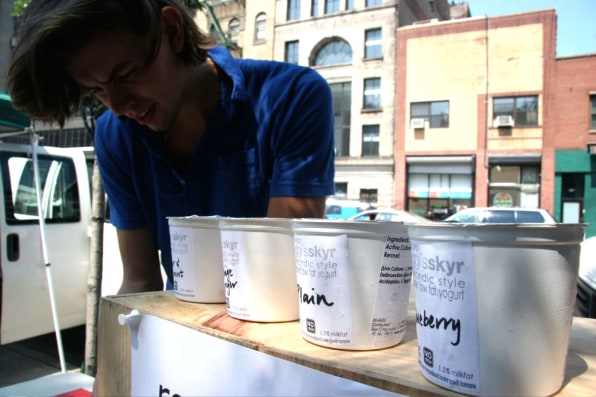 That first year, Siggi's made it into 15 stores in New York. Hilmarsson was pleased with the company's progress. Then he got a call that changed everything. Whole Foods wanted to stock Siggi's in all its stores across the country. "When we went into Whole Foods, I realized maybe I'm not just going to be a cool yogurt guy in New York," Hilmarsson says. And he was right. Today Siggi's is sold in 8,800 stores around the country.
That initial call from Whole Foods in 2007 caught Hilmarsson off guard. He'd given some samples to a yoga retreat in the Hamptons, where, unbeknownst to him, one of the participants happened to work at Whole Foods. When Hilmarsson found out the retailer wanted to sell Siggi's in its stores across the country, he wasn't sure how to move forward at first. The increase in production was overwhelming. "The yogurt became a lot more successful than we expected at the time," he says.
Hilmarsson decided to start selling at Whole Foods on the East Coast in the first half of 2008 before expanding to the entire country. But he quickly discovered the dairy facility he was working with in New York didn't have enough cooling equipment to store the product, and Hilmarsson had to make the painful decision to stop producing and shipping yogurt until the company was better equipped.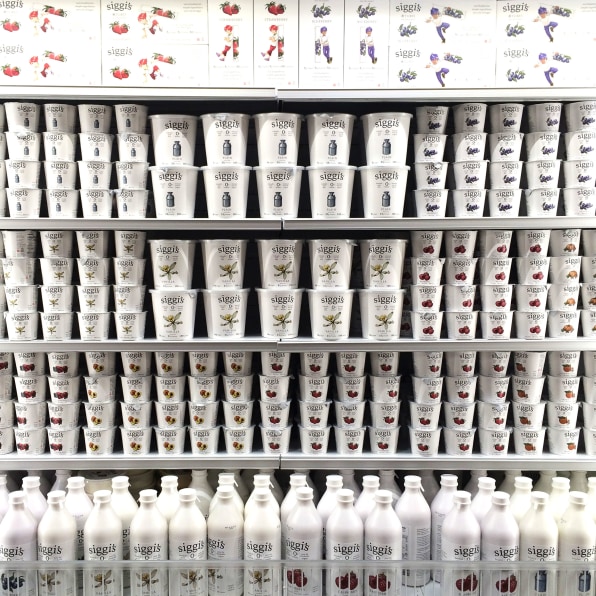 He spent that summer raising money to buy the needed equipment, and after a three-month production break, Siggi's was ready to start shipping again in the fall. Still, that hiatus was painful for Hilmarsson–knowing the company had a product people wanted that he couldn't yet deliver.
Hilmarsson won't let that kind of setback happen again. Now he plans for the company's success rather than letting it catch him off guard. In 2013, to make sure Siggi's could handle growing demand, the company started transitioning to a larger plant. Today Siggi's has a second manufacturing facility in Wisconsin, a safeguard to make sure there's always a backup should anything go wrong. As the business expands into more stores and products, that facility is being used more. "When your business grows enough, you don't want to rely on just one plant," says Hilmarsson. Now when the demand rolls in, he's on the ready to meet it.
While his business school background helped him make more calculated business decisions, in hindsight, Hilmarsson says, being overly calculated often held him back from acting on what his gut told him. He'd overanalyze the situation or feel the need to build a business process around something rather than simply following his intuition. Most entrepreneurs suffer from the opposite affliction, acting too brashly for their business's own good. But in Hilmarsson's case, letting go of the need to analyze and trusting his own intuition more was a skill that took time to master.
On the flip side, that also meant not letting the pressures of the moment mar his thinking. "Sometimes you're under this false illusion that you have to make a decision then and there," he says. "Rushing a decision that's going to impact your business for the next 10 years because someone on the phone says you need to is kind of bogus."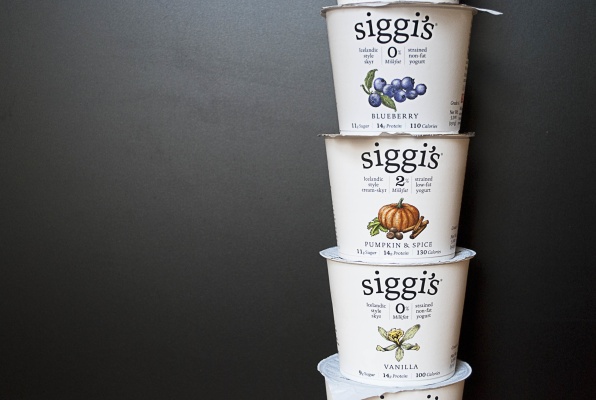 One of the best things Hilmarsson has done to help him better run Siggi's has little to do with business. While exercising regularly has always been important to him, around 2010, he began playing basketball more regularly and found that having to focus his mind entirely on the game rather than ruminating about work while, say, running, gave him a much-needed mental break. Now Hilmarsson makes sure to play at least twice a week to have that mental break from work.
"It's great to have that combination of occupying your mind and your body and just wearing yourself out," he says. "If you are fit and happy, you perform better."