For many of us, daily life is largely spent online. Whether at work, at home, or on the go, we are searching and surfing to our hearts' content, knowing on some level that our movements are being tracked. So how comfortable would you be with sharing your browser history with friends and family? No, not that cool article you read and retweeted, but the delicate WebMD search you made on your lunch hour.
Big Data and director Rajeev Basu, who also teamed up in 2013 to create Facehawk, have launched a new app to promote the band's new album and test your social media mettle when it comes to your web habits. Nice 2 Hack You uses an algorithm to hack into your browser history–the app is specially engineered to target and expose sites themed around subjects like porn, medical diagnoses, and relationships and dating–then turns the results into an infographic. Then it's up to you whether or not to share it. Those who do can win prizes from the band.
Big Data's Alan Wilkis says the app was inspired by the song "The Business of Emotion," about Facebook's large-scale mood manipulation tests conducted on its unknowing users in 2013. "In a broader sense, the song deals with our concerns over the misuse of our data and online privacy," says Wilkis. "With N2HU, it's as if we're saying that our privacy can't be mistreated if we have nothing to hide. It's empowering."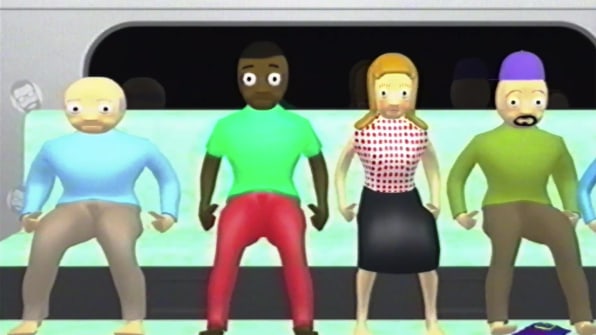 Basu says the algorithm took months to develop, and was made to mine the nuances in our daily web travels. "It's not all just porn and adult sites," says Basu. "There are so many everyday things, personal to each of us, that we would probably rather keep to ourselves. From looking at careers websites, to looking up medical conditions, being on dating sites, or even guilty pleasure songs or TV shows. If you have something hiding in your history, our algorithm will find it."
Considering that, the biggest challenge was to frame the app so people wouldn't be too creeped out by it. "That's why we've gone with a really fun and playful aesthetic in the Nice 2 Hack You intro film, that invites viewers to take part in a unique hacking opportunity," says Basu.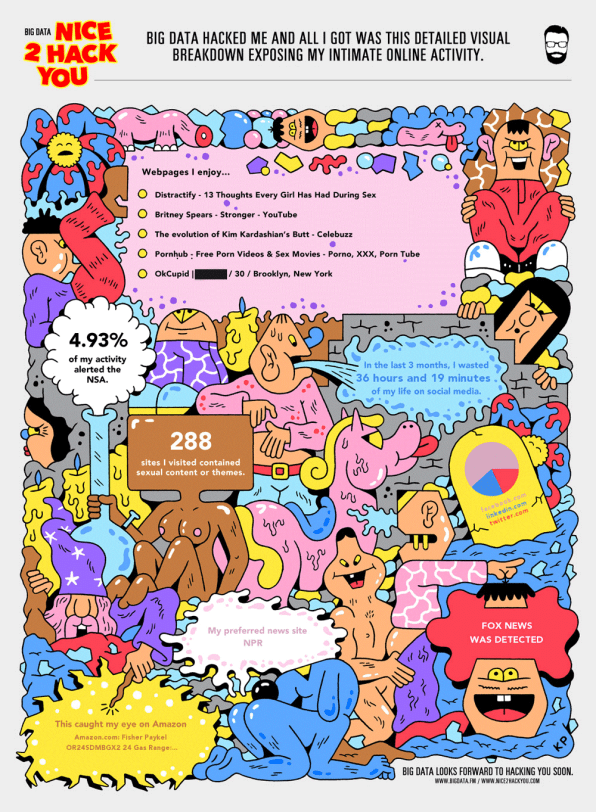 Wilkis says it's meant to illustrate just how open all our browsing history is anyway–this just makes it a bit more fun. "We think of our online behavior as this extremely personal and secretive experience, despite the fact that our every click is being recorded, tracked, and monitored," says Wilkis. "By playfully and willingly revealing some of those private moments through N2HU, I hope the viewer can feel empowered by it. And of course hope it puts a smile on their face when they share how interested they are in the size of Kim Kardashian's butt."