Nearly one year after launching the first Android Wear smartwatches at its I/O conference in 2014, Google is taking a breather.
At this year's I/O, in lieu of splashy reveals, Google is announcing some minor tools for developers, including a way to show bird's eye map views in their smartwatch apps. The company also revealed that it has 5,000 true watch apps in the Google Play Store, plus 1,500 custom watch faces. This year's conference is mainly a time to reflect, and convince app makers that Android Wear is ready to compete with the Apple Watch.
Last week, I talked with Jeff Chang, Android Wear's lead product manager, along with a couple other members of the team. As Android Wear approaches its first birthday, here's what the company has learned, and what its next steps will be.
Android Wear, like most other smartwatches, depends on a smartphone for most of its functions. But Google has realized that it needs to carve out exceptions. "People aren't going to throw their phones away, but almost everyone is away from their phone for some period of time during the day, whether that's at the gym, at home, or at the office," Chang says.
Chang points to several features that Google has added since last fall: Google Play Music users can now store songs on the watch for listening through Bluetooth headphones, and watches with GPS can track more detailed workouts on their own. An update this month also turns on the Wi-Fi chips that had been dormant in most Android Wear watches. This lets users sync data from their phones over the Internet, even when they're out of Bluetooth range or on an entirely different Wi-Fi network.
"I would say, you'll see us continue to prioritize that kind of stuff, in terms of letting your watch do things regardless of where your phone is, and letting apps run directly on the watch without a phone component," Chang says. "We definitely believe in a future where these devices can be used without a phone, some of the time or all of the time," Chang says.
"A lot of people on the team would predict, 'Oh, such and such watch that we're launching, that'll definitely be the one that everyone likes, and this one's ugly, and this and that,'" Chang says. But it turns out that everyone has a different opinion on what's fashionable. "Essentially, I've given up trying to predict which styles or shapes would be popular and which wouldn't be," he says.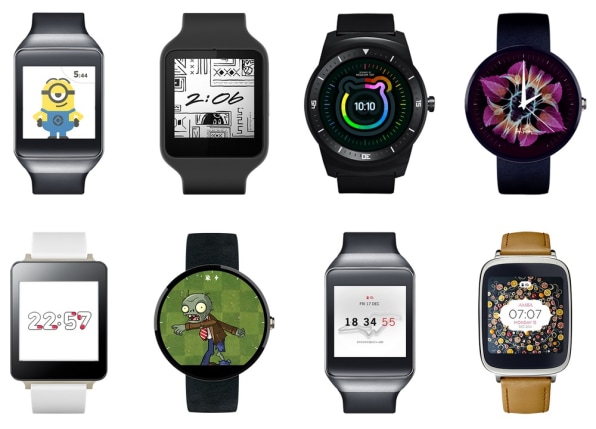 Chang believes this validates Android Wear's approach of bringing in lots of manufacturers. Each one helps cover a range of styles and price points, and also creates some healthy competition. "Every single device proposal we see coming down the pipeline, they're always trying to outdo each other, and that's actually a really helpful, competitive environment for the hardware companies," Change says.
Google is also partnering with traditional makers such as TAG Heuer, which plans to release a luxury Android Wear smartwatch later this year. And Chang confirmed to me that a partnership with watchmaker Fossil is still active, despite no word from the fashion brand in over a year. "They don't have anything to announce at this time, but we are very much working with them," Chang says.
While some people enjoy the look of large timepieces, they're not for everyone. That's a problem for Android Wear, whose watches are all chunkier than the Apple Watch and the upcoming Pebble Time. "Rest assured, it's something we are working hard on, and that we talk to all of our hardware partners about," Chang says.
The brunt of the blame falls to the battery, which is the largest component by volume inside Android Wear smartwatches, Chang says. Still, Google doesn't want to mandate smaller watches if it means giving up an always-on display or all-day battery life, which he sees as core values.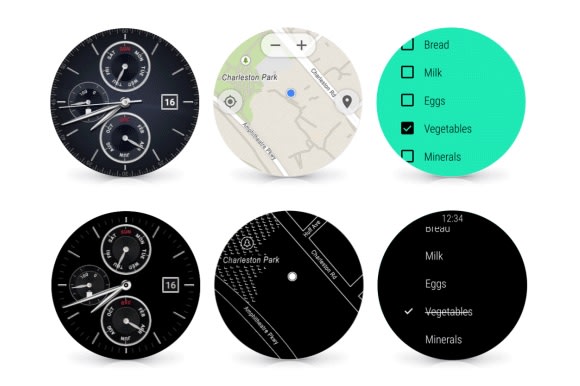 "To accomplish an always-on screen that stays on the whole time, and at least one full day of battery life, and to have a really small volume battery, that's a big challenge," Chang says. "We're working very hard on it, but we do uphold all those principles dearly."
Beyond gradual improvements to hardware and software, Chang hinted at new features that could help stretch out battery life. One watch maker, for instance, is working on a power reserve mode that disables all functions except the clock. (The Apple Watch already has a similar feature.) Chang also hopes battery life will improve as more apps offer an always-on mode, showing information in a low-power state instead of making users fully activate the display.
Some of Android Wear's battery issues could be alleviated if Google enforced tighter restrictions on app developers. That's how Apple approaches third-party development for the Apple Watch, and the result is a full day's charge in a smaller package. (One of those restrictions, for now, is the inability to run third-party Apple Watch apps independently of an iPhone.)
While Chang acknowledges the trade-off in battery life, Google isn't backing down on the idea that apps should have full access to things like sensors and animations, and should be able to work without a paired smartphone. By letting developers experiment, Chang hopes they'll come up with new uses for smartwatches that no one's thought of yet.
"There's battery on one side, and there's performance and latency on one side. There's also apps that could not exist. So our approach has generally been to favor openness and flexibility," Chang says.
Like everyone else, Google is still trying to figure out what makes a smartwatch necessary, or at least desirable. But at least among early adopters, messaging has proven popular. The latest Android Wear update aims to make messaging easier with shortcuts to users' favorite contacts and a way for users to draw emoji responses. The emoji feature will automatically show up in any messaging app, including third-party ones such as WhatsApp.
"People really do care about messaging, and so being able to have really quick interactions, and a super-simple UI, minimum taps or swipes, and really discrete messaging, is super important," Chang says. "So that's why we're investing in those kinds of features."