Weak pricing signals. Poor accounting. Byzantine rules. These are just a few of the reasons why California is in the midst of a water crisis. A lack of rainfall is perhaps the least of the state's problems.
California's situation is symptomatic of escalating water risks all across the world, where water is typically undervalued and, as a result, used incredibly inefficiently as more people than ever need it.
"There's no room to hide anymore, this is where finance hits reality," said Piet Klop, senior advisor of responsible investment at Dutch pension fund manager PGGM, who spoke with me recently about escalating water risks globally.
At meetings I attended across the state this month with water-savvy investors, the California drought always loomed large. In addition to fallowed farmland and depressed earnings, they acknowledged a larger more profound reality–the devastating drought and growing climate change impacts are likely the "new normal" for California.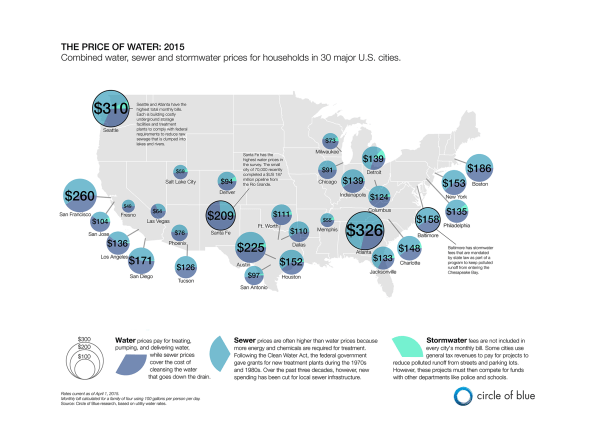 The California drought is only the latest reason why investors are increasingly seeing global water scarcity as a material issue in their portfolios. More than ever, they are trying to understand how localized water risks–whether in California, Brazil, or China–will ripple through their investments, whether in water utility bonds or food company stocks.
In the case of Breckinridge Capital Advisors, which manages a $21 billion fixed-income portfolio, the challenge is to understand how thousands of U.S. water utilities are exposed to water risks. Breckinridge uses 11 indicators to analyze how water availability, demand, and oversight can affect a utility's ability to repay its bond debt. As a result of this process, it downgraded a handful of water utilities in water-constrained Texas last year.
In terms of the California drought itself, I've heard lots of suggestions for what the state should do, many of them focused on key fundamentals like stronger water pricing and better water use information. Here are a few key points:
Much of California's water use isn't being measured, especially when it comes to withdrawals from groundwater basins, which provided more than half of the state's total water supplies last year. There's also little information on how much stormwater and urban and agricultural runoff is being "wasted" instead of being captured and re-used. Without a better understanding of how much water is available and who is using it, managing the state's water challenges will be daunting.
Compared to countries like Demark and Germany, it's low–even in regions where supplies are most tight. In drought-stricken Fresno, for example, a typical family of four is paying about $42 a month for water, less than one-quarter the cost in soggy Seattle. And pricing is also wildly inconsistent among different users, with farmers who are essentially "mining" groundwater typically paying the lowest. As a result of patchwork quilt pricing and byzantine water ownership rights, flexible water trading that would enable more efficient water use is all but impossible.
In first quarter 2015, 63% of global greentech venture capital funding originated in California; yet, only 3% of that funding was aimed at water-related solutions, according to Libby Bernick, senior vice president at environmental data research firm Trucost.
This is true particularly in regard to sufficient investments in green water infrastructure, such as stormwater capture and recycling. Vast amounts of stormwater are now being funneled into the Pacific Ocean every time it rains. While the state's recent $7.5 billion water bond will help finance some of these types of projects, all agreed it's not nearly enough.
The business community, including members of my organization's Connect the Drops campaign, has a key role to play in driving the discussion on the importance of resilient, sustainable water supplies for California's future. Investors, who have a direct stake in the state's economy, have an important role, too. If things continue along the same path, soon this point will not be easy to forget.