If you like the idea of a broad-based, equitable sort of economy where everyone who works hard does well, you won't find much to cheer about in a new report from the Organization for Economic Cooperation and Development (OECD). It says income inequality is on the increase throughout the developed world, that most jobs being created are temporary or part-time, and that inequality is harming overall economic growth.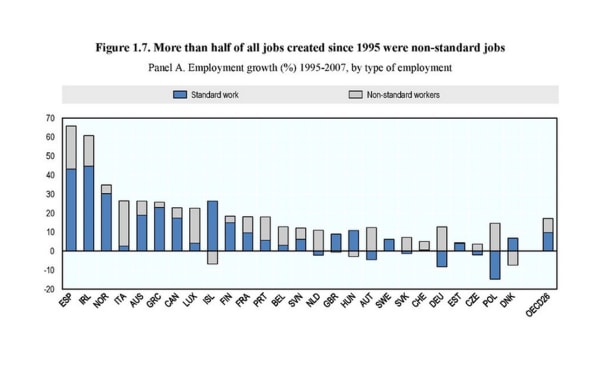 Across all 34 OECD countries, including the U.S., Canada, and most of Western Europe, the top 10% of earners now make 9.6 times the income of the poorest 10%. That's up from a ratio of 7-to-1 in the 1980s, and 9-to-1 in the 2000s. Since the recession, the highest earners have continued to see their incomes rise, while the lives of the bottom 40% have become increasingly precarious. Between 1995 and 2013, more than 50% of all new jobs were "non-traditional"–meaning people are self-employed or on temporary contracts. People under-30 are most affected: 40% are in non-full-time positions.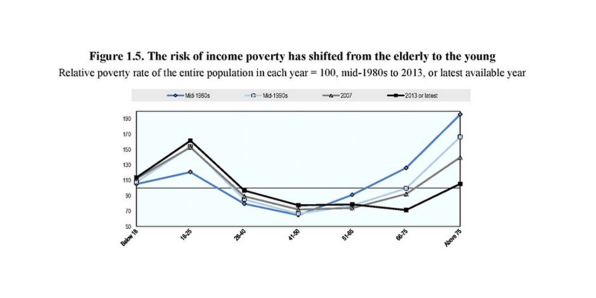 "Non-standard workers are worse off in terms of many aspects of job quality. They tend to receive less training and, in addition, those on temporary contracts have more job strain and have less job security than workers in standard jobs. Earnings levels are also lower in terms of annual and hourly wages," the report says.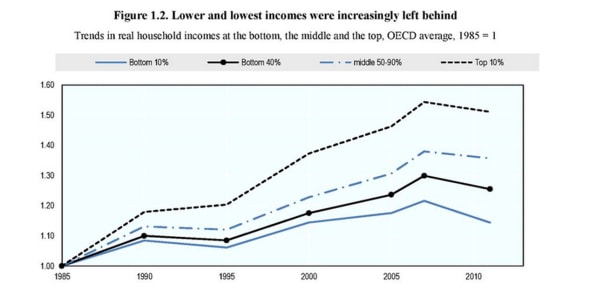 The report is notable for what it says about the effect of inequality. Economists have disagreed about whether inequality spurs economic activity or weakens it. Some argue that inequality causes bottom-earners to strive harder to reach the top–so it's a positive thing. Others say that more income at the top-end means less money flows into the economy, because the rich can afford to put aside more of what they earn. The report argues conclusively that inequality is bad for everyone, reducing the cumulative growth rate between 1990 and 2010 by 4.7%. That's because lower-earners have less disposable income than they once did.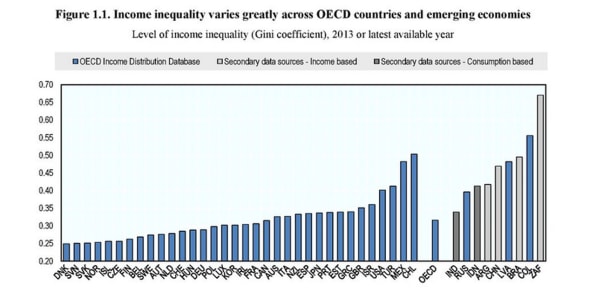 In the U.S., average pre-tax income has risen by 1% a year since the 1970s. But once you subtract the earnings of the top 1%, the rise is just 0.6%. That means that 99% of Americans have enjoyed the same rise in earnings as the French (which may complicate some Americans' views of themselves as more economically dynamic than our French friends).
To address income inequality, the OECD recommends action in four areas. First, it says governments should work to reduce pay gaps between men and women. On average, across members countries, men earn 16% more currently. Second, they should promote job quality not just quantity, it says: More temporary jobs should be "stepping stones" not simply means to fill positions for short periods. Third, there needs to be more focus on education and training once people get into the workforce. And fourth, governments can transfer wealth more effectively through the tax system, for example by clamping down on the way international firms now routinely evade taxes.
"Large and persistent losses of low-income groups underline the need for well-designed income-support policies and counter-cyclical social spending," says the report.