Low unemployment coupled with the capability to search and apply for jobs online and via mobile is giving candidates more control than ever.
Tara Sinclair, PhD and chief economist with Indeed, believes the war for talent is on. Driven by the aggregated data from Indeed users and from the Bureau of Labor statistics in her latest research for Indeed's Hiring Lab, Sinclair's latest report shows there are several dominant trends based on what job seekers are searching.
Six of the top 10 fastest-growing job searches are for positions in the tech industry, two in healthcare, and talent acquisition bringing up the rear.

People are also increasingly searching for flexible work, meaning that even as the economy improves, a 40-hour week may not be the norm for much longer.

Oil and gas jobs were popular throughout the year, even though prices are fluctuating.

There is particularly high demand from employers for administrators, managers, and technicians.
With a smaller pool of people who are actively unemployed, job flow in the coming years is expected to be dominated by people leaving their current positions for better opportunities.
Supply and demand is skewed greatly between employers and job seekers. That gap between the number of openings and job-seeker interest is widest in both healthcare and tech. According to the report, twice as many employers are looking to fill jobs as there are candidates applying. The mismatch also appears in transportation and material moving occupations. General management jobs, on the other hand, have about an equal number of openings to candidates (15.03% to 15.07%, respectively).
Tech jobs may dominate the headlines as hackers and dropouts find ways to snap up coveted positions, but according to the Bureau of Labor Statistics, health care organizations added an average of 26,000 jobs per month to the field last year.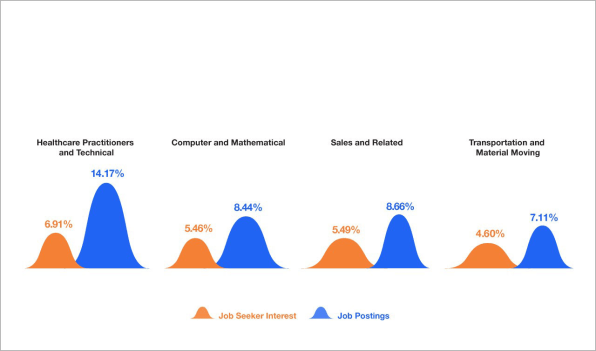 Related: An Unconventional Solution To Filling The 5 Million Open U.S. Jobs
Indeed's data indicates that the search term "health care administration" continued to grow in popularity between January 2013 and January 2015.
Workers want more flexibility to balance work and family life. Another trend that emerged from the research was the frequency of search terms such as "part time" and "work from home." Sinclair writes that other search terms including "day care" may be coming from job seekers looking for on-site child care or a job that aligns with a school schedule. "The attraction and retention of talent may increasingly rely on quality of work, rather than when and where that work is done," she writes.
Given the rise of the Internet of Things, social media, and connected devices, it's no surprise that the skills required to do even the simplest tasks require some knowledge of tech. Think: sales and business and financial operations. But also, over the past two years, the report found that job searches for "digital marketing" have increased exponentially.
Did you know that searches for "property management" are distinctive to Atlanta, and its fastest growing search term is "finance director," which increased by 52% over the past two years?
Other cities that have searches unique to them include:
Boston: "CFA" or certified financial analyst, while searches for "chief of staff" increased 117%.

Chicago: "certified nursing assistant" and "data scientist" searches grew by 82%

Houston: "process operator"–those who oversee operations in a facility–and "security analyst" was the term that experienced the most growth at 70%

Los Angeles: "LVN," which stands for licensed vocational nurse, with the search term "data scientist" growing by 86%

New York City: "porter," as in a building maintenance worker or luggage carrier. "HR manager" was the fastest-growing search term, increasing 63%

San Francisco: "data scientist"–no surprise there, but the search for "medical writer" jobs grew by 81% since 2013
Indeed's report indicates that most jobs don't follow seasonal hiring patterns, and the most common searches are consistent throughout the year. But drilling down reveals a somewhat different picture.
Not surprisingly, job seekers tend to be out in force at the beginning of the year and during graduation months. Tax professionals, nannies, and teachers all fall into the seasonal pattern.