For the restaurant chain that brought barbecue pizza to the world in the 1980s, the last few years haven't been easy.
In 2011, following years of declining sales, California Pizza Kitchen was purchased by a private equity firm and delisted from NASDAQ. Like many other restaurant chains, it had suffered immensely from the economic crisis. And it hadn't done a great job of keeping up with the organic, locally sourced, artisanal Joneses. Now the company is trying something new: using local ingredients as part of a larger rebranding. Will consumers bite?
Rolling out restaurant by restaurant, California Pizza Kitchen is making drastic menu changes, shedding many menu items, and, along with the hipster-friendly local ingredients, emphasizing high-margin alcoholic drinks designed to encourage guests to stay longer.
Brian Sullivan, the company's senior vice president of culinary innovation, tells Fast Company that regional operators are sourcing vegetables from local farms when in season. On the West Coast, for instance, lettuce, arugula, spinach, baby kale, and scallions are sourced from regional supplier Church Brothers and olive oil comes from California Olive Ranch. The chain says local farms are used whenever seasonably possible to supply restaurants.
Farms in California and Florida, meanwhile, are used for overnight delivery of fruits and vegetables for both coasts. Herbs for pizzas will also be grown on site at the restaurants. So far, that's about where the localization stops: CPK is still using national suppliers for meats, pasta, dough, and other essentials. However, these suppliers skew toward the high end; bacon comes from Nueske's and andouille sausage is sourced from Paul Prudhomme.
CPK is following in a long tradition of chain restaurants sourcing local or sustainable ingredients. Chipotle–which itself made a dining-trends play recently and went (sort of) 100% GMO-free–has been playing up its supply chain in advertising for years. Smaller chains like Tender Greens, Burgerville, and NativeFood actively promote their relationships with local suppliers. Even McDonald's is worried about customer perception of its supply chain; it recently said no to GMO potatoes offered by a major supplier.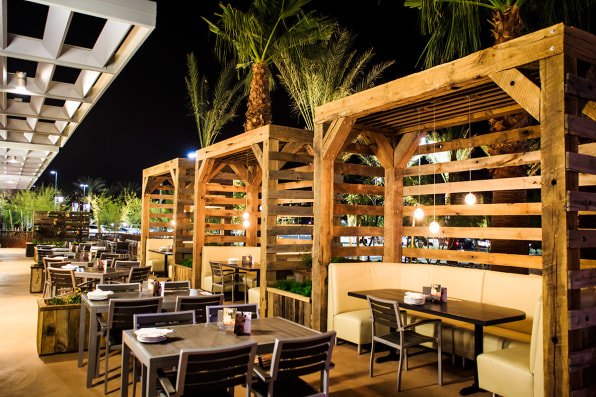 Still, the fact that a national pizza chain is going local in an effort not driven by the bottom line is an interesting move. CPK CEO G.J. Hart says the localization is "absolutely not" a cost-cutting measure, but rather a way to differentiate the brand from competitors. And it's part of a larger rebranding that is being hailed as the "Next Chapter."
Southern California was the first market to see the new menu, followed by several locations in Florida. Eighty other restaurants have or will be revamped in 2015, and the chain says the remainder will be overhauled in 2016. Along the way, the brand is tweaking its approach to each market slightly: Chicago diners, for example, order more beef options than Californian eaters, while Californians order a bigger variety of salads. One singular goal remains, however: convince customers to stay inside each California Pizza Kitchen longer.
Hart is up front about the fact that brands such as Panera Bread and Chipotle have lured away customers. While California Pizza Kitchen's international and licensing agreements have ensured a steady revenue stream–its frozen pizzas are available at most American supermarkets, and new branches recently opened or are scheduled to open in Chile and Turkey–American customers have largely been patronizing other chains. A relative newcomer to California Pizza Kitchen himself, Hart came to the chain in 2011 from Texas Roadhouse shortly after CPK was acquired.
California Pizza Kitchen's new menu is heavy on desserts, alcoholic drinks, and appetizers–rebranded as "small plates." Hart says one of the challenges his company faces is the increased tendency among diners in their twenties and thirties to order appetizers to share rather than traditional entrees. The rebranding hopes to address that by bolstering its small-plate offerings, and with a mix of trickle-down foodie trends (red velvet cake, salted-caramel pudding) and healthier-than-the competition dishes (arugula-and-asparagus salads, grilled meats).
These changes are a way of coping with a bind: While California Pizza Kitchen is in no danger of going out of business or mass-shuttering stores, it is dealing with an aging core customer base and stiff competition from restaurants with higher and lower price points. In downtown office districts, its lunch business isn't where it should be; in malls, newer and more agile chains like Yard House are stealing away younger customers.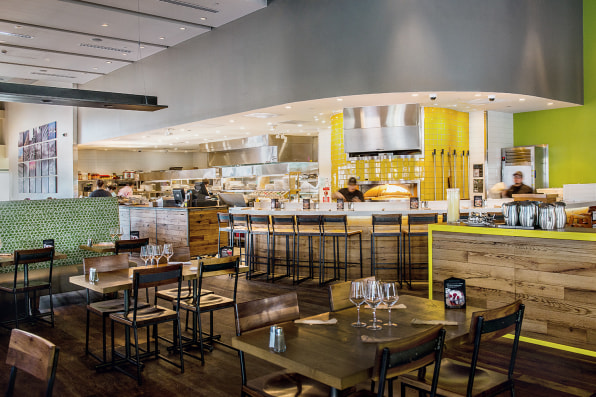 This means appealing to new constituencies. One way the company is doing that is by rolling out a line of gluten-free pizzas and a dedicated vegan menu. "Gluten-free pizzas aren't a large part of our sales, but an important part," Hart says.
The menu isn't the only thing getting an overhaul. As its existing branches are overhauled, the pizza chain is adding reclaimed-wood tables, free-standing bars in locations with heavy traffic from customers in their twenties and thirties, and open kitchens when feasible. Even the cocktails are a part of that; before, the chain tended to treat alcoholic drinks as an afterthought.
Hart and Sullivan hope the changes will attract new customers. Sullivan noted that when he started with the chain in the 1990s, quinoa and gluten-free dining were tiny blips on the landscape. "Customers have more sophisticated palates now," he adds. Certain items on the chain's menu, such as Thai pizza and Moroccan chicken salad, skew toward the millennial market.
But that delicious barbecue chicken pizza isn't going anywhere anytime soon.