ME: what is this, tastes like hot bean water
BARISTA: coffee
ME: [3 minute spit-take]
BARISTA:
ME: [jazz hands] it's me david blaines

— Joshua Allen (@fireland) May 18, 2015
Nicki and Beyoncé released the "Feeling Myself" video on Tidal yesterday, leading to a panicked and increasingly desperate search throughout Manhattan's newsrooms for someone with a Tidal login. Eventually most people made do with watching it in the form of gifs, which works pretty well, since the video is basically just a collection of gifs anyway. Go ahead and watch it on Tidal though if you have a login (I see u Jay).
Then John Kerry was like:
And Obama and Clinton jumped into the cool-Democrats Slack to backchannel about what a thirst-monster Kerry is, and then Biden made a :lurch: custom emoji and work was basically just wrecked for the rest of the day.
Everybody chill out.

— Stewart Butterfield (@stewart) May 19, 2015
Today in Near-Future Headlines: L'Oreal partners with bioprinting company Organovo and artists Christo and Jeanne-Claude to wrap Rio de Janeiro's iconic statue "Christ the Redeemer" in perfectly-contoured and blushed human skin. (Spoiler though: all of Christo's art was already made of human skin.)
Mass media has always reassured me that pretty much everyone else is also a white dude just like me, or an accessory/plot contrivance to same. But it turns out that is possibly not the case anymore? Tabs intern Karen Ho brings us the story:
Asians in movies and television are finally having a moment. In billion-dollar blockbuster franchises, playing major television characters and in roles that finally don't involve being a passive advice-friend in the background, Asians are now more frequently a part of mainstream popular culture.
Some of that diversity is because of the almighty Chinese box-office. Some is because Asian actors are more vocal and selective about which parts they accept. With show runners like Shonda Rhimes at the helm of more major, prime-time projects, the process of casting has also changed.
Nicole Soojung Callahan at The Toast hit a nerve with her eight-point list about representation and the character Dr. Helen Cho in Avengers: Age of Ultron: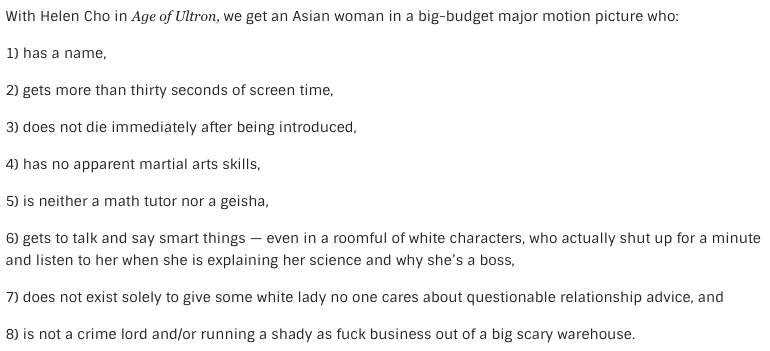 Nicole's essay about why Dr. Cho truly is so different–including her transcending so many tired Asian cliches, the unicorn-like rarity of a Korean character being played by an actual Korean actress, and Dr. Cho getting more than an afterthought's worth of screen time–aptly captures what so many Asian pop culture fans have long hungered for.
It's not just Asian adults who are affected by this change. Nicole's anecdote about her seven-year-old daughter also demonstrates just how early kids notice when there aren't a lot of people who look like them in the media. Thankfully for them, the future of television and movies looks a lot less like Married with Children or Friends, and more like Melinda May and Dr. Ken.
The fact that I have nothing to add to this is, in my mind, full justification for the concept of the Tabs intern, so instead I'll just put this tweet here:
Last night I dreamed someone said to me: "Sour cream is just butter with PMS"

— Helen Rosner (@hels) May 19, 2015
Today's Song: Did you know David Duchovny put out an album? No, not that one, Kevin. This one: "Hell or Highwater." It's fine, if you like things that aren't quite trying hard enough.
~You know it used to be tab love~
Today in Tabs is definitely buying In 'n' Out for the whole Fast Company crew after this. Tinyletter is the Nicki to our Beyoncé. Follow me @rustyk5. Special thanks today to Senior Contributing Editor Bijan Stephen for "Rio de Janeiro's iconic statue 'Christ the Redeemer.'"