"Welcome to MikMak," the startup's founder, Rachel Tipograph, tells me as she opens the door to her Williamsburg apartment.
Inside, a green screen divides her kitchen and living room, and tripods on tripods on tripods–holding lights, a microphone, and two cameras–sit between her couch and television. "This is hair and makeup," she tells me, opening the door to her bedroom, where, just like on a television set, an actress is getting the prerequisite layer of powders applied to her face before going on camera.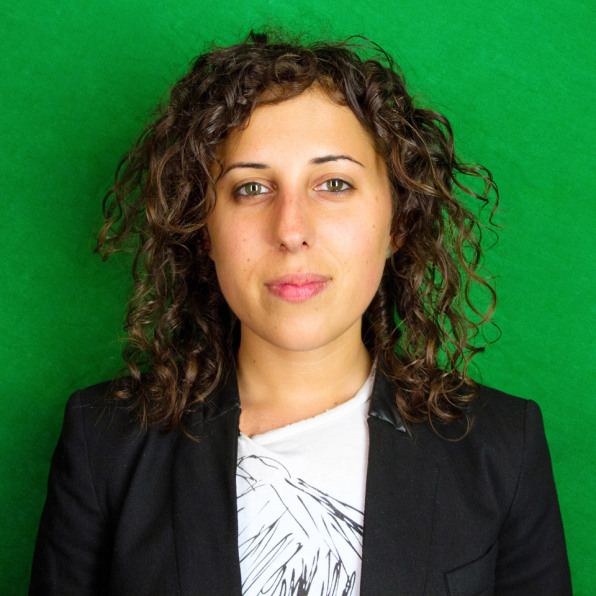 MikMak, though, is not creating a television show. Nor does it have plans, like so many of its new media brethren, to launch a YouTube channel or the next Vine star. MikMak's goal is to reinvent the soothing effects of the HSN for people who want to shop on their phones–think Spring users who want gadgets and jewelry instead of expensive clothes. It's the format of The Clapper commercial, with the sensibility and tech savvy that appeal to a phone-first generation.
Tipograph, who was previously the global director of digital and social media at Gap, says the idea came out of her professional experience trying to sell stuff online. Email and retargeted advertising, though effective, were annoying to consumers. Video was effective and less annoying, but good production was expensive. When she stumbled upon infomercials, it felt like the holy grail: low-production-cost video that built relationships with customers. The problem was that most millennials are not watching the Home Shopping Network. "To work for people our age, it has to be packaged differently," she says.
That's where the app comes in. It puts infomercials into social media format–quick 30-second videos with personality–and creates an environment where people are looking to shop. Users can browse by products, watch videos, and buy the product right from the app.
But how to get millennials to watch?
"If you look at the most popular video that lives in social channels, it's usually either comedic or extreme sports," Tipograph says. And her apartment was too small for extreme sports.
By hiring comedians, mostly from the improv comedy community, MikMak makes compelling videos without expensive talent, sets, props, or really anything (aside from a makeup artist and camera equipment) that can't be found inside a typical Williamsburg apartment.
Today an actress named Elyse Brandau is sitting at a table, reading lines for her second video of the day, which will promote a pair of chopsticks that turns into forks (how did it take this long, amirite?). Tipograph provides a plate of cucumber sushi purchased the evening before and digs up a bottle of soy sauce from her pantry to set the scene. "My food is fusion, so why not my flatware?" Brandau reads from a one-paragraph-long script that has been written by a freelance writer. "Sometimes I need a fork, sometimes need a chopstick. Now the fork chopstick will get whatever you're eating off the plate and in YOUR BELLY. GET IN MY BELLY." Here's where she goes off script. "It's Austin Powers. You've never seen the movie? How old are you?" The head of video production stops her to request that she actually do the Fat Bastard voice. "Is it Scottish?" she asks. Four minutes later, and that's a wrap. After some sushi-stabbing b-roll (one fork, two forks), the team has wrapped up the video in a total of 12 minutes. They plan to do 24 videos before the end of the day, including videos for something called a "peaceful bomb vase" and a "doodle tablecloth."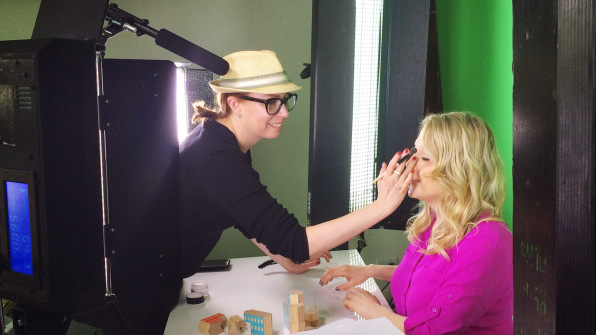 MikMak already has about 400 of these videos in its app. As far as the infomercial goes, consider it reinvented. The bigger question is whether its bite-sized, snappy, humorous approach to those commercials can get anyone to watch, buy products–or compel them to download the app in the first place.
To recruit beta users, in February, MikMak partnered with the shopping discount magazine All You, which offered access to readers through its email and network for "best readers." It's signed up small brands to sell on the platform, including companies like direct-from-inventor marketplace Quirky, Brooklyn-based Areaware, and Soko, a company that connects consumers with handcrafted jewelry from the developing world.
Brands are no stranger to marketing video, but on social media they generally compete for attention with content that is not attempting to sell something. MikMak wants to offer them a venue in which people are in a mind-set to shop.
In exchange, the platform plans to take retail-style margins from sales.
"We're offering brands something they have never been offered before," Tipograph says. "Free commercials."