A groundbreaking virtual reality experience which allows the user to experience firsthand a live horse race in real time from the point of view of their selected horse and jockey was showcased in Shoreditch, London, this week.
"Get In The Race" was developed by London production studio UNIT9 for William Hill, one of the U.K.'s largest bookmakers for sports gambling, combining live data and VR technology to create the experience of a live horse race in a 3-D virtual environment.
Sports betting has been disrupted by and reacted to a variety of technologies in recent years with the evolution of online, mobile and now peer to peer betting. William Hill is now working with UNIT9 to assess how it can capitalize on growing interest in VR ahead of VR headsets becoming mainstream.
"Our aim was to develop a product to add value to William Hill contributing to the bottom line by generating revenue," says UNIT9 VR creative director Henry Cowling. "The opportunity lay in the fact the brand already has thousands of outlets with huge footfall and a strong digital presence with lots of data."
William Hill was already considering different ways it could use information collected from GPS trackers fitted on riders' saddles at three U.K. horse racing tracks, including Kempton Park. Data collected in this way includes the position of each horse, its speed, stride length, and heart rate.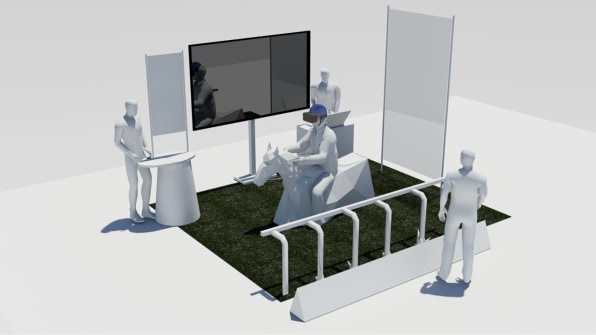 UNIT9's challenge was how this data could be used to create a compelling VR user experience. The solution, based around the video game engine Unity, recreates in precise detail an actual race.
Computer modelling details each horse and jockey in their respective colors, the course around which they race, and even the weather. Users, meanwhile, are able not only to choose a jockey whose race they can experience but place a bet on the outcome from within the VR environment.
"Our aim was to ensure the experience would be as widely accessible as possible, so we decided to build it primarily for Google Cardboard, though it would also be available for other headsets including Oculus Rift," Cowling explains. "The technical challenge with this, however, is that mobile phones have a lower processing power than a computer so resolution was key–which is why we want for a highly stylised, vector-styled low polygon look and feel."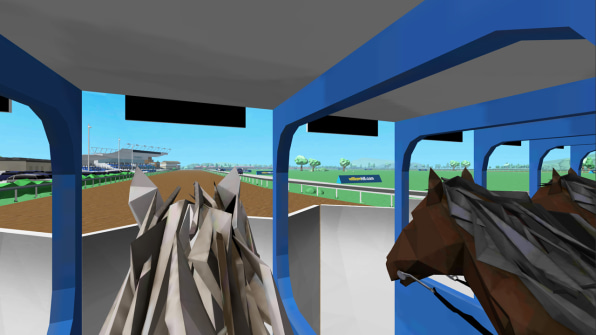 A CGI solution was also necessary as creating a live action VR experience from the rider's perspective would have required each jockey to carry a camera weighing around one kilo, he points out. That said, live action track-side footage of horses as they pass by could be incorporated into future versions.
Other challenges also had to be overcome. For example, sophisticated algorithms were required to ensure accuracy as GPS data is not 100% accurate–it can have up to a one meter variance, not ideal when a race is close. Special back end software was built, too, to allow multiple data points to be used and smooth data flow.
Also developed was a head up display–users activate this when looking down at their horse to see the horse's heart rate, stride length, distance remaining and race position–and a polygraphic horse installation on which the user sits to enjoy their chosen jockey's view.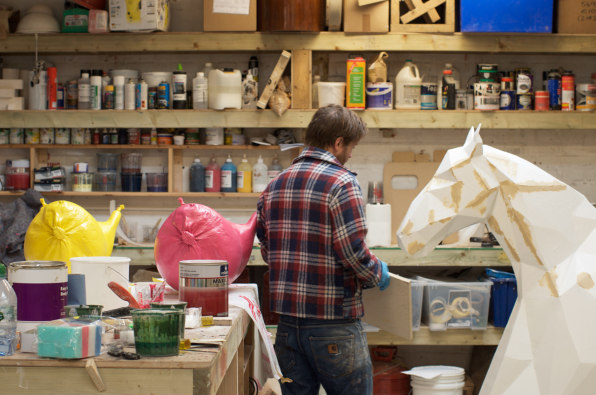 An advanced prototype of "Get in the Race," featuring a race at Kempton Park which took place in February 2015, was presented at the Digital Shoreditch 2015 festival on Monday. The plan now is to further refine the concept through further user trials ahead of launching "Get in the Race" as a real-time experience for users to enjoy as a race unfolds, live, within six to nine months.
"'Get in the Race' is the first time racing fans can experience this level of virtual reality, where fans can enjoy a real-life horse race in a 3-D environment 'sitting' on the horse they have backed and watch every twist and turn from the jockey's point of view," says Jamie Hart, William Hill's director of innovation and customer experience. "Customers will feel as if they were in the race itself."
Adds Cowling: "Moving forward, we believe this is a model that can be applied to other sports with a rich supply of data–Formula 1, for example, would enable a powerful VR user experience."
Digital Shoreditch runs May 11 to 24.