If you've got your sights set on expanding your global digital presence, then Brazil should be your next market. The South American country has been steadily building out its social media scene in recent years. With the 2016 Olympics right around the corner, now might be the right time to move on down to Rio.
If you're not fully convinced, then these seven facts about Brazil might change your mind.
Brazil is home to a rather young population. Around 85% of the country is under the age of 55, and 40% is under the age of 25. To put things in perspective, only 33% of the United States's, 32% of China's, and 30% of the UK's population are under 25 years old. You have a real opportunity to build a relationship with your customers that will last a lifetime if you make those connections now.
Over the past few years, Brazil has been solidifying its position as the superpower of South America. It's currently ranked eighth worldwide in terms of GDP–purchasing power parity–with $3.073 trillion, beating all other South American countries.
It's not all roses and sunshine for Brazil. About one-fifth of the population lives below the poverty line, the unemployment rate rose to 5.9% from 5.1% last year, and the country is currently fighting its way through a recession.
Despite these uncertainties, economists still maintain a positive long-term outlook for the country–even if things may get slightly worse before they get better.
As Jose Carlos Faria, chief Brazil economist for Deutsche Bank, said in April 2015: "The economy is undergoing important adjustments that are necessary to shore up confidence and pave the way for a future recovery." Looks like there will indeed be a light at the end of the tunnel.
In Brazil, the majority of the go-to social networks your brand already uses are openly welcomed. This makes Brazil an easier–and arguably more logical–passageway into the global scene than say, China, where social networks like Facebook, YouTube, Twitter, Instagram, and Google Plus are blocked.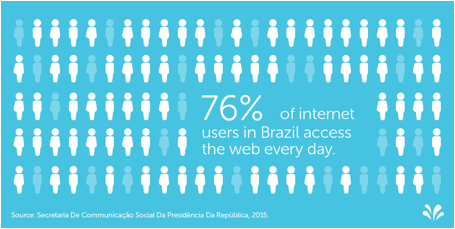 Although only 48% of Brazilians use the Internet, that figure still adds up to nearly 100 million people, which is certainly not a meager number by any account. Plus, those who use the Internet really, really use it. Around 76% of Internet users in Brazil access it every day, logging on for an average of 5 hours on weekdays and 4.5 hours on weekends.
When you look into specific demographics, the exposure rate increases dramatically. About 72% of those with higher education access the Internet every day, spending an average of nearly 6 hours surfing the web daily.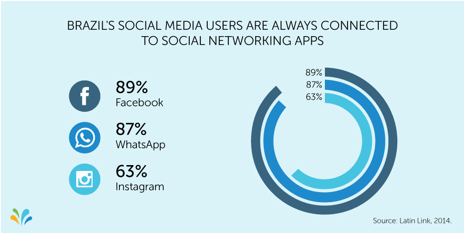 Among Internet users in Brazil, 92% are connected to social networks, and the average time spent on social media each day among social media users is 3.8 hours. In the United States, that number is just 2.7.
A large number of Internet users also report being always connected to social networking apps: 89% are continually logged onto Facebook, 87% on WhatsApp, and 63% on Instagram.
Probably the strongest business reason to look at Brazil as your next market is that social media isn't just a mindless recreational activity in Brazil, rather a trusted establishment.
In a survey of 2,800-plus subjects in 172 municipalities, social media was reported as the second most reliable institution, or 63%. It landed behind the press by just two points at 65%, and was miles ahead of congress at 19% and political parties at 18%. This trust presents a huge opportunity for brands to foster connections and build long-term relationships with audience members via digital channels.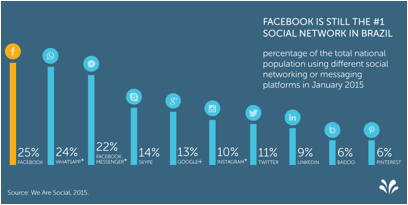 There are rumors of Facebook losing popularity in certain markets. Researchers at Princeton University predicted that Facebook would lose 80% of its users within three years.
In Brazil, Mark Zuckerberg's brainchild is thriving. It's the most widely used social media platform, with almost a quarter of the country logging on monthly. The social network giant also closed out 2014 with a total of 91 million monthly users in Brazil, a nice bump of 8 million users during the year.
There's still a lot of room for improvement in Brazil both politically and economically, but this doesn't take away from the opportunities offered by the country. The social media landscape in Brazil is unparalleled: more and more Brazilians are getting access to social networks each day. Once they log on, they stay connected. For brands that do their research and prepare thoroughly, it's the chance to be at the forefront of the world's next leading market.