Many of the most shocking photos to emerge from the recent Nepal earthquake were not of people, but of buildings: iconic structures reduced to heaps of rubble, homes that collapsed, storefronts toppled over into the streets. These buildings were the earthquake's most deadly weapons.
Based on the state of buildings in Kathmandu and surrounding areas (we still don't know entirely what's happened in hard-to-reach rural areas), you might assume that Nepal was completely caught off guard by this quake. In reality, the country had been working to strengthen its buildings for years.
In the late 1990s, a nonprofit called the National Society for Earthquake Technology – Nepal (NSET) teamed up with GeoHazards International, a Bay Area nonprofit working towards global earthquake safety, to come up with with an "earthquake scenario" for the country, looking at everything from policy to seismology to loss estimates in the event of a large quake. A report issued by GeoHazards International in 2000 estimated that two-thirds of the earthquake risk in Kathmandu would be from poorly built, seismically vulnerable buildings.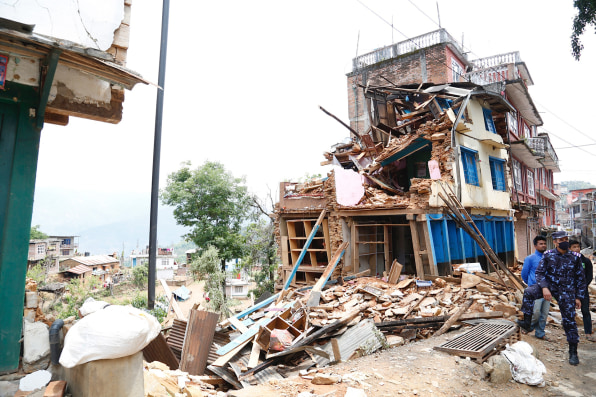 The groups also drew up an action plan, which was being worked on up until the earthquake, and today's follow-up, hit. Other international organizations have also worked with Nepal on preparedness. USAID, for example, helped create a plan allowing municipalities to more effectively control the earthquake readiness of new buildings. But the efforts have been slow-going.
"They were making heroic efforts in the face of a difficult situation. There was a stock of very vulnerable buildings that pre-date efforts to reduce earthquake risk, plus rapid urbanization and significant resource constraints," says Janise Rodgers, a structural engineer with GeoHazards International.
What makes Nepal's buildings so vulnerable? "There's an older building stock, particularly outside the capital city, that really susceptible. We see that in lots of the developing world," says Bret Lizundia, structural engineer and Principal at Rutherford+Chekene. Lizundia is gearing up for a trip to Nepal with the Earthquake Engineering Research Institute (EERI) to look at the damage and offer recommendations. While he hasn't yet been to the country, he's familiar with the types of vulnerable buildings found there.
One of the deadliest are stone masonry buildings, which are made out of stones that have been mortared together, and are just one of the many variations of unreinforced masonry found in the country. Slightly more advanced are what are called "non-ductal concrete frame structures," buildings that are made out of lightly reinforced concrete. These tend to not be up to modern earthquake standards, but they're economical in places, like Nepal, that lack a steel industry. These structures use some sort of masonry as infill between the frames.
Another common building in urban settings are called soft story buildings, which feature residential spaces above and commercial or office space below. These buildings, also known as "weak story" structures, can collapse in a large quake.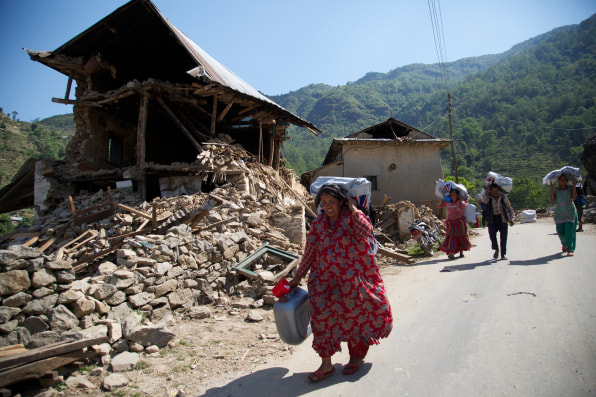 Nepal also has many unique monuments that were damaged or destroyed in the earthquakes. Nobody yet knows why they collapsed–whether these monuments were damaged previously, whether they were deteriorating due to water intrusion, or if other factors contributed to their demise. That will be determined in the coming weeks and months.
There are ways to strengthen or retrofit all of these types of buildings. But the method used–and the cost–depends largely on the individual structure. Take unreinforced masonry. The walls on a building might be adequate enough to take the force of an earthquake. A building right up against its neighbor probably has a big solid wall that will do the trick. But a building on the corner of the block, without other buildings' walls to help take the force of the quake, could need work.
For retrofitting soft story buildings the goal is to add strength and thickness. Again, the method used depends on the building. Sometimes the structure might need a small foundation underneath it, sometimes wood walls will need to be supplemented with plywood sheathing. There may be some locations where the wall is there but the ends of the wall aren't anchored sufficiently to the ground, so when it starts to tip in a quake, the structure isn't held down.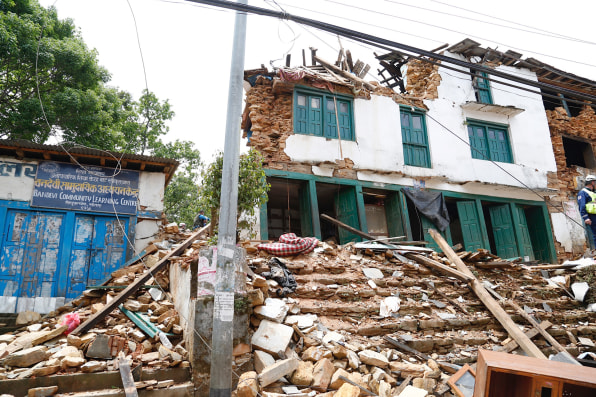 There is limited cash for building retrofits everywhere–even more so in a poor country like Nepal. "There's the [small] amount of capital available, and the building types are worse. It's a double issue. There has been some earthquake retrofitting, and certainly there's knowledge of the problem," says Lizundia. He points to pilot programs in the country that have prioritized retrofits for hospitals and schools.
It's tempting to try to compare Nepal's structures to those in earthquake-prone areas of the U.S. There are some similarities; soft-story buildings are common in California, and unreinforced masonry is a problem (a bill passed in the 1980s requires every community in the state to do something about the dangerous structures, whether it be voluntary or mandatory retrofitting).
But even in U.S. cities that are vulnerable to earthquakes and don't pay too much attention to the issue (i.e Boston, Memphis, and Charleston), the building situation is completely different. "It probably wouldn't be unfair to say that we don't have the kind of stone masonry rural structures that people build as homes in the developing world that are at severe risk and have done poorly in [earthquake] events," says Lizundia.
And in general, it's difficult to compare countries, because preparedness goes far beyond buildings. "It's hard to say on a national scale if one country is more prepared than another. Some countries may be more advanced in terms of emergency response planning, others may be doing better in terms of building code enforcement," says Rodgers.
When Lizundia heads to Nepal, he expects to spend more time evaluating large buildings than individual homes, for obvious reasons. "They're more structurally significant and already we kind of know what the trouble is with stone homes. It's a horrible human loss but from a technical point of view, there are fewer lessons to be learned."