In the McDonaldland universe, the Hamburglar was always a supporting character at best–a striped-shirted, inarticulate Kelly to Ronald's Beyonce.
This week, however, everything changed. McDonald's dropped a bomb in the form of a brand new, incongruously hunky, Hamburglar.
Unlike last year's revamp of Ronald McDonald, which gave the clown, essentially, a new outfit, this was a whole cloth re-imagining of a brand icon. The Hamburglar was introduced in the '70s and was best known as a diminutive, ginger bandit–a cartoon character–who co-starred alongside other B players like Grimace, Mayor McCheese and the Fry Guys and who last appeared in McDonald's advertising in 2002. In this new incarnation he's a flesh and blood man, and a suburban father to boot. The man part has not gone unnoticed. When he appeared on McDonald's social channels on May 6, he immediately set the internet's imagination alight. McDonald's had taken the premise, and the uniform–striped shirt, trench, yellow-banded hat, and mask–of the vintage kid-focused character and updated and fitted it to a scruff-sporting, attractive man in his thirties. Judgement was immediate, and generally fell between fascination and fright–the Hamburglar was now more DILF-y Rorschach than single-toothed scamp–but the overall result was, as summed up in this news outlet's headline: Twitter went nuts.
We chatted with McDonald's VP Marketing Joel Yashinsky to find out more about why and how the company resurrected the Hamburglar in such a striking fashion.
A Modern, Progressive 'Burglar For A "Modern, Progressive Burger Company"
The Hamburglar redesign has coincided with a period of soul-searching at the fast food chain, amid long stretches of falling sales and broader existential challenges. New CEO Steve Easterbrook this week revealed a vague sketch of a turnaround plan, speaking of an "urgent need to reset this business." And while Easterbrook said the brand would be "challenging conventional wisdom on multiple fronts," he probably wasn't thinking of a beefy new mascot. But the Hamburgler did grow out of a general push toward "modernizing" the company's image on all fronts.
The Hamburglar came out of a brainstorm at agency Golin back in January around marketing McDonald's new Sirloin Third-Pound burger. "As we thought about the product and who the target is (a broad target, but mainly adults 25+) and the affinity that fans have towards memories of our history, and as we also look forward, we wanted to make sure we created a campaign that connected (everything) together," says Yashinsky. The agency proposed resurrecting the character, and he says, "It was something that resonated with us as a potential mark that could hit, and it certainly has."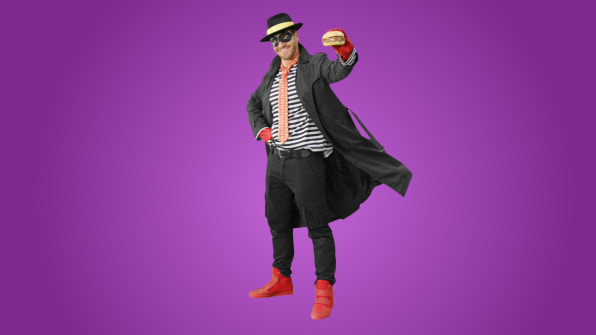 Yashinsky says there were other design variations on the table, but the handsome dude unveiled this week won out as he was in keeping with McDonald's stated goal of positioning itself as a "modern progressive burger company."
As to the process of approving the radical appearance of the new Hamburglar, Yashinsky says "we had a lot of conversation around that, I'll be honest. We had a lot of discussion about (changing) a McDonaldland character that has a lot of history with people and we thought if we're going to be a modern progressive burger company we have to have fun as a brand and we have to try different things.. We wanted to have some fun thinking about what would bring him back; what would bring him out of retirement, if you will. And this great product fit the character."
The Next Phase
The resulting creation earned mixed reviews, and a lot of them–the effort has been nothing if not buzzworthy. The Hamburglar has been called creepy, hipsterish, and hot (when Jezebel polled its readers to find out if they'd have sex with the Hamburglar, 58% answered in the affirmative, while another 22% chose "Give me a 20-pack of McNuggets and we'll talk"). But surely bangability wasn't what the architects of the Sirloin initiative were going for. Yashinsky just says "we are excited about the response we are getting. There will always be detractors out there, but we're providing this fun element for our fans and advocates To see them respond and get excited about what we're doing and finding it fun and engaging and having some ownership of it is where we want to be." He also notes, "the Hamburglar element from a digital and social standpoint has been going gangbusters to help announce this new burger and build awareness."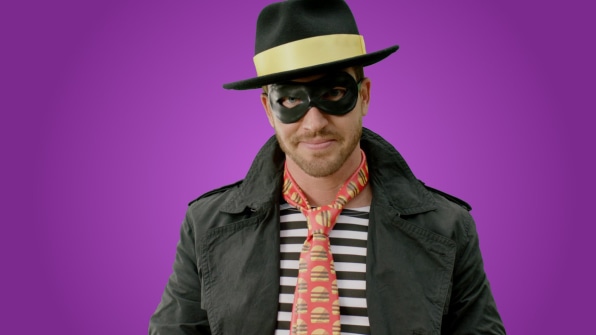 And hold on to your burgers, because the character will be resurfacing on social media in the coming days. Yashinsky hints that there will be hijinks afoot, including a possible social media takeover ("we've been getting some secret codes from him where he's been threatening to take over parts of our social engagement; we will be watching that closely," says Yashinsky) and a Periscope execution.
Meanwhile McDonald's is also rolling out a big TV campaign to complement the social activity of the Hamburglar. The brand shot 25 spots with New Girl's Max Greenfield. Those spots, which won't feature the character but which will focus on the three varieties and the time-limited nature of the burger, will start airing next week.