If you're a musician, the current music industry climate pretty much demands that you develop a social media strategy before you even consider releasing new music.
One of the recent trends for artists with massive followings has been to record in secret and then drop new music out of nowhere like it's hot. All other artists less endowed with instant mass reach need to figure out how to get the word out that they have a new record coming out soon.
If album promotion were a regulated, and official, competition, Tanlines would be winning. The electronic-pop duo from Brooklyn have figured out how to inject a healthy dose of creativity and humor into the business of releasing their new record Highlights, out May 19.
If you want to hear the band's new album two weeks early, you'll have to join a conference call at 2 p.m. EST on May 6th to hear it. (You can dial in at (605) 562-3140 and use access code 874405.)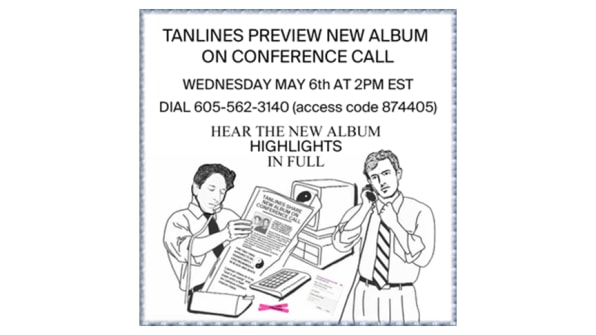 "I think about all of the stuff around the album and music, from artwork, videos, websites, and social media, as ways to get our personality and sensibilities out there and to kind of sit alongside and inform the music," Tanlines' multi-instrumentalist Jesse Cohen tells us. "This is especially true for our sense of humor. Using humor in the stuff around the album is a good way to get it out there."
Before the early conference call listening experience, the band created a Netflix parody site which showcases the band's songs in place of the service's on-demand videos.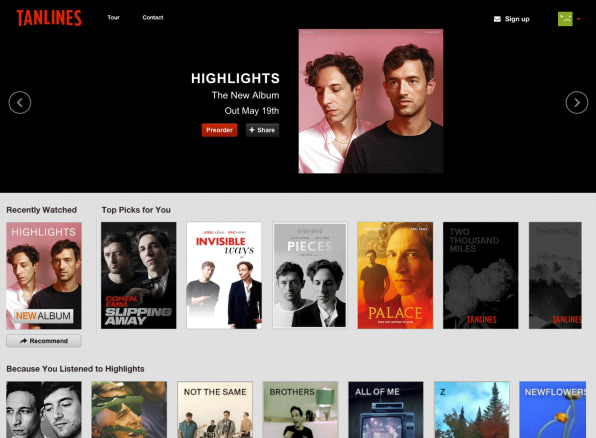 Tanlines isn't the only band trying to figure out how to get their music out beyond the traditional means. Britney Spears started thinking outside the box when she recently debuted her new single in select Uber rides, instead of a popular music service. Spears's stunt most likely garnered fewer chuckles than Tanlines' promotion, however.
"In general, if I could decide, I'd rather people talk about our music than our website, but I think it's all good," Cohen says. "I think all of the stuff we're doing feels honest and is quality, so I'm happy that people seem to appreciate it."
The band went all-in on the conference call press release, aping a release on a traditional earnings call. See it in its entirety below.
BROOKLYN, New York, May 5, 2015 /Press Here Publicity/ — Tanlines Enterprises, Inc. (the "Band") today announce that it will stream their upcoming album, "Highlights," via teleconference in anticipation of the album's May 19 global release date on True Panther Sounds.
The Band and their representatives will host a conference call beginning at 2:00 p.m. Eastern Time (11:00 a.m. Pacific Time) on Wednesday, May 6, 2015. The call can be accessed by dialing (605) 562-3140 and inputting access code 874405. Participants dialing in internationally can find a list of country specific numbers below.
Interested parties who are unable to make the call can attend any one of the twenty-five (25) in-person meet-ups (listed below) that the Band will be holding across the U.S. throughout the spring and summer of 2015.
Forward-Looking Statements
Certain statements made on this conference call may constitute "forward-looking statements" within the meaning of common music-industry parlance. Forward-looking statements are based on the Band members' and their Guests' expectations, beliefs, estimates, and projections. These statements are not guarantees of future performance and involve certain risks and uncertainties, which are difficult to predict. Therefore, actual results may differ materially from what is forecast in forward-looking statements due to a variety of factors. The Band disclaims and does not undertake any obligation to update or revise any forward-looking statement made on this conference call.
About Tanlines Enterprises, Inc.
Tanlines–singer/guitarist Eric Emm and multi-instrumentalist Jesse Cohen–will release their sophomore album, Highlights, on May 19, 2015. Produced by the band and Grizzly Bear's Chris Taylor, Highlights began in a basement in Pittsburgh and ended in a church in Brooklyn. It trades world music sounds (as heard through YouTube) for a more alive, realized approach, the result of Emm and Cohen wanting to break from their 'two guys, one screen' writing style. Influenced by their time spent on the road touring Mixed Emotions, primarily in the States, they reached for the sounds of '90s New York hip-hop drums, Detroit techno synths, and lots and lots of guitars. The results of which would lead them to call this their 'American album', "though it may only sound that way to us," says Emm. Whereas before the band had wandered their way through foreign musical landscapes and the existential 'what am I doing with my life' wasteland of post-youth, Highlights finds the band settled and at home, comfortable in their own skin.