Russian media exec Lena Otvodenko bought her first digital camera just a few years ago, just to document friends and events.
But soon she found herself getting more and more interested in food photography. Last year, she started following the Instagram accounts of Russia's biggest food photographers, and closely studied food blogs to understand the difference between good and great pictures. "In all honesty, my first photos were terrible," she says. "It took a while for me to find my footing and style as a photographer. At a certain point, I started to post my pictures on Instagram, and my account really started to take off in just a matter of months."
Soon after, she heard about a website called Twenty20 that allowed people to upload their Instagram accounts and license photos to brands and publishers for cash. The site was still in beta, and functioned like a stock photo service for mobile photos; companies could find cheap but relevant crowdsourced photos for a variety of uses, and amateur photographers could make money for every photo sold.
"I totally forgot about it–and then one day I got an email that one of my photos had sold without me even doing anything," says Otvodenko, who now makes steady income from her growing library of food and cooking photographs. "I was really excited to actually be earning money from doing something that I love, without any extra work on my end. Since then, I've been diligent about uploading and selling my photos through the platform."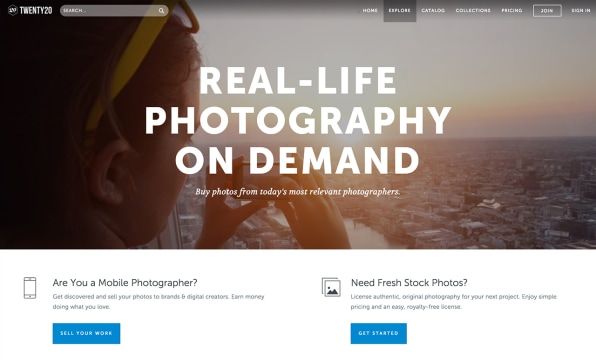 Twenty20 launched to the public in late February after securing $8 million in Series A funding led by Canaan Partners, with participation from First Round Capital, Bullpen Capital, and VersionOne Ventures. Thanks to rapid growth in beta, the site now has more than 250,000 photographers on its platform and 45 million photos in its library. Companies can search and purchase photos à la carte for standard rates of $10, $20, or $50 based on photo size, or can choose from subscription plans that range from $199 to $1,499 per month, depending on the volume of service needed. Photographers keep 80% of the profit from à la carte purchases and 20% from subscription purchases. Companies can also issue challenges, or contests, for specific photo needs, and the winning photographer keeps 100% of the payment. Beyond the tool's search function, good photos are surfaced and promoted through "community curation," as founder and CEO Matt Munson calls it–the system is built "to bubble up the most interesting, engaging work across different types of categories."
"We started Twenty20 mainly because we saw the explosion of creativity that was happening in mobile photography," says Munson. "We had seen people like us and our friends on Instagram and other platforms who had really discovered photography because of the iPhone and similar devices, and now they had this high-grade camera in their pocket out in the world, and they could use editing software, and there was just incredible stuff being created. You had people that were creating really interesting imagery, and had a profound social reach, building these big follower counts and having a lot of influence. So we built it around the question of 'How do we help people like us extend our hobby in more meaningful and interesting ways?'"
The company actually started as Instacanvas, a service to help mobile photographers sell their photos as prints, which rebranded as Twenty20 in 2013. Once the company launched a beta to license digital stock photos, the growth on that side made it clear what the company's direction should be; the physical commerce service shut down a few months ago.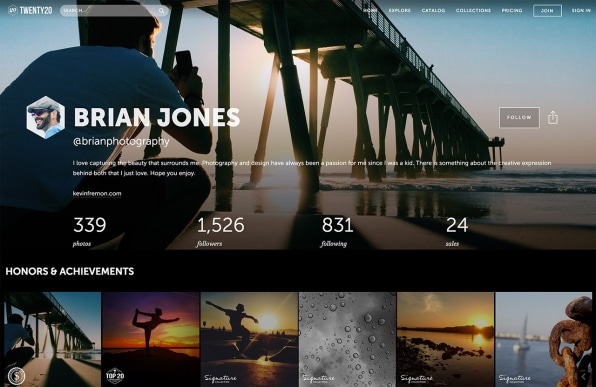 Twenty20 isn't the first player in the mobile photo monetization game–as Fast Company reported last summer, a similar service called Snapwire grew out of founder Chad Newell's years of experience in the stock photo business, and a realization that the personality and authenticity found on Instagram and other social media platforms were often more desirable to brands than traditional stock photos. Snapwire is more selective than Twenty20–unlike Twenty20's open-access platform, Snapwire photographers must pass through an editorial approval process before they can upload photos to the tool's searchable library, and the service currently has half as many photographers as Twenty20. Snapwire's custom challenges, however, are open to anyone. Snapwire's challenges have been known to pay thousands of dollars, although it's more common for winners to earn under $100; awards for Twenty20's current challenges range from $10 to $100.
The benefit of these services to brands and publishers, beyond the variety of images, is that the photos are precleared for royalty-free, unlimited use by the buyer. Munson says that Twenty20 has invested heavily in a legal team and a proprietary process to vet every photo for legal editorial and/or commercial use before it is available through the library.
"We believe that the future really is in this kind of real-world, crowdsourced imagery, and that this will be the imagery that will provide the face of the Internet and ads moving forward," says Munson. "But the only way to really do that at scale is to make sure that the legal side is very, very buttoned up. When we've got a Fortune 100 company putting one of our images on a billboard, on the cover of a magazine, or in an ad, they know that that is vetted."
For amateur shutterbugs, the Twenty20 platform provides a relatively easy way to find out if that amazing picture you took of your cat or your salad is worth anything. It also serves as a social network where users can discover new approaches to photography. Much like on Pinterest, photographers can follow each other, "love" photos that they find engaging, and form collections of other photographers' work. The community can also vote for photos submitted to challenges. All of this activity feeds an algorithm that surfaces images and collections for users and in categories throughout the site.
"What stands out to me about Twenty20 is the community behind it," says Otvodenko. "It's made up of people who genuinely love photography. I've met tons of talented, inspiring people from all over the world. It's a great way to earn money."