There's another glass ceiling you haven't heard much about even though it's 3.7 times harder to crack. Part of the problem is that it's hiding in plain sight.
Silicon Valley, bastion of brogrammers and boys'-club VCs, has come under scrutiny for its dearth of diversity. Spurred by critics, Intel has pledged to upend its own dismal statistics by investing $300 million to recruit and promote gender and ethnic diversity within its ranks, while Apple made a $50 million grant to encourage engineers at historically black colleges and Google awarded $775,000 to Code2040 to launch a Technical Applicant Prep (TAP) program to give black and Latino students the resources and skills to get full-time jobs in the tech industry.
What's missing in these initiatives is any sort of discussion to be more inclusive of Asian-American men and women in the executive pipeline, according to the Ascend Foundation, a nonprofit organization providing objective analysis to address the challenges facing the corporate community.
Ascend recently analyzed 2013 data from the U.S. Equal Employment Opportunity Commission (EEOC) on Google, Hewlett-Packard, Intel, LinkedIn, and Yahoo to determine how the glass ceiling affects Asian-Americans (defined by the EEOC as being from the Far East, Southeast Asia, or the Indian Subcontinent) in rising to management in Silicon Valley. The study authors also noted that they reviewed EEOC data for Cisco and eBay from 2010 and that those numbers were consistent with these companies.
The resulting Executive Parity Index (EPI) compared racial and gender representation at executive levels to each cohort's representation in the nonmanagerial professional workforce within these five major tech industry players.
Analyzing a sample size of nearly 140,000 professionals, managers, and executives, the study revealed that while Asians made up 27.2% of the professional workforce at these five companies, they accounted for only 13.9% of top brass. For comparison, white men, not surprisingly, were above parity, meaning their representation at the executive level is at least equal to their representation in the professional workforce, according to the data. White women were close behind.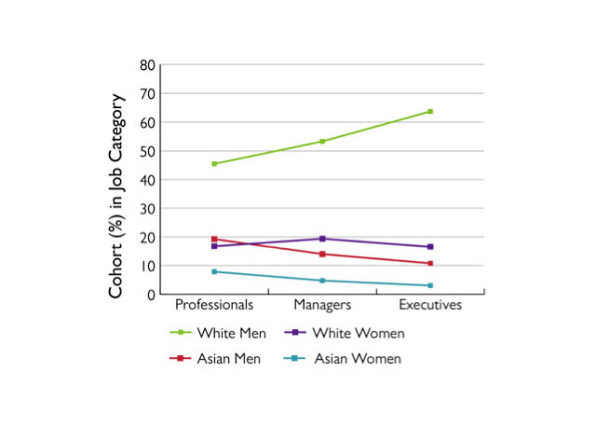 Here's how the numbers break out by company:
Yahoo's workforce is 45% Asian vs. 46% white. Executives are 382% more likely to be white.

LinkedIn's workforce is 46% Asian vs. 47% white. Executives are 205% more likely to be white.

Intel's workforce is 38% Asian vs. 52% white. Executives are 417% more likely to be white.

Google's workforce is 33% Asian vs. 60% white, but whites have only a 34% advantage in becoming an executive.

Hewlett-Packard's workforce is 16.5% Asian, which the study authors attribute to HP having a large portion of its workforce outside Silicon Valley where the Asian population is significantly less concentrated. White executive advantage was not measured.
As Asian-Americans make up about 5.6% of the U.S. population, these statistics might seem to be on par with their overall representation in the population. But as the Ascend Foundation report points out, "With Asians representing 27.2% of professionals, few people would agree that 5.6% of executives is sufficient just because it matches the proportion of the U.S. population. Most people would find it more reasonable to expect that roughly 27% of executives would be Asian, at parity with their professional numbers."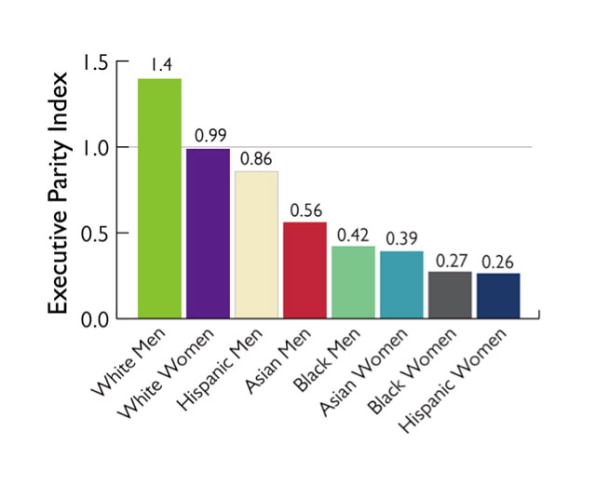 The glass ceiling gets more troublesome when gender is factored in.
Asian, black, and Hispanic women all ranked significantly below parity, but the Ascend Foundation discovered Asian women are the least represented as executives, relative to their percentage in the workforce. There were 9,254 Asian women professionals in the survey's sample (13.5%), but only 36 Asian women executives (3.1%). In other words, only one out of every 285 Asian women is an executive, less than half the ratio for the entire workforce of one executive per 118 professionals.
The current glass ceiling has led some to take legal action. For one complainant, the publicity surrounding the case did little to help–or hurt–her adversary. Ellen Pao was asked to pay $1 million to cover legal fees after she lost her gender discrimination suit against Kleiner Perkins. Other pending cases include Chia Hong's against Facebook and Tina Huang's against Twitter.
But lawsuits are an extreme measure to tackle the imbalance. In its work to support and encourage Asian-American leadership, the Ascend Foundation encourages raising awareness among Asians to develop what it takes to make it to the executive ranks. The organization discovered that many Asians had a "tendency to underappreciate the importance of personal and organizational leadership skills as requisites for higher management roles."
The study authors observed that because meritocracy usually stops at the door to the executive suite, "Asians, despite demonstrating functional excellence as middle managers, are not promoted as often as others they deem less capable." The authors write that Asians lack the awareness needed to demonstrate emotional intelligence and vision: "Soft skills are needed because the more common Western management culture heavily relies upon cross-organizational collaboration and distributed decision-making."
Culturally risk-averse, Asians prefer the safety of a respectable profession, according to the study. They tend to keep their heads down and expect automatic rewards for a job well done. The authors write, "As a result, many Asians are less likely to seek roles that provide challenge and visibility, such as leading a new initiative, taking on a failing product line, or becoming an official public spokesperson."