The ultimate challenge in sensory design and branding–a next generation adult pleasure aid conceived to bring both innovation and excitement to the sex toy market–gets its first official showcase by its British creators at TechCrunch Disrupt in New York this week.
Crescendo is the world's first adult toy that takes the shape each user wants, according to its maker MysteryVibe, a U.K. company whose philosophy is: one size does not fit all. Furthermore, it vibrates according to an individual's mood and desires thanks to an app which allows the user to select preferred vibrations and vibration combinations.
However the product is just a step along the road to an even bolder vision, MysteryVibe chief executive and former management consultant Soumyadip Rakshit says: the creation of a complete sensory experience that learns and adapts to the user's body and desires.
MysteryVibe was inspired by the smartphone industry back and Nokia's 2008 concept phone, Morph, a tablet, watch and phone rolled into one, created using nano science that allowed the device to bend and take on various shapes. "Our idea was to create something as extraordinary in pleasure–a sector we felt had long lagged behind in terms of innovation and advancement," Rakshit recalls. "There was a big gap in the market for more subtle, playful, non-phallus-shaped toys for women. We invested heavily in research then conceived a considered brand positioning before creating our fast actual product." He adds: "Back then it was more taboo than it is now, of course, in a world post-50 Shades of Gray."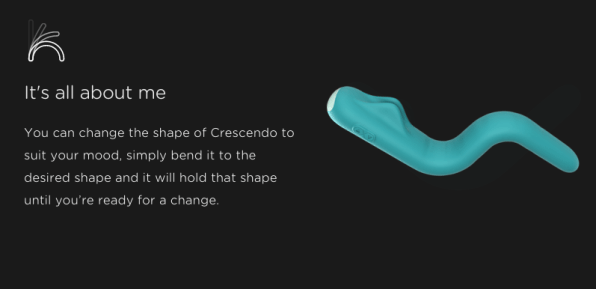 MysteryVibe's first product, Crescendo, is the result of close collaboration between design and innovation consultants Seymourpowell and sensory branding specialists Condiment Junkie, with an app created by app developer Fueled.
The starting point was a brand model conceived by Seymourpowell to explain the underlying philosophy behind MysteryVibe. This model was then expanded upon by Condiment Junkie which provided rationale and context–giving meaning to the brand and identity through the aromas, tastes, sounds, visuals, and other intricate details which would be associated with it.
Condiment Junkie explored how brand and products could, and should, engage sensorially with its audience, creating a multi-sensory manifesto to help shape further product development, packaging, brand communications, promotions, and even events. These guidelines allowed all involved to add sensorial appeal wherever possible and provided a solid platform on which to design and develop the first in a series of products.
"For instance, all sounds associated with MysteryVibe–online, for example, or at live events–will be soft and smooth, with binaural audio recording to convey intimacy and the personal nature of its products' experiences," Condiment Junkie co-founder Scott King explains. "This would be relevant for the creation of immersive sound for spaces used at a product launch, for example. And we will advise web visitors to ensure they listen to audio on the site using headphones."
Any music associated with the brand will be adagio–slow and soft with orchestral influences, rather than fast–with only female voices used in promotional activity to underline MysteryVibe's premium proposition, he adds. Food served by the brand at live events should be on individual spoons, ideally presented on black to make the food's color more rich and intense. Aroma will also be harnessed, with an emphasis on traditional and intimate oriental floral notes and musk balanced by vanilla, caramel, and chocolate–smells directly associated with indulgence and pleasure.
All involved agree that MysteryVibe's founding aim–to deliver "a complete experience" via a suite of multi-sensory products that respond to each user's specific physiology (change in body temperature, for example)–meant sensory design and branding always needed to play a central role throughout. But an awareness of sensory brand values is just as relevant to any brand, King believes.
"In our view, every brand, whatever its market sector, should have a clear understanding of its own, particularly sensory branding–for example, how it might sound, its smell, touch, and taste," he explains. "But recent research among Fortune 500 companies showed more than 85% of marketing investment is spent on visual element–despite the heavy influence our other senses have on our life experiences and enjoyment."
That said, a small but growing number of brands, ranging from luxury motor manufacturers to food and drinks companies, are now starting to take sensory branding more seriously.
Condiment Junkie was recently behind an innovative wine glass for Diageo-owned Johnnie Walker, for example. Challenged to create a new drinking experience for the Johnnie & Ginger cocktail, the agency created the Johnnie Walker Red Label Boldest Glass.
Using bone conduction technology, this glass played a specially commissioned soundtrack directly to the drinker's ear so only that glass's individual user could actually hear it. Prototype glasses are now touring some of the world's top bars.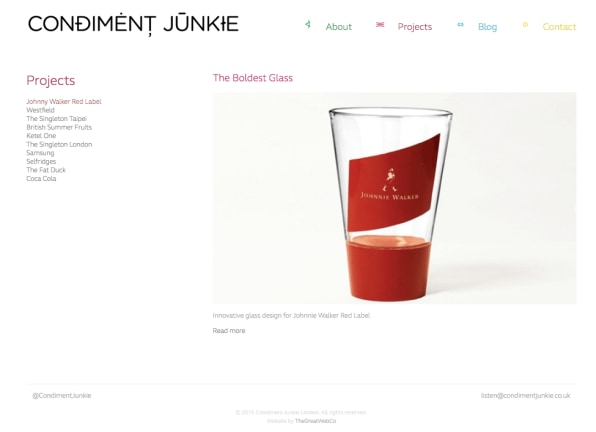 Ketan Mistry, lead designer at Seymourpowell, endorses the power of appealing not just to one but all the senses. "All of the work we have done with MysteryVibe has been about giving the consumer a great experience–whether this be using the toy, opening the packaging, or browsing the website," he adds. "By engaging with multiple senses you can enrich the user experience, and by working holistically understand how to use those senses–in this case, to elevate MysteryVibe to a level above its competitors."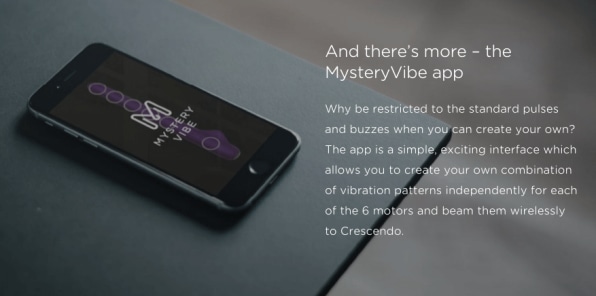 In many cases, adding layers of sensory appeal can enhance a product or service, Mistry continues: "But it's just as important to know when not to engage some of these senses and this can only be achieved if you have a good understanding of the cause and effect of sensory design."
MysteryVibe's next step is a crowdfunding campaign through online platform Born through which it hopes to grow its pool of testers as well as generate pre-orders and raise some additional funding ahead of launching Crescendo to consumer this autumn.
MysteryVibe and Crescendo can be seen at TechCrunch Disrupt in New York from May 4 to 6 and will then be at the Pioneers Festival in Vienna May 28 to 29.