Erica Berman didn't move to Paris to start a business. She initially landed there in 1992 in a way that probably sounds familiar: as a freshly minted journalism school graduate, curious about life's possibilities.
At the time, the Internet was barely a thing. But over the next two decades, Berman would leverage the Internet's growing capabilities to turn her Parisian lifestyle into what she says is a profit-making business. Today, Berman runs the online boutique vacation rental business Haven in Paris and cultivates the company's brand through its companion lifestyle blog, HiP Paris.
In the world of luxury travel, lifestyle is a commodity. Berman found her industry sweet spot by promoting her business as a lifestyle brand within a network of bloggers. Haven in Paris now has properties in Paris, Provence, Tuscany, and London, offering apartments and villas that range from $950 to $13,500 per week.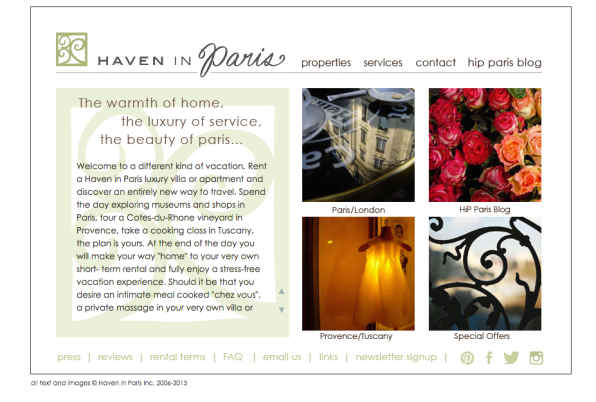 Now Berman has plenty to keep her busy, as she navigates tech's fast-changing landscape. When Berman launched Haven in Paris in 2006, she had much less competition than she does today. "There weren't responsive websites; there was no Airbnb," she says.
While Airbnb is a threat to her business, Berman maintains a competitive advantage by offering a personal-touch, high-quality service over what she sees as an impersonal, massive catalog of real estate. Each property on Haven is vetted, and a real live human always greets renters on location.
Still, the challenges can be daunting: For example, Google recently changed its search algorithm to favor responsive websites that specifically scale to mobile devices and tablets. Haven in Paris is now overhauling its site to better meet the demands of mobile devices and prevent Google from downgrading them in future search results.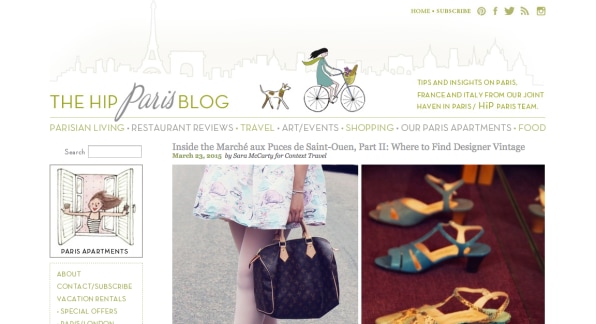 Before starting her business, Berman briefly worked as a waitress in a Parisian wine bar, and then attended photography school. Eventually, she met a business partner and started a property rental business, which they ran together until 2004. Over those 10 years, Berman amassed the pool of contacts she needed to found Haven in Paris. Along the way, she's also learned some invaluable lessons for any entrepreneur–no matter where they start.
At Haven in Paris's launch, Berman worked with an "amazing" designer who was also a friend. The partnership was beneficial in more ways than one. "I was really lucky in the sense that our developers did a really good job of maximizing the site for SEO," Berman says, adding that she rarely pays for SEO. Berman and her development team spent a lot of time choosing the right keywords to get search engines to work for them. And now that Berman is optimizing Haven in Paris's site for mobile, she sees an opportunity to refresh the company's image.
After finishing journalism school, Berman spent a summer perfecting her French in one of Middlebury College's famed language immersion programs. "You're bound to have a more enriching experience communicating with the French in French," Berman says. "People appreciate it when you can communicate with them in their native language, even if they do speak English."
The Haven in Paris website has been a natural magnet for potential clients, but Berman also has a very extensive network in Paris: interior decorators, apartment hunters, real estate agents, bloggers, and friends. She loves to network and is open to building relationships with the right people, even if those are competitors. Berman and some of her competitors even send clients and properties back and forth to one another.
"As soon as you try to make it sales-y, people are not interested," says Berman. "If you read the blog, we don't often talk about Haven in Paris," Berman says. The blog's small editorial team does, however, like to highlight certain neighborhoods where Haven in Paris has properties, and in those posts, the team will link to the available properties. But for the most part, the blog is its own entity.
In fact, HiP Paris has more traffic than Haven in Paris does. "People read the blog and get to know us," Berman says. "When they travel to Paris, they end up renting from Haven in Paris. Then when in Paris, they use the blog. It's a big circle." The blog tends to chronicle the places to see and things to do in Paris that would appeal more to a foodie than someone wanting to jet from one monument to another.
Berman has left her Parisian adventures behind, and is now based in Maine. She periodically travels to Paris to check in on all of Haven in Paris's properties, giving her personal attention to every decision that could affect her clients. More than offering her customers a comfortable place to stay, Berman hopes to offer them a gateway into a lifestyle.