In a tech industry that fixates on annual hardware cycles and planned obsolescence, Livescribe is unusual.
The company makes a line of smartpens that capture audio as you write and sync it in real time with your notes, using specialized paper and companion software. Journalists can use Livescribe to pull precise recorded quotes from hasty scribbles, and students can focus on diagrams or bullet points while capturing a professor's narration. In meetings, Livescribe can help flag the important moments so no one has to wade through an hour-long audio file later.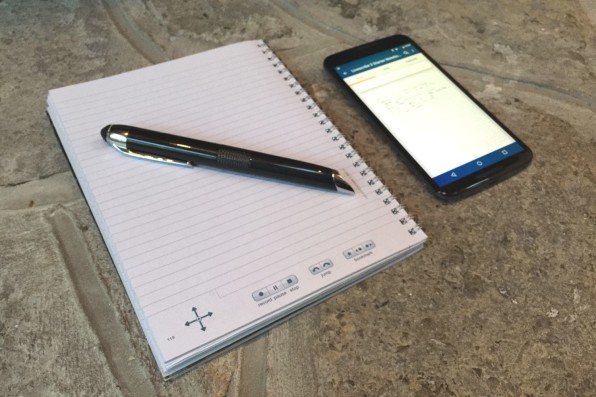 Since its original launch in 2008, Livescribe has introduced new hardware only a few times, and one of the products it currently sells is nearly four years old. The other is pushing 18 months, and it doesn't seem like either is getting phased out anytime soon.
And that's okay. I've been a believer in Livescribe since 2011, when my wife bought me an Echo smartpen as a gift (on the advice of a journalist pal of mine that she'd met). I still use that same pen today to conduct interviews, and the closest thing it's ever needed to maintenance has been new ink cartridges. What Livescribe really needs more than new hardware–and what it intends to work on now–is better software.
The first step is an Android app for Livescribe 3, the company's flagship smartpen. Unlike the Echo, which has a built-in microphone, the Livescribe 3 uses a phone or tablet to capture audio. And instead of syncing to a computer over USB, as the Echo does, Livescribe 3 immediately loads notes onto the phone or tablet via Bluetooth. The pen launched with iOS support in October 2013, and it's just now getting an Android Preview Edition in North America. The full Android version will arrive next month.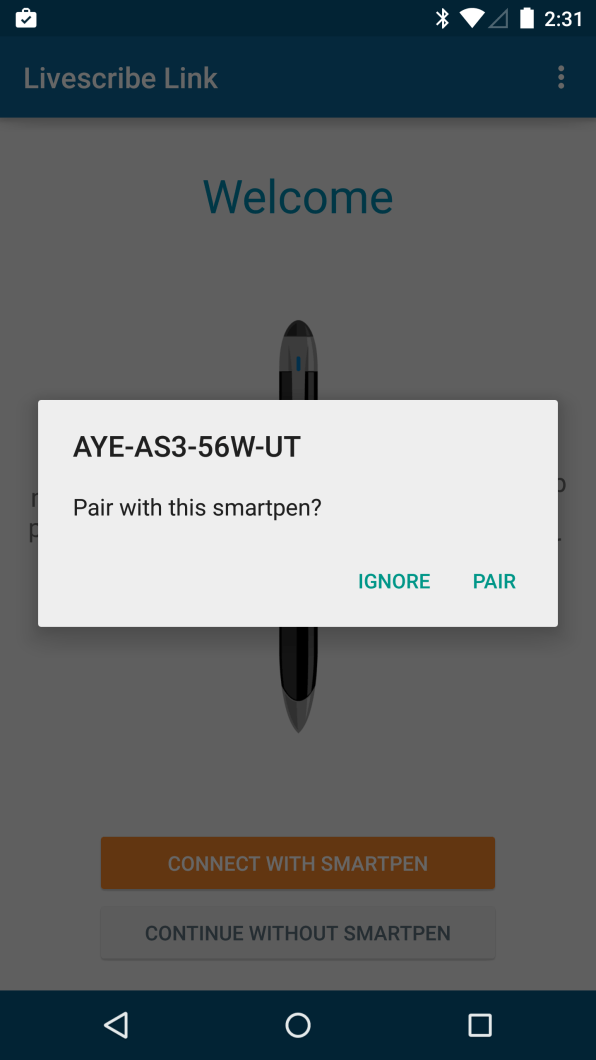 Bryan Rodrigues, Livescribe's head of marketing, said the company had been waiting for widespread adoption of Android 4.4 KitKat, which added native Bluetooth Smart support to the platform. Bluetooth Smart's low-power connection allows up to 14 hours of note-taking on a charge, whereas a standard Bluetooth connection might have drained the pen's battery in a quarter of that time.
Developing for Android also required some special considerations. Instead of relying on a single app, the Android version uses a second Livescribe Link app to manage the Bluetooth connection and check the phone or tablet's compatibility. Livescribe also took the time to embrace Android's Material Design language instead of just cloning the look and feel of the iOS app.
Those differences aside, the Android version is similar to its iOS counterpart. Beyond just capturing and replaying notes, Livescribe's Feed view splits notes into smaller chunks that users can then convert to printed text through handwriting recognition. The app also has a sharing feature for sending PDF notes to cloud storage services, email, and other apps. (Opening those PDFs in Livescribe's mobile or desktop apps will retain the synced audio.)
While it's nice to see Livescribe supporting the largest mobile platform in the world, there's still lots of room to improve the software overall. Handwriting recognition could be better, and Livescribe says its technology provider MyScript is working on a system that learns from users' handwriting over time. Livescribe also wants third-party apps to support direct note-taking outside the main Livescribe app, but only a few iOS apps (Outline, Noteshelf, and Beezy) currently do so.
The bigger problem is more fundamental: Livescribe isn't yet equipped for the device-agnostic, cloud-connected world we live in now.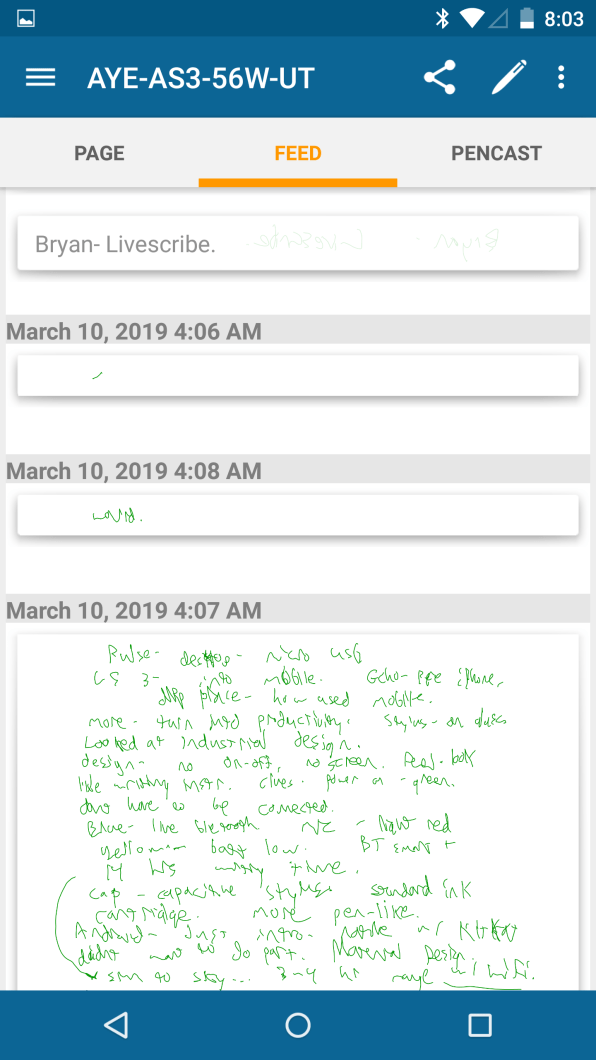 Today, if you take a note with Livescribe's Android app, the only way to get notes with audio on your iPad is to manually send and import a PDF file. The situation is similar with Livescribe Echo: You can plug the pen into each Mac or PC you want to use or manually import PDF files, but there's no automatic sync across devices. And you can forget about taking notes on a mobile device and having them sync to Echo's desktop app, or vice versa.
Livescribe does have a partnership with Evernote, which lets users save their work directly to the note-taking service for access from any web browser, but even this is a half-baked solution, because those notes don't sync back to the Livescribe app itself. The solution needs to be simpler: Take a note in Livescribe on one device, and it shows up automatically in Livescribe's other apps on your phones, tablets, and PCs, regardless of which smartpen you used.
This might be difficult in the near term, given that Livescribe's mobile and desktop apps haven't achieved feature parity. Although Livescribe released a new desktop app last year, it didn't do much beyond altering the format of PDF files and stripping away evidence of an older, failed attempt at third-party connectivity. For now, features like the Feed and built-in handwriting recognition remain exclusive to Livescribe's mobile apps.
Rodrigues described the new desktop app as "a first step" toward a unified platform, though it's unclear when Echo users might see the new features. "Frankly, it's not something we're in active development on, but it's certainly something we want to tackle," he says.
The good news is that Livescribe's main goal now is to improve its software, and Rodrigues says that letting people access their notes across all devices is something the company would really like to achieve. Maybe the company's keeping secrets, but it sounds like hardware is taking the backseat in the meantime.
"Right now, we can focus on continuing to deliver value through software," Rodrigues says, "versus getting on this typical hardware upgrade cycle that doesn't justify itself."