Entrepreneurs typically spend most waking moments obsessed with work. So would it make sense to just move into the office?
In a new space for entrepreneurship built at the University of Utah, students working on a startup have the option to live in a sleeping pod in the middle of a larger collaborative workspace as they work on a project. The housing is part of the Lassonde Institute, an incubator for new business at the school.
"There's definitely a relationship between the place you live and what you make," says Mehrdad Yazdani, design director of the Yazdani Studio of CannonDesign, the architecture firm that designed the new building. "As an entrepreneur, your ideas may come to you at 3 a.m. in the morning. You want to be able to roll out of the bed, grab your partners, and develop the idea."
The tiny pods–just 7x7x7-feet each–hold standard dorm room essentials, like a bed, closet, bookshelves, and medicine cabinet, in the smallest possible footprint. Eighteen to 30 students are grouped together in the pods, and then share a common lounge, kitchen, bathrooms, and a maker space.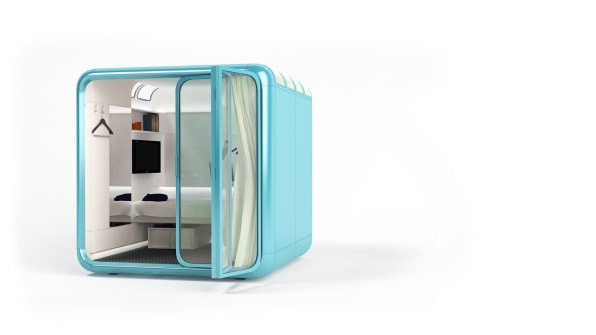 Inside each pod, a curtain can slide away to reveal a glass wall, making the space seem less claustrophobic. The design was also inspired by similarly tiny but luxurious spaces, like first-class cabins or sailboats. "We were very careful to sort of manage people's perceptions about living in a small space," says Yan Krymsky, senior designer at Yazdani Studio of Cannon Design. "Depending on how you look at it, it's sort of a blessing or a curse."
Extra items that don't need to be next to a bed, like a winter coat or a pair of skis, can be stored in individual closets grouped in the center of the collaborative space. Desks are also outside each pod.
"While providing a sense of comfort, it was intentional to make sure that the students didn't lock themselves in–the whole idea of the space was to encourage collaboration and interaction with others," says Yazdani. "So there was enough comfort and privacy that if you need it, you have those hours of the day to be by yourself. But it wasn't sufficient for you to spend all day in it."
The pods eliminate space that's typically wasted in most dorms. "If I showed you a floor plan of a typical wing of student housing and I showed you what this looks like, you would see that there's just a ton of wasted space in that wing," Krymsky says. "It goes to corridors, to long skinny rooms that don't really get utilized very well. This is really a reallocation of space that allows a much better living environment."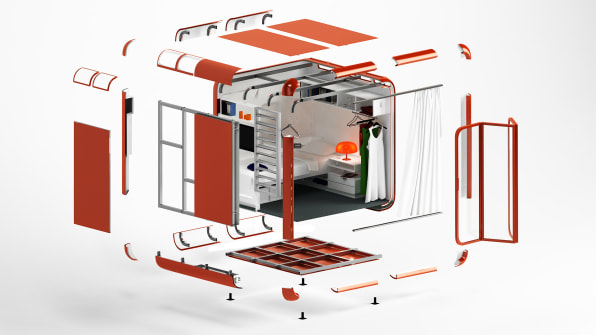 As the designers worked on the project, they mocked up an abstract plywood box the size of a pod, gave students Oculus goggles, and invited them to explore a virtual version of the rooms. The idea got support, and now the pods–along with the rest of the dorm–are under construction. Students will start moving in [s]this[/s next] fall.
The architects also built other options into each floor, including more traditional shared dorm rooms, and loft spaces for startup teams of four. "This is a choice," says Krymsky. "The students who choose to live here are the ones who are buying into this environment. So that another thing we kept in mind–this isn't for everyone. This is for a very specific type of student."
Is it an idea that will spread off campuses? Startup houses are already common in Silicon Valley. Employees at Google already informally compete to see how long someone can live at the office, using company showers, food, and sleeping pods (the record is supposedly around two years). All of the aforementioned perks, of course, are designed to make employees stay longer at work to extract more value out of them; actually building dorms at offices, then, isn't much of a stretch. Factories have had worker dorms for centuries.
"We did explore the fact that with entrepreneurship or any creative endeavor, the longer you stay with a problem, the better the chances of solving that problem," says Yazdani. While that may be true, there's also something to be said for getting away.