The premise was promising. United Nude, a footwear company known for its experimental designs, enlisted five industry heavyweights to create 3-D-printed high heels that pushed the limits of the technology. Partner 3D Systems would manufacture up to 50 pairs of each style, making them the de facto first commercial runs of 3-D-printed shoes.
And the results, crafted by the likes of Zaha Hadid, Ross Lovegrove, and Michael Young? The footwear equivalent of guitar solos: all technical process with little practical function. Plus, at $6,000 a pair, priced far from 3-D printing's promise of cheap design for all.
For fairness's sake, United Nude is marketing the nylon-and-rubber pumps as collectible objets, not everyday kicks. Plus they did debut in Milan, during the Furniture Fair, so spectacle was implied.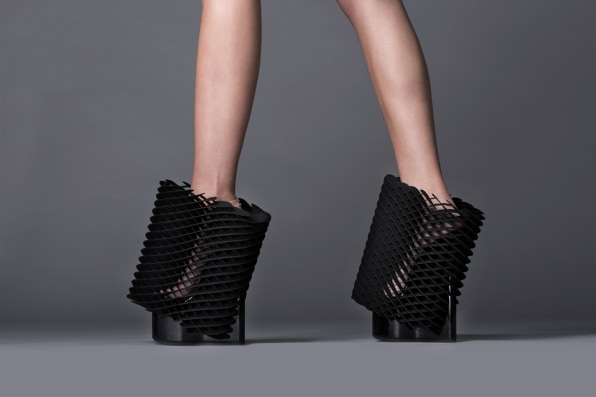 But if a manufacturer as clued-in as United Nude can't pull off creating affordable 3-D-printed shoes, who can? And how?
First step is to keep what isn't broken. "It's stupid to 3-D print an entire shoe," says Duann Scott of Spark, Autodesk's open-source 3-D-printing platform. "Mass-producing a shoe in the traditional way costs a couple of dollars maybe, while 3-D printing one costs hundreds due to time and materials." Better is to leverage the technology's strength—its ability to customize—and print only the shoe parts that would benefit from it, such as insoles or cleats.
It's a lesson SOLS CEO Keegan Schouwenburg learned when her company, which specializes in custom 3-D-printed orthotics, tried to expand into shoe soles. "They were too expensive to make, and the materials were not there in terms of durability and elasticity," she says of the latter. "As soon as we got the soles to the test phase, people asked where the gel, the leather, and the foam were—those materials associated with comfort."
Bendable, flexible options like NinjaFlex do exist for use in 3-D printers. But the materials' high prices—the result of the way they are made and sold—prevent mass-market use.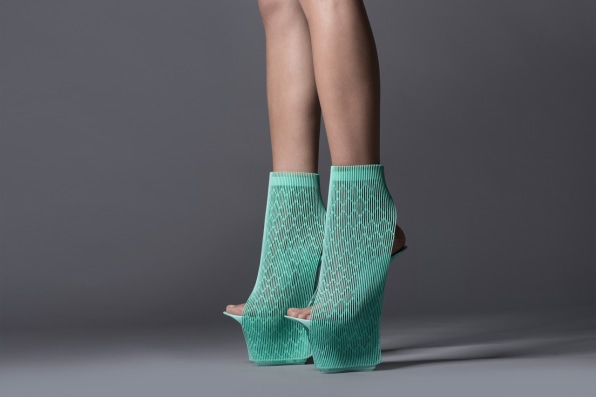 Each 3-D-printer manufacturer creates the substances used in its machines. Like the pharmaceutical industry, each then patents what it makes, locking down exclusivity on its materials (and technology) for up to 20 years. That inflates prices.
Take ABS plastic, common in rapid prototyping. Used in pellet form for injection molding, the material averages $5 per kilogram. However, when in the filament reels required for 3-D printing, the material ranges from $30 per kilo (generic) to $90 for versions in the "chipped" cartridges required for some machines.
Yet signs of change are on the horizon. 3-D printing began in the early 1980s, so many of the core patents for its technologies, including ones used for Fused Deposition Modeling (FDM), Stereolithography (SLA), and Selective Laser Sintering (SLS), have expired. While numerous ones around machine operations and materials still exist, lower-priced options are flooding the market. "We have already seen this with the explosion of FDM printers," Spark's Scott says, noting these desktop machines, popular with the maker set, have dropped in price in the past five years from $20,000 each to less than $1,000.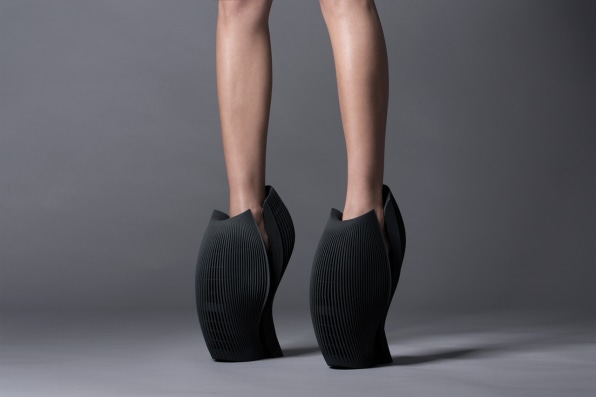 With more affordable technology will come "a Cambrian explosion of material innovation," Scott adds. To that end Spark recently introduced Ember, a stereolithography (SLA) 3-D printer, to complete the platform's open-source process, as well as spur material and technological innovation.
But the final step to reach that mass-market goal? Software aimed at the fashion industry for creating and printing 3-D wares. Architecture, product design, and the film industry use the lion's share of 3-D programs, while clothing designers have been known, out of practice and need, to hack old milling software. (Said United Nude founder Rem D. Koolhaas about why he didn't include any fashion designers in his exhibit: "Fashion designers normally don't work in 3-D in an advanced manner. Even Iris van Herpen [United Nude's frequent collaborator] needs architects to get all her 3-D work done.")
Programs being developed by Francis Bitonti, who customizes architecture and CGI software to produce his own 3-D­-printed fashions, could help footwear designers realize their ideas themselves.
But it could also be as simple as pairing a 3-D design expert with a fashion designer, echoing the way clothes and shoes have been designed for centuries. "If we think of the 3-D designer as a craftsperson in the same way we think of a traditional pattern maker, the collaboration process from a sketch, to iteration through experimentation around the details, is not so different," Scott says.
So given time and some strategic thinking, mass-marketed 3-D-printed shoes might be a reality just yet. "I think it will take three to five years," SOLS's Schouwenburg says. "But even then, it will be components, a mix of materials. Something like Nike's Flyknit digital weaving or [Adidas's] Springblade soles."