The world of work is rapidly changing, and, with it, employees' attitudes about what's acceptable on the job. Covering up that you were fired? Fine with many. Not having a professional social network profile? A total deal breaker for most.
These evolving attitudes about work were the focus of The New Norms @Work survey, which polled 15,075 full-time workers between 18 and 66 years of age in 19 countries. It reveals how full-time professionals view the way they share opinions, their past work history, and how they dress as tools that shape their professional brands online and in the office.
Only 46.8% of all workers polled said they would be totally honest about it if they had to reveal whether they got fired from a job. Twelve percent of full-time workers said if they got fired from a job, they would leave it off of their CV or LinkedIn profile.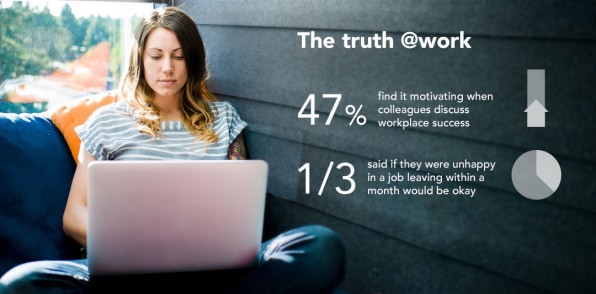 Honesty varies from country to country. Fifty-six percent of U.S. workers reported that if they were fired from a job, they would work to hide this information, and 70% of U.S. workers between the ages of 25 and 34 said if they were fired, they wouldn't be honest about it. In Brazil, the majority (69.75%) of workers would be completely open about getting fired, compared to only 24.1% in Hong Kong.
We know that the support of a work BFF can help you be more productive, but the ability to support others' successes in the workplace is also motivating for many. Over 26% of global workers said discussing success with colleagues motivates them, as opposed to only 7.5% who found such talk annoying and 6.2% who got jealous or embarrassed.
Sharing on social media seems to follow this trend. A quarter of global workers said it's more appropriate than ever to promote themselves on social media. This, too, varies widely by country. For example, while Japanese workers overwhelmingly (74%) believe in social self-promotion, only a fraction (10.7%) of their counterparts in India were in agreement.
Overall, 16% feel more comfortable sharing their opinion on industry matters on social networking sites. One in 10 workers believe their colleagues respect them more when they share industry opinions on social channels.
If you've been working for any length of time, you're probably familiar with the feeling of wanting to speak out against your boss or a colleague if you believe they're in the wrong. Though staying mum may sometimes be the best course of action, most of us grow out of fearing the repercussions that would come from putting in your two cents.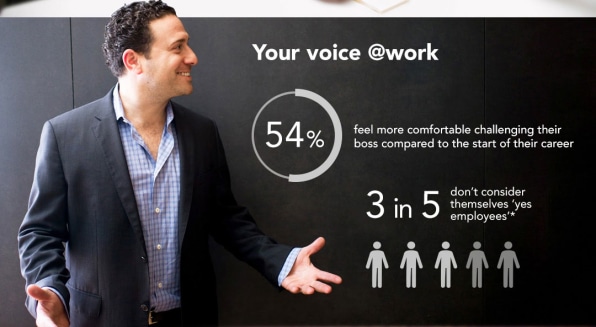 Age and experience changes attitudes and makes workers more willing to speak up. Among the 18- to 24-year-old set, 57.8% considered themselves yes men or women who deferred to authority. Yet the New Norms @Work survey revealed that over half (56%) of those polled now challenge their colleagues by voicing their opinion and sharing ideas, and 53.8% do the same with their boss, which is something they wouldn't have at the beginning of their career.
The survey found that the idea of dressing for the job you want isn't dead. Nearly half (48.7%) of respondents said they keep separate wardrobes for work and home, and 30% said they dress to impress at work. In the U.S., about 1 in 10 workers spend as much time getting ready for work as they do for a night out.
Unfortunately, with the focus on clothing, 25% of those polled believed women get judged more for what they wear to work (and over 30% of women agreed with that statement).
Only a small percentage (11.9%) of global workers say they wouldn't hire someone without a LinkedIn profile. Professional profiles are, not surprisingly, ranked for these top factors:
work experience (56.4%)

education history (28.6%)

volunteer experience (16.6%)
For those perusing traditional résumés or CVs, the average number of jobs that looks best is three. Only one in seven workers believed that five or more positions looked good on a person's work history.
A third of workers worldwide agreed that it was okay to leave a job they weren't happy in within the first month, while two-thirds believed it would be better to stay for a year to avoid having a negative impact on their career.