The traditional view of how content spreads socially is tightly bound to a specific network. Share your cat GIF on Facebook, for example, and watch as ever-widening groups of interconnected people propel the image far beyond anything you could have planned–on Facebook. Even analytics providers tend to bucket content this way.
But think about it: Do you really share things just on Facebook? Nope. Like most people you are more likely switching from Twitter to Facebook to Pinterest, chat and email, sharing all the while. And even the best analytics providers out there do a poor job of tracking how that cat GIF gets passed across the social web.
That insight, based in part on research by Stanford and Microsoft, is at the heart of a new initiative announced Monday by BuzzFeed at the NewFronts (which is where online video makers pitch their lineups to advertisers). It's called Pound, and BuzzFeed publisher Dao Nguyen describes it in a blog post as a proprietary technology that "follows propagations from one sharer to another, through all the downstream visits, even across social networks and one-to-one sharing platforms like Gchat and email."

The data that already has been gathered from Pound influenced BuzzFeed's latest strategy, which is to begin pushing original content directly to social networks rather than simply trying to bring readers back to the website. This was the centerpiece of BuzzFeed CEO Jonah Peretti's keynote presentation at SXSW in March.
One of the graphics in that keynote showed that Twitter is a trendsetter when it comes to news, but that the downstream sharing on other social networks ends up having a much larger impact. (See: "Twitter's Influence Problem, Visualized.")
Pound, which stands for "Process for Optimizing and Understanding Network Diffusion," uses an anonymous hash in the share URL to keep track of how a piece of content moves across networks. Nguyen says that BuzzFeed now stores more Pound data in a single day than all the other data the company has been collecting for content optimization since it was founded. Pound is capable of processing over 10,000 web requests per second.
This network diffusion data can be used to figure out what stories would most appeal to your friends and followers across social networks, filter out the sharing effects of a celebrity or publisher with a large social following, as well as A/B test content across networks. Basically, you should get ready to see more BuzzFeed in your feeds.
Along with making BuzzFeed's editorial even more click-worthy, Pound will also be used to help the company's creative services team produce more share-worthy sponsored content. One early finding from Pound is that sponsored content (which is paid for by advertisers) is shared just as widely and deeply as the pure editorial on the site.
To prove it, Nguyen used data from a post called "I Tried The Fanny Basket And It Saved My Life," which was produced by BuzzFeed's creative services team on behalf of the retailer Target. That post attracted over 400,000 views and was propagated to a depth of eight sharing networks. The baseline of comparison is the infamous "Dress" post, which had a maximum depth of 11 sharing networks.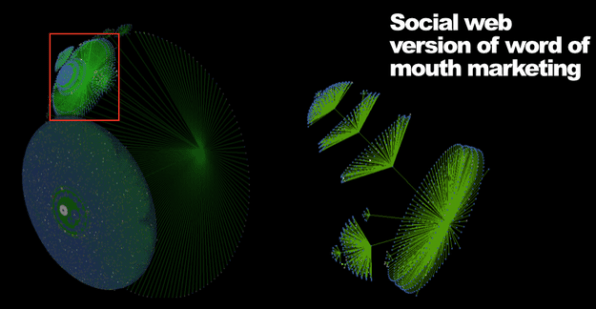 "Ads as content" has always been part of the goal–just take a look at BuzzFeed's 2008 investor pitch deck, which was recently published on Quartz–but Pound opens a whole new set of marketing possibilities. Nguyen says her team is now seeking beta partners to find out just how effective this data could be in boosting a sponsored message.
Given the recent flap over deleted posts, it's worth remembering that what differentiates BuzzFeed from competing publishers is not those listicles or even the hilarious videos, but the underlying technology that Peretti and Nguyen are using to understand what gets you to read and share a piece of content. Those insights can be used as the fuel to boost all kinds of editorial content–but that cat GIF will still probably win.