It's no secret that tourists love to snap pictures on the Staten Island ferry. Or that photographers will wander the side streets of east London capturing the latest street art. Everyone knows that Paris's visitor-friendly arrondissements are flooded with selfie sticks on weekends. Now, a new visualization of more than a decade of Flickr photographs shows exactly what paths photographers make when taking pictures.
Mapbox, the Washington, D.C.-based mapping company that provides public mapping tools under an open source philosophy and works with clients like Square, Evernote, and Foursquare, produced the Flickr photography maps using metadata gleaned by scraping the data from publicly available pictures on the site. This means that Mapbox systematically obtained the information you choose to let your phone or camera record every time you snap a picture—the exact GPS location, the time of day, the type of phone you used, and more.
Pan and zoom on this interactive map of New York City's Flickr data, and press "Next" to see other cities:
Eric Fischer, the artist and mapping expert behind the project, told Fast Company that he only downloaded metadata associated with images rather than the images themselves. That metadata was then filtered to exclude pictures taken more than three miles apart or 10 miles apart.
"A map like this pushes limits in a lot of ways," he added. "If you zoom in on Times Square, you see millions of lines being generated on top of each other. There are vast differences in the density of data, and seeing how we can mix and visualize the data."
The visualizations were made by layering Flickr's search API onto Mapbox's own internal mapping platform and crowdsourced mapping data from OpenStreetMap. Different colors on the map indicate time stamps, speed in going from one location to another, and the popularity of locations. Black indicates walking speeds, all other colors indicate biking, driving, or taking public transportation between picture spots.
Looking at the maps reveals unexpected things: the popularity of pictures on New York's Circle Line versus the Staten Island Ferry, for instance, or the relative lack of pictures taken in proximity to San Francisco's AT&T Park. In Las Vegas, the lines of travel are almost entirely vertical: It's a rare Las Vegas photographer who doesn't go from location to location via the Strip.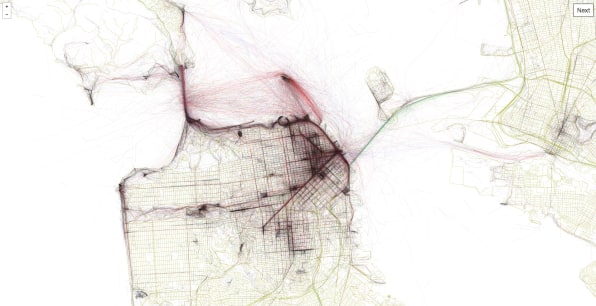 Fischer also sees his visualizations as works art that serve to illustrate social and urban issues, like where owners of certain kinds of smartphones live or traffic in American cities. Fischer, who has previously mapped locals and tourists in cities using Flickr metadata, also recently released "Locals & Tourists," a searchable world map that visualizes the tweets of city residents versus out-of-towners based on Twitter location data. Because Flickr offers developers a far richer data stream compared to Instagram, map experts such as Fischer tend to base their work around Flickr's firehose.
Garrett Miller, a Mapbox designer, added that the project was intended both as a way to test the limits for Mapbox's system (which produces visualizations for clients out of geographic data) and as a proof of concept to show what the company's team could do for potential customers. "We pulled in millions of lines and millions of points," Miller said. "It's a good story but also a way to stress-test the system." Mapbox offers their clients, primarily startups, access to libraries and software development kits (SDKs) to integrate map products into their apps and websites.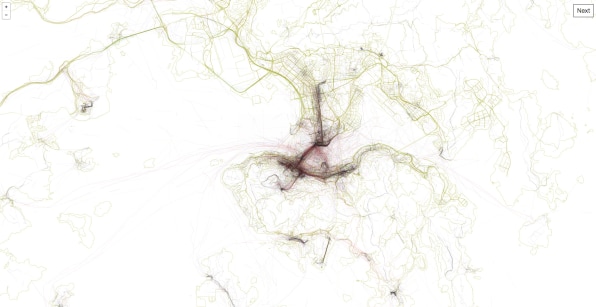 The visualizations also help demonstrate the value of open data—using it and making it. "As we're a company heavily invested in open data, we're starting to work on ways that our customers and partners can use their own data to improve open source projects," Miller said. In a related project, for instance, Mapbox used anonymous data emitted by smartphones when users were running or jogging to improve the accuracy of OpenStreetMap.
In the future, Miller imagines projects "like a weather company providing API endpoints for temperature, precipitation, and wind that work across all of Mapbox's products, or a photo-sharing site that crunches geospatial analytics down in a similar shareable way."
There's another benefit to Fischer's maps, Miller said: They help illustrate what kinds of mapping projects people are interested in. "Visualizations like this help us gauge interest on certain user stories and relay back to our partners where there's potential for collaboration."