Imagine New York City with 800,000 fewer residents living in poverty, 25% fewer premature deaths, and broadband Internet access for everyone. These are ambitious, laudable goals–but they are strange to see in a citywide plan that is supposed to be about environmental sustainability.
This was the gist of Mayor de Blasio's OneNYC, an update to former Mayor Michael Bloomberg's PlaNYC citywide sustainability agenda. When PlaNYC was created in 2007, it was applauded for its comprehensive goals in areas like reducing the city's greenhouse gas emissions, planting trees, adding bike lanes, and increasing energy efficiency. Cities around the world copied the model.
In releasing a four-year update to the plan required by law, de Blasio has not only changed the program's name but dramatically expanded its scope to embrace economic initiatives that are intertwined with environmental ones.
"What the mayor is really proposing is the New Deal of anti-poverty for this century," says Judi Kende, vice president and New York market leader at Enterprise Community Partners, a national organization that advocates for and builds affordable housing.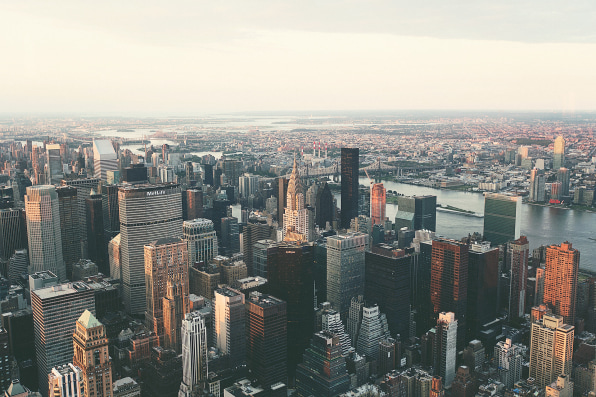 Other major economic goals, among more than 200 new initiatives in the plan, include creating 240,000 new housing units in ten years, making sure the average New Yorker can reach 25% more jobs within a 45 minute public transit, and adding 4.9 million jobs to the city by 2040.
These are in addition to more traditionally green goals, such as sending zero waste to landfills and ensuring New York has the best air quality of any large city in the nation by 2030. In the areas of sanitation and air pollution especially, it goes further than Bloomberg's initiatives. It also continues a focus on greenhouse gas reduction and building climate resilience, including de Blasio's previous announced goal of a 80% greenhouse gas reduction by 2050.
The green movement has historically had a reputation for focusing on the concerns of the wealthy. But in recent years, especially as income inequality has become a central issue around the country and world, environmentalists have moved to build initiatives that meld economic and environmental concerns–and convince politicians that the two causes are inextricably linked. In New York, Hurricane Sandy proved this with full force. The storm hurt the poor much harder, both in the immediate and long-term aftermath.
OneNYC reflects this philosophy.
"You can't have a successful city if people feel they don't have an economic future. Just as PlaNYC literally asked the question, what would a successful city look like in the future in terms of sustainability, resiliency, economic growth? We ask all those questions, but one more–'What will the city look like in the future in terms of economic inclusion?'" de Blasio said at a press conference.
It also seems to include something for almost everyone; unlike Bloomberg's agenda, it was developed in collaboration with almost all of the city's various agencies. And major environmental advocates, such as the Natural Resources Defense Council (NRDC), are happy about its broad and inclusive vision, rather than worrying about sustainability becoming diluted by other concerns.
However, criticisms are sure to come later, when people begin to judge whether de Blasio can follow through on his huge vision. "Our concern isn't that this inadequately ambitious in any way," says Kate Sinding, deputy director of NRDC's New York program. "Clearly, when you're trying to something that is this ambitious, I think anyone is going to have concerns about whether it can be done."
The plan sets detailed benchmarks and strategies for meeting its goals in some areas. Others, such as how the city will reduce fossil fuel use by speeding up electric vehicle adoption, are fuzzy. The mayor can complete some goals on his own, such as making efficiency standards apply to public housing or installing and repairing 500 water fountains. Others will require the city council's cooperation to pass new legislation. Still other big goals, especially related to securing funding to extend public transportation options and improve air quality, will require state and regional cooperation and large budget approvals–an even more difficult prospect.
Kende views OneNYC as many of the culmination of many of the mayor's announced goals and initiatives to date wrapped into one. "I think it's time for the mayor to stop planning and start implementing."
You can read more of the full OneNYC plan here.