Every year, the brightest minds in the airline industry assemble in Hamburg, Germany, for the Aircraft Interiors Expo. For the most part, it's a boring trade show full of talk about seat textiles and fuel economy. But it also includes exhibitors like Boeing and Airbus, which announce plans for cabin design that are bound to impact your travel in years to come. With that in mind, here are the best ideas we spotted from the show–and one really, really bad one.
1. Boeing's Bigger Overhead Space Bins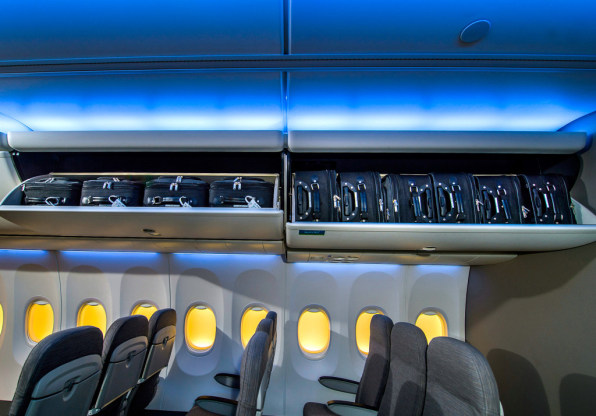 On the new Boeing 737 MAX, the overhead bins have been redesigned to hold 50% more bags. How is that possible? The breakthrough was to make the bins taller, so that roller bags could fit in on their sides rather than their backs. The bins will also be two inches lower, and thereby easier to reach. Of course, that also means the bins are cutting two inches of headroom, though Boeing claims its engineers have molded them to minimize the feeling of claustrophobia. The first batch of new 737s will hit the skies in 2017.
2. Wider Seats For Obese People And Parents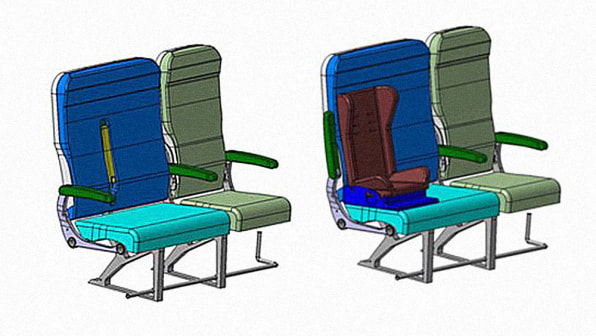 It's called the SANTO seat (Special Accommodation Needs for Toddlers and Overweight Passengers), it's by SII Deutschland, and it's not much more complicated than a seat that's one and a half times the width of a normal seat, allowing more space for parents who need to sit with their fussy toddlers or obese people who have difficulty fitting into a tiny airplane seat. Apparently, it harvests extra space by using the rear of the plane where the fuselage narrows (where, as we understand it, one and a half seats might fit but a full two seats couldn't).
3. Solar-Charging Window Shades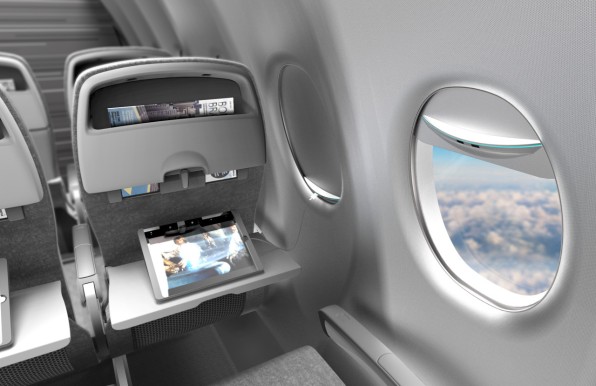 The Solar Eclipse is a concept by B/E Aerospace that places solar film on the outside of a window shade, feeding power to USB ports. It's only about 10 grams heavier than a stock shade, and it can be retrofitted into old planes to add power more easily than installing seat ports. As an added bonus, the company claims the green electrical energy in the cabin could actually save the plane from burning superfluous fossil fuels–as many as 7,300 gallons per jet a year.
4. SABIC's 3-D Printed Seats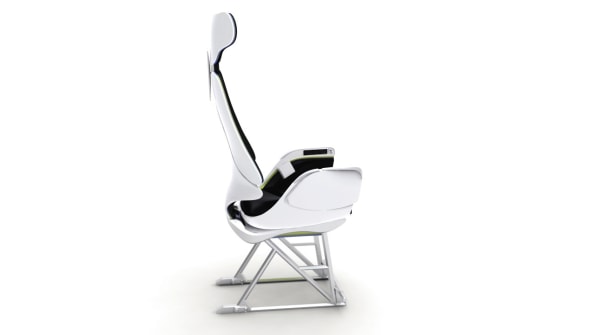 SABIC, the world's second largest chemical company, is developing a series of thermoplastics to allow 3-D printed cabin seats. While only in prototype form at the moment–and sure to face scrutiny from an industry that's very particular about material safety–the 3-D printed seats could foster more creative cabin aesthetics, while lowering production costs, the company claims. The economy seat you see here was printed in fewer than 15 components.
5. The E2 Cabin for Short Flights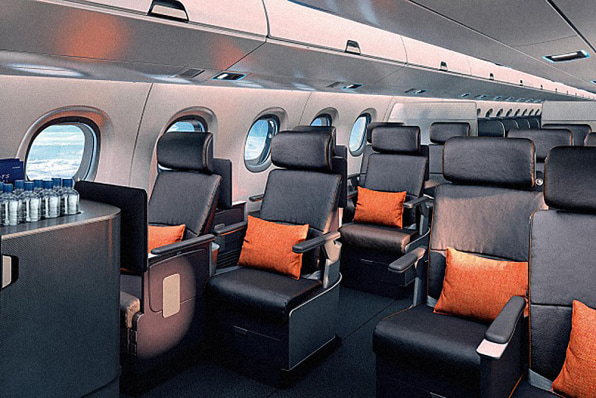 Sometimes a lot of little, good ideas assemble to one big one. The Embraer E2 cabin–designed by the London design studio PriestmanGoode for regional flights–has little luxuries like a tablet holder on seatbacks so you can watch movies without holding your iPad and individual controls that direct light and air directly to each seat. Its best feature may be its proportions: There are enough overhead bins for every passenger to bring a bag on the plane–the perfect convenience for a traveler on a shorter flight.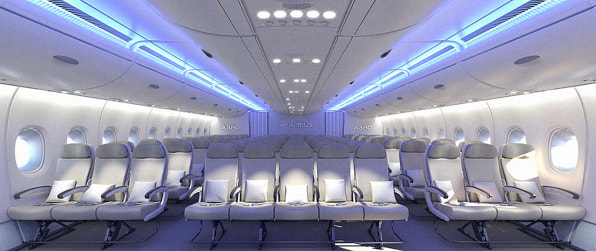 Airbuses That Seat 11 People Across
Brace yourself for middle seats. Airbus has found a way to squeeze even more seats into the economy three-four-three seating arrangement to create a "budget economy" three-five-three arrangement. As Australian Business Traveller puts it, the effect creates "a middle seat which nobody will want to be stuck in."
But that's not the worst part. The seats are fewer than 17 inches wide apiece (Airbus's normal economy seats are around 18), with super skinny arm rests, and window seats that smash you against the cabin walls. That's right, Airbus may have made the best seat on the plane unsittable.