Holstee makes mostly posters and greeting cards, but it started in 2009 with T-shirts. It has also experimented with art frames. And wallets made from recycled plastic bags. It runs a $7/month subscription service for art, delivered to you on a greeting card with a stamp already attached. It also runs a "global movement" to encourage potluck dinners. It started an online magazine last year. And also hosts a speaking series. As well as a class series on topics like creativity–launching online soon. It makes yoga mat bags. And also light fixtures. Its latest product is a "cubicle survival kit" that includes art, tea, and a miniature terrarium.
"I wonder, is this normal? Is every company like this?" asks co-founder Michael Radparvar when I meet with him in April. "In some ways, Holstee has been our own personal incubator to try things."
The answer is no, Holstee is not a typical startup. Because Holstee's biggest product, the thing that enables it to experiment with yoga classes and potluck dinners, is its mission statement.
Back in 2009, after Radparvar and his two cofounders (one of whom is his brother) quit their jobs to work on the T-shirt company, they paused for a minute to write down why. You've probably seen the result. "This is your life," it begins. "Do what you love, and do it often."
They posted an artistically designed version on the company website, and what would soon become known as the "Holstee Manifesto" went viral. After trying in vain to direct the incoming website traffic to their other products, an intern finally said, Radparvar remembers, "Guys, let's just make the fucking poster." Ever since, sales of the manifesto have made up 50% to 90% of the company's revenue.
Most companies start with a product that its founders believe in. Over time, the product changes, the team builds revenue, and then eventually it will decide on a mission. This is how Facebook, for instance, went from a "Hot or Not" concept to a place that states, "Facebook's mission is to give people the power to share and make the world more open and connected."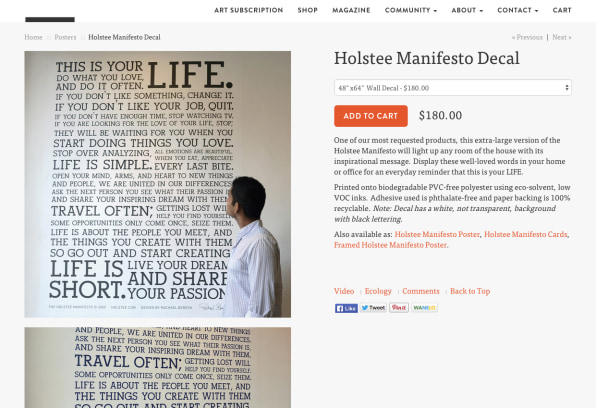 Holstee's manifesto put the company in the reverse position. It had a steady source of revenue. It had a mission statement that its customers backed. But what did Holstee do?
The messages that rolled in–explaining how the manifesto had encouraged its authors to quit their jobs, propose, start something new, travel the world–applied a certain amount of pressure. "I would hear people describe us as 'Holstee, they make a lot of posters, but they are so much more than a poster company,'" Radparvar says. "And I think that was always stuck in the back of our head–'We're so much more than a poster company'—that it's like, well, actually, what is that? 'So much more?'"
So Holstee didn't just make posters. It made letterpress posters on cotton paper with nontoxic inks. It did not just make wallets. It partnered with a nonprofit to make wallets from recycled plastic picked off the streets of New Dehli. It did not just sell frames, but frames that it worked with an organization called Urban Ashes to make with reclaimed wood from buildings in Detroit. All of it–the classes, the publication–are an effort to live up to the manifesto.
This hasn't been a wildly profitable approach. Many of the 11-person company's experiments stay experiments. A quirky little lamp that Holstee recently introduced called the Starlight Lantern, for instance, was created and built by the company's lead designer. He made fewer than 100, and Holstee hasn't decided whether it will be making more (the page is no longer available on the website). Other items that require resources to produce, like campfire chats and an online magazine, aren't likely to make money. Some actually have the opposite effect. The potluck project encourages people to post a photo from potlucks they host to social media with the hashtag #holsteepotluck. When they do so (and Radparvar says about 150 have), Holstee donates $25 to FoodCorps, a nonprofit that aims to improve kids' nutrition through schools.
None of this is so different from efforts bigger brands make to market themselves: content, community, and social good–all swirling around a mission statement in an effort to support a product.
But in this case, the product is the mission. Holstee is not a coffee company that preaches world environmental consciousness but then sells millions of paper cups, or a big box store that starts a food drive from which its own low-paid employees benefit. When you're selling the mission itself, there's an opportunity to be authentic to an odd degree. "If we never had done the dinners, if we never did the classes, and it was just literally a landing page with the manifesto poster," Radparvar says, "our gut feeling is that people come and say, is this someone just trying to capitalize on the message?"
In a way, in other words, Holstee does have a clear focus on a product. And that product is Holstee.
Correction: An earlier version of this article misstated Michael Radparvar's title as CEO. He is co-founder.