That loud, sudden noise you may have heard a few weeks ago was the sound of stoners all around the world dropping their bongs and vape pens on the ground in unison and rejoicing. After 14 years, there would be a Super Troopers 2.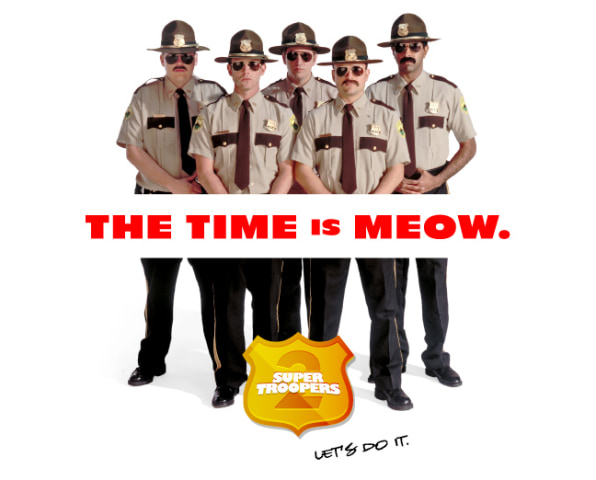 Although sequel-talk began immediately after the left field success of Super Troopers back in 2001, the comedy unit responsible, Broken Lizard, has traveled a long, winding path to get to a green light for the new project. Over the past decade-plus, not only has the group changed its approach to making movies, but the industry has drastically changed the way movies are financed and distributed. Now, Broken Lizard is taking a grassroots approach to putting their syrup-chugging cops back in action—with the response partially determining how the movie gets made.
The studio that owned the rights to the original film, Fox Searchlight, only recently agreed to allow a sequel. Super Troopers was one of those early-2000s hits that thrived in the DVD market, planting millions of copies on dorm room shelves in between Family Guy and Chappelle Show jewel cases. That market has all but evaporated in the era of Netflix Instant, however, leaving a monkey wrench in Broken Lizard's bragging rights. When Fox Searchlight gave the group permission to make a sequel, it was on the condition that they finance it themselves—which they very quickly did, with the help of an Indiegogo campaign.
"We needed our fans to step up," says Jay Chandrasekhar, a member of the group and also its core director. "Obviously to help us fund the film, but also just to show Hollywood that there is a demand for it."
Fox Searchlight agreed to release the movie on a minimum of 800 screens, but that number could possibly increase now, given the head-spinning speed at which Broken Lizard hit its $2 million goal after launching on March 25th. (Just one day.)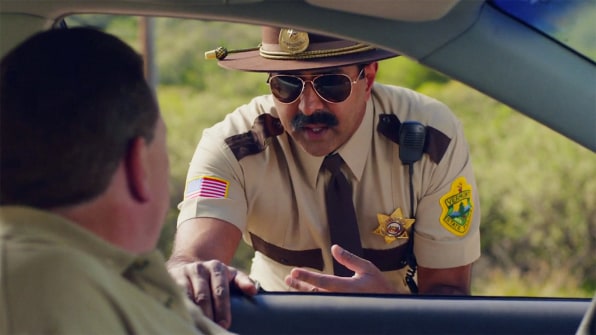 In order to ensure the enthusiastic fan response they correctly predicted, the guys in the group, which also includes Kevin Heffernan, Steve Lemme, Paul Soter, and Eric Stolhanske, put together a list of perks that stress fan interaction. Determined die-hards have already purchased private stand-up shows from the group, the chance to go to a baseball game with them, and even the patrol car from the first movie. As yet unclaimed items include having Broken Lizard be the best men at your wedding, having them be godfathers to your children, and, hopefully as a joke, for $25 million, accepting their sperm donation for in vitro fertilization. (That last one, The Indecent Proposal perk, takes 'fan interaction' to a terrifying new level.)
The perk the group is most proud of, however, is that every donation at or above the $30 level includes a ticket to see Super Troopers 2 in theaters. The deal Broken Lizard made with Fandango is the first of its kind, providing something crucial that's been missing from similar campaigns in the past.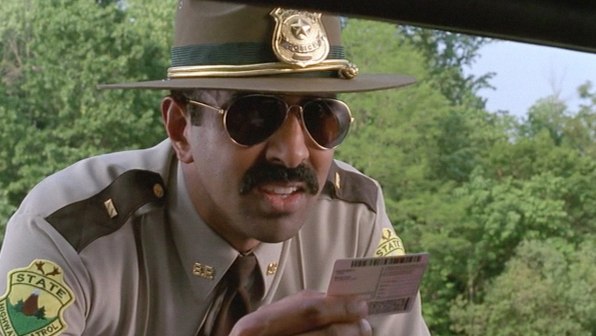 "That was a deal breaker for us," Paul Soter says. "We wanted to change that model."
Additionally, making the Indiegogo campaign entailed putting together a series of videos that break the third wall and let the Super Troopers characters address their fans directly. A new video appears on the site each day of the campaign, documenting the meta-saga of the most buffoonish trooper, Farva, being locked in a car trunk until certain goals are met. Although making the videos marked the first time the Broken Lizard guys had been back in uniform in 14 years, they'd already gotten back into the mindset recently, writing 16 drafts of the new screenplay.
"The hard part about writing a script is usually nailing down your characters, and how they speak," Kevin Heffernan says. "The fun thing about jumping back into Super Troopers was that we know all those characters already and exactly what kind of stuff would come out of their mouths. We know their points of view, we know how they responded to situations. We know Farva, my character, is going to be an asshole."
The group has always written collaboratively. After breaking out an outline together, each writer would then have to create a twenty-page chunk on his own. Someone from the group would be elected point man, or "bitch," incorporating all of the notes in each subsequent draft. Although this process hasn't changed much in the last 14 years, the group's storytelling has indeed become more fluid.
"We're just better at constructing scenes and we're a little more technical now, which is helpful in terms of focusing where scenes and stories are going," Eric Stolhanske says. "With the first Super Troopers, it started out as ten random scenes that were basically sketches, and from there we put a plot together. This time, we came up with the plot first and we're plugging a lot of funny bits into it. So it's just a different approach—maybe better, maybe not—but certainly evolved."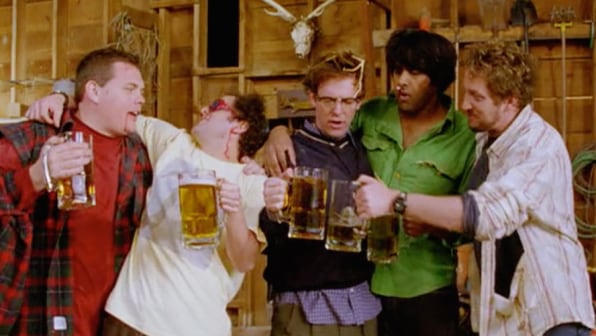 After hitting upon the Indiegogo idea, the guys ended up building different variations of certain scenes in the script, depending on how much money they receive. There is a version of draft 16 that could definitely be made for $2 million, but there are also many elements of the film that would change—from special effects to cameos—depending on how much money the campaign yields. (Currently, it stands at $3.7 million.)
"If we just had two million dollars we definitely could not go as big and crazy as we want to go with, say, the opening scene," Steve Lemme says. "If we could raise more money, then we can make this scene as we want to make it, and the way we want to make it is a way that would hopefully top how crazy the opening scene is in the first movie. And that goes really for the rest of the script too."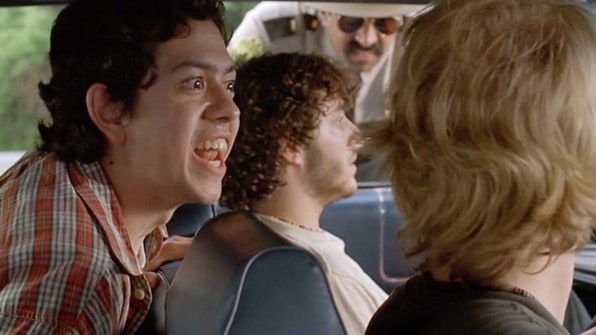 No matter how much money the campaign raises in its final days, though, and how many cop cars they can afford to blow up in some over-the-top climactic chase sequence, the initial battle has indeed been won, and Super Troopers 2 will be out next spring or summer. Impatient stoners of the world, the time is almost meow.