It's nothing more than a little black book with an elastic string. The cover is actually cardboard wrapped in soft synthetic fabric. You'd think that in 2015, in the age of smart phones, tablets, and watches, the Moleskine notebook would be extinct.
In fact, Moleskine's paper products drive 92% of the company's $105 million revenue, and those sales figures aren't stagnant. Moleskine has seen sales from paper products grow at roughly three times the pace of the stationary market– at a respectable 5% a year. Used historically by the likes of Pablo Picasso and Ernest Hemingway, it's fetishized to this day by creatives around the world.
Nevertheless, Moleskine has been eager to position itself as more than a notebook manufacturer. As Moleskine's CEO Arrigo Berni explains, Moleskine doesn't just make paper products; it makes lifestyle products. "I think the mistake people make is to look at our market as the paper market, but we compete in a much bigger market," Berni says in a phone interview. "[We're] all of those devices and tools people can use as supports to express themselves." Now, Moleskine just needs to persuade shareholders.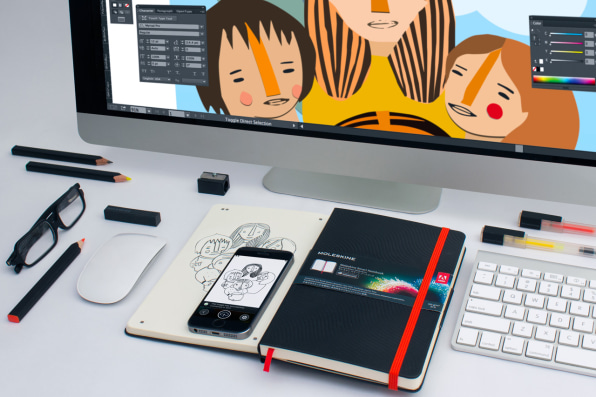 Humble Origins
A Parisian bookbinder produced small, signature books for a century, until the 1970s when the bookbinder closed up shop. In the mid-'90s, a Milanese office supply company resurrected the book, and thought well enough to trademark "Moleskine," the name for the black book coined in Bruce Chatwin's semi-fictional novel The Songlines. Back on the market, the Moleskine's popularity surged thanks largely to the late-'90s bookstore market, in an era when we were all sipping lattes at Barnes & Noble and Borders. In 2006, the European investment firm Syntegra Capital bought a majority stake in Moleskine, investing more in its global growth before taking it public in 2013.
Diversification (And Its Problems)
In 2011, following two years of market research, Moleskine began selling tangentially related products to Moleskine books–pens and pencils, then later, bags and even tablet cases. The company has even partnered with digital-first companies like Evernote, Adobe, and Livescribe to release what Berni calls a "niche within a niche"–notebooks that could feed sketches into digital libraries.
Not that that has been enough to please shareholders. Having gone public on the Milan Stock Exchange in 2013 with a potential overvaluation, the company has faced high market expectations, and the stock has been on a downward trajectory since the initial IPO, with a dramatic 30% drop in value last year–until the last fiscal quarter results, when the stock recovered considerably thanks to 13.1% revenue gains over the previous year.
Berni has blamed stock troubles on a lasting market misunderstanding of Moleskine's new business plan–investing in product diversification. He sees Moleskine–the ineffable European pseudo-word that his Italian accent pronounces as a three-syllable "moll-uh-skin"–as a creatively infused luxury lifestyle brand that everyday people can afford.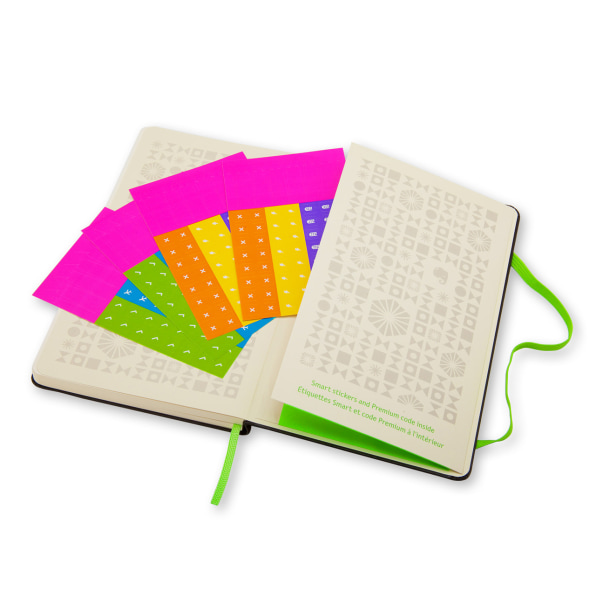 "The difference compared to lifestyle and luxury brands, is those brands make prestige and exclusively, not being for everyone, an intrinsic part of their identity," Berni says. "[Moleskine's] are values that are meant to be accessible to everyone. And certainly the price points are more democratic. And this gives us a much better latitude in distributing the brand and making it accessible." Indeed, a $15 Moleskine notebook may seem like a small indulgence, but by that metric, a sub-$100 Moleskine bag seems like a steal. Moleskine's accessories aren't yet that large of a market, but they're trending. In 2014, they grew 33%.
The Five-Year Plan
Berni's five-year plan is to stay the course, to not necessarily enter new product categories as the company has over the past four years, but to invest more heavily in those categories now that Moleskine has, as Berni puts it, "learned [the] lay of the land." By the end of the year, Moleskine will release more styles of bags and pens in a plan to increase Moleskine-branded options in stores.
Moleskine has worked elements like its notebook's rounded corners, embossed logo, and elastic band into its accessories. But the company has yet to release any pen or bag that's as iconic on its own as the notebooks. The company's Kleenex-like brand identity is all that's carrying these spinoff products.
As Berni puts it, the Moleskine book is appealing largely because it's a heritage brand built upon the street cred of creative generations past–the "pantheon of celebrities" like Picasso who "have the advantage of being dead, so they can't embarrass us, and they don't charge." So far, Moleskine has grown by riffing on its heritage notebooks, remixing them in different colors or giving them the Peanuts treatment.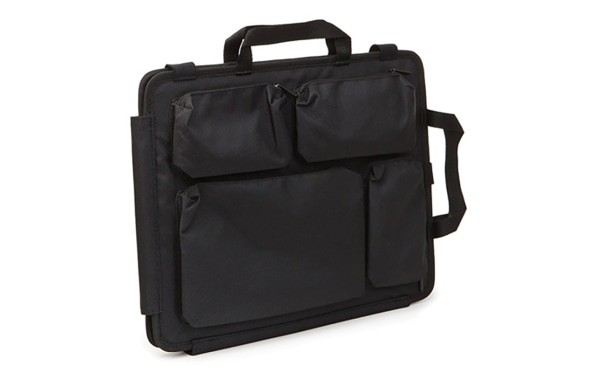 That approach makes sense when you're working with an icon. But Moleskine's accessories aren't icons in their own right; they're merely iterative of the notebook. And so the question becomes: Can the same approach Moleskine has taken to diversifying its notebook line work for its generic accessories line?
By the end of 2016, Moleskine plans to double its current store count to 80, and build its non-paper products to become 15% of the total business (right now, they're 8%). When I ask Berni if the company might take a more radical design approach to Moleskine accessories, he hesitates. "Being at the cutting edge of innovation in terms of design for example, I'm not sure it'd be really consistent with what this company is, and has been proven to be good at, coming out with forms and shapes and a combination of colors that have longevity." Berni says. "I see more of a middle ground approach [going onward] for us."