We can say America as a whole believes certain things about climate change, but it's more accurate to say America believes many things about climate change, and those beliefs depend on where people live. There are significant differences between states in how people view the issues, and differences within states as well.
The maps in the slideshow above were released by the Yale Project on Climate Communication, which together with the George Mason Center for Climate Change Communication has conducted 12 national surveys of climate change attitudes going back to 2006. They're the first climate opinion maps at a county and congressional district level.
Researchers at Yale and the University of Utah "downscaled" estimates of climate change opinion from national data, assuming that attitudes to the subject are a function of demographics and cultural and ideological factors. Based on previous research, people of similar such characteristics tend to cluster together, says a paper in the journal Nature Climate Change, discussing the findings.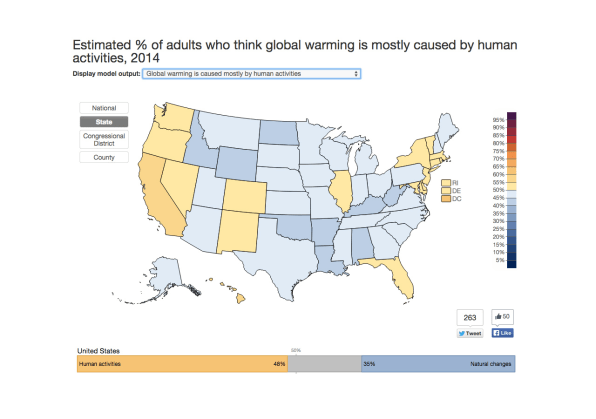 National surveys show that 63% of Americans believe global warming is happening (what we'll call question one), 47% think it's caused by humans (question two), and 42% think there's a scientific consensus on the human role (question three).
Now look at the maps showing opinion at state level. On question one, the numbers range from a high of 81% in Hawaii to 54% in West Virginia. On question two, they range from 61% in the District of Columbia to 42% Wyoming. On question three, they range from 54% in Hawaii to 31% in Wyoming. (Of course, there really is an overwhelming scientific consensus on climate change's man-made causes).
At county level, the differences are starker still. For example, just 43% of people in Trimble County, Kentucky, believe that global warming is happening, compared to 80% of people in New York City.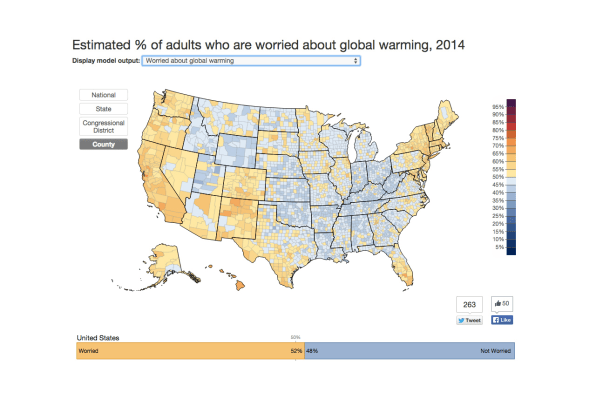 Blue states and red states track as you might expect, but there are substantial variations inside those states. For example, in Teton County, Wyoming (which includes the Jackson Hole enclave), 64% of adults believe that global warming is happening, against a state average of 55%. Going the other way, in Lewis County, Washington, only 55% of people think warming is happening, against a statewide figure of 67%.
In Southwestern Texas, belief in global warming runs in the 60% to 70% range–some 10% higher than the rest of the state. The paper puts that down to a "greater proportion of Hispanic/Latino adults there who [have a] greater tendency to believe that global warming is happening than whites, on average," says lead author Peter Howe, an assistant professor at Utah State University.
Aside from being interesting to the public, the authors hope the data will help states, municipalities and counties gauge possible support for climate change mitigation and adaptation in their areas.
"Most of the action to reduce carbon pollution and prepare for climate change impacts is happening at the state and local levels of American society," says co-author Anthony Leiserowitz, a Yale research scientist. "Yet elected officials, the media, educators, and advocates currently know little about the levels of public and political will for climate action at these sub-national levels."