Most of the rituals in my life, like drinking fancy tea or starting every day with a cold shower, tend to fizzle out after a few months once my initial enthusiasm fades. But there are a few tendencies that have stuck. As far back as I can remember—and only after looking both ways to make sure whoever my boss happens to be isn't in eyeshot—after checking my email and Twitter, I secretly fire up a tab to check ESPN.
I'm hardly alone. Despite the fact that its clunky interface makes it look like a relic of the MySpace era, ESPN is still one of the biggest sites on the planet. In 2014, the site garnered 22 million daily users, up over 9 million from 2013. It's a monster, and speaks to the clicking power of a bunch of bored guys at work. Put another way: ESPN.com is bigger than CNN.com, The Huffington Post, and yes, even BuzzFeed. What does that mean for ESPN.com's bottom line? A lot: according to Wunderlich Securities, the digital arm of the company accounted for $674 million of ESPN's $10 billion in revenue in 2013, back when it was only seeing those 9 million daily users. Back then The Atlantic said that "as a revenue-generating company, it's all about the television business." But clearly, ESPN no longer thinks that's true.
And on April 1, for the first time since 2009, that monster is getting a makeover. (Unless, of course, this is all one giant, modern day version of the Sidd Finch story.) Tomorrow, ESPN's site will finally feature a white space-heavy responsive redesign that will streamline the way it looks, wherever you're coming from: phone, tablet, command+tab when your manager steps out to lunch. Whatever! (And no, they wouldn't say what firm helped with the redesign, the sneaky so-and-sos.) Everything is a little speedier, widgets make a little more sense, subtle animation flourishes are hidden everywhere, and the site is designed to look different for everyone who uses it (more on that soon). "We really wanted to clean up the navigation and make it intuitive, easy to navigate, and consistent whatever screen you're on," says Ryan Spoon, ESPN's SVP of product development. "The last time we did a redesign, there was no concept of a mobile application or fragmentation between iOS and Android. As the world has evolved, we want all our experiences to evolve." It's a necessary evolution, certainly, now that Twitter is where news breaks first, and publishers need every advantage they can to keep eyeballs glued to their reporting and analyses.
Here's the old site, for example: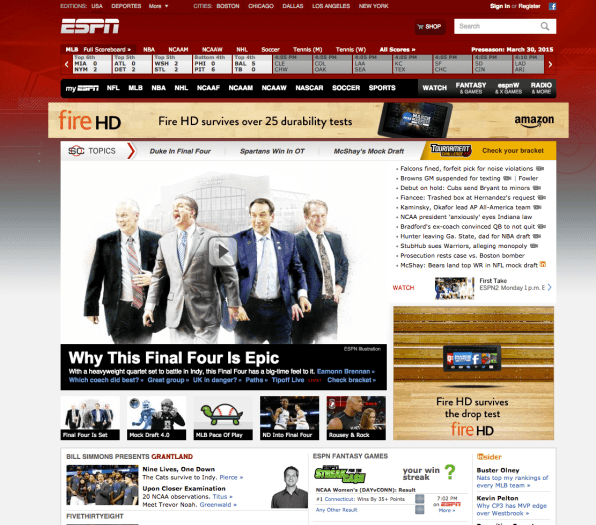 And here's the new one: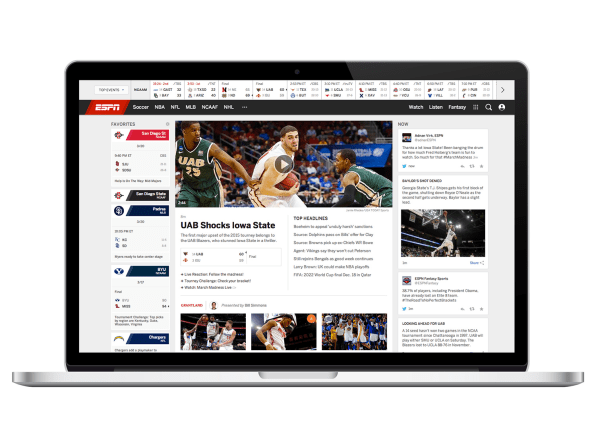 For the last few weeks, I've been poking around on the new ESPN. I like it. Here are a few of the big things you should know before you dive in.
I'm a Lakers fan, which is fun if you enjoy watching excruciatingly bad basketball played by a bunch of no-names and Jeremy Lin. Thankfully, my personal torture doesn't have to be your torture when you visit the new ESPN—that's because it's designed to feel personal depending on the sports and teams you care about. Sign in, select the teams and sports you care about, and it will remember your preferences. Not a big hockey fan? Not a problem. Unless an NHL story is the can't-miss sports news of the day, you won't be deluged with iterative news about hockey trades that you don't really care about. "The example I give all the time is I'm a Duke football fan," says Spoon. "For me, it's a pretty profound statement that Duke football sits on top of ESPN.com."
"When you reach a really significant scale, everyone's behavior is different," says Spoon. "That changes based on time of day. At 7 p.m, people are going to want live scores, for example." Where they're coming from is important, too: 61% of its visitors (or 56.9 million people monthly) now come to ESPN through their phones or tablets. To say that the site was overdue for a responsive face-lift when other sites have been doing it for years is a huge understatement, especially since ESPN is where fans turn to after gleaning breaking sports news on Twitter. (Not sure what responsive design is? Here's a good visual primer.) "We wanted this to be mobile optimized and mobile first," says Spoon. "This is a totally responsive website. Internally we think that browsing on your phone is the most beautiful, clean experience."
Oh, The Dress. Publishers drool over the boatloads of traffic the story generated for BuzzFeed. And yet, the humble page view is losing momentum as a preferred metric for wooing advertisers, which means publishers are turning to more advanced metrics to sell their ad inventory, like time spent on a website. So like Time, Quartz, Bloomberg Business, The Los Angeles Times, and any number of news sites that would invariably like it very much if you read everything they published, now when you scroll to the bottom of an ESPN article awaits… another article. And another. And another. "Each article bleeds into the next one," says Spoon. "If you're in a clubhouse for the Cavaliers, the next one will come into a Cavaliers article too." It's designed to suck you in, sure. But whether infinite scrolling actually works or not, well, lets just say that not everyone is a fan.
One of the most interesting new additions is the ESPN Now column on the right side, which is a curated selection of stories, videos, and tweets pulled into a chronological stream that's constantly being updated. It makes the site feel a little less stale and a little more alive—sort of like Twitter!
Will ESPN's big redesign win it any awards for cutting-edge innovative thinking? Probably not. But drastic overhauls are a huge mountain to climb for any website at this kind of scale, especially when very opinionated users are accustomed to doing things a certain way. (Just ask Facebook. Or the The Huffington Post. Or Matt Drudge.) In ESPN's case, though, the update is as welcome as it is overdue.
Update: An earlier version of this article stated that the last time ESPN redesigned was in 2007, as was mentioned several times during our phone conversation. The team now says that the last major redesign was in 2009.
Watch how ESPN's SportsCenter Studio was completely redesigned as well: