It's no longer April Fools' Day, so you can trust that there are no hilarious pranks in this month's entertainment forecast. Let's leave the pranks to YouTubers and George Clooney–it's the one thing that unites them. Each of the movies, shows, and other spectatorial adventures below is 100% real, and carefully hand-selected to burn through your discretionary income like a pillage through King's Landing in Game of Thrones (which returns in April). It's like Steve Harwell of Smash Mouth once said: "So much to do, so much to see, so what's wrong with taking the back streets?" Actually, it's not like that at all. Front streets all the way! With no further ado, here is Co.Create's extensive and prank-proof guide for what to pay attention to until blockbuster season arrives in earnest next month.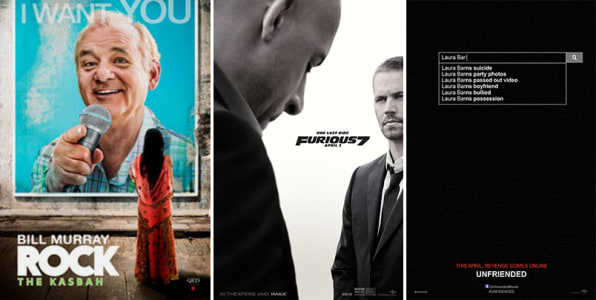 Furious 7, opens April 3. The addition of Jason Statham to this franchise hinted at in the final moments of Fast & Furious 6 slaps a jetpack onto the already heightened reality that is this series' stock in trade.
Kill Me Three Times, opens April 10. Simon Pegg stars as a hitman whose job gets complicated, although not by the undead, as the title implies.
Lost River, opens April 10. The directorial debut of Sir Ryan Gosling–he also wrote it–places his Drive costar Christina Hendricks in a fantasy world, one that is not so fantastic that her kids are completely safe. The film earned scorn when it premiered at Cannes, but now you can decide for yourself whether Gosling can do it all, or not.
Clouds of Sils Maria, opens April 10. In what sounds like something of a Black Swan for theater people, Juliette Binoche plays a veteran actress who stars in a revival of the play that launched her career–only now, she is no longer the ingenue. Here's hoping there's no fingernail scene!
Child 44, opens April 17. Richard Price, of The Wire and so many great novels, wrote the screen adaptation for this film, set during Stalin's Soviet Union rule. The very in-demand Tom Hardy stars as an MGB agent investigating a series of child murders. If the title is to be believed, some might say it's an excessive amount of child murders!
True Story, opens April 17. Oh hey, James Franco and Jonah Hill are starring in a movie together. It's probably going to be hilarious. Nope! The two genre-fluid actors are playing it straight this time out, in a tale about an alleged murderer (Franco) hiding out under the assumed identity of a journalist (Hill). Nary a dick joke in sight, probably!
Unfriended, opens April 17. This very timely horror movie takes place entirely on a computer screen and involves supernatural social media murder.
Ex Machina, opens April 10. 28 Days Later screenwriter Alex Garland makes his directorial debut with this tense meditation on our never-ceasing thirst for more-advanced artificial intelligence. Think Chappie, but without Die Antwoord and Hugh Jackman's mullet and several other crucial differences.
Kurt Cobain: Montage of Heck, April 10. Kurt Cobain died at 27, and this documentary examines everything that happened to him before that.
Rock the Kasbah, opens April 24. Bill Murray and Bruce Willis topline this quirky flick in which a washed-up rock manager plies his trade in present-day Afghanistan. Maybe the surprise-album strategy will play well over there too!
Cut Bank, April 3. The non-Thor Hemsworth (Liam) is a young mechanic and former high school football star who yearns to be free of the cliche that this setup implies, in a refreshingly old-style small-town drama.
Last Knights, April 3. Wherefore art thou, Clive Owen? After a string of interesting roles culminating in the 2006 gem Children of Men, the one-time James Bond contender has been lying low. Here he resurfaces in the nerd-tastic role of a knight seeking to avenge his master, Morgan Freeman, an actor who has never for one moment disappeared and who never will.
Beyond the Reach, April 17. Michael Douglas is a wealthy hunter gunning for the most dangerous game of all, and you cannot possibly convince me that this film wasn't inspired by the life and times of Michael Douglas.
Chris D'Elia – Incorrigible, April 17. The Undateable comic recently seen at the Comedy Central Roast of Justin Bieber has a new stand-up set premiering on Netflix this month.
Adult Beginners, April 24. Fresh off the finale of his gone-too-soon sketch series, Nick Kroll stars in this indie as a failed entrepreneur turning over a new leaf, alongside Rose Byrne and Bobby Cannavale. Turn that leaf, Kroll!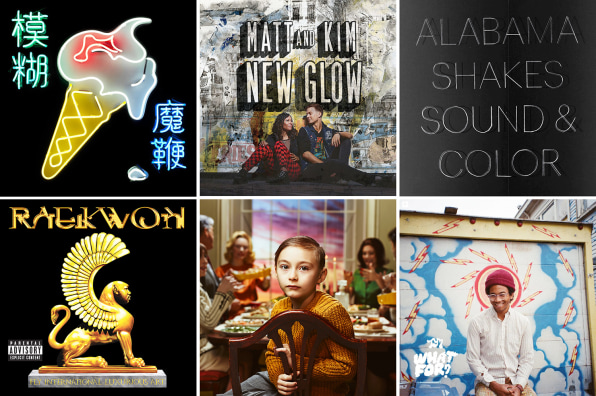 Brian Wilson – No Pier Pressure, out on April 7. Brian Wilson of the Beach Boys has never been to the beach and is not a boy. Discuss! When you get done with that, get ready to luxuriate in the melodious vet's new set of tunes.
Matt & Kim – New Glow, out on April 7. The married duo return with their first new album since winning the "Harlem Shake" competition two years ago.
The Mountain Goats – Beat the Champ, out on April 7. Frontman John Darnielle was nominated for a National Book Award last year for his debut novel, and he's already applying those literary skills to lyrics for his day job again!
Toro Y Moi – What For, out on April 7. The former chillwave progenitor is now going in more of a '70s AM radio direction, as befitting the style of the times.
Waxahatchee – Ivy Tripp, out on April 7. The latest from Katie Crutchfield's guitar-heavy Waxahatchee project builds on its acclaimed 2013 predecessor.
Alabama Shakes – Sound & Color, out on April 21. Buoyed by an attention-getting turn on SNL earlier this year, these roots-rockin' misfits are playing songs from their sophomore set at increasingly bigger venues.
Built to Spill – Untethered Moon, out on April 21. It's been six years since this troupe of indie rock royalty released a new album, and streets is hungry.
Passion Pit – Kindred, out on April 21. More dangerously catchy dance rock from these Apple ad survivors, who played Madison Square Garden with Phoenix on the strength of their last release.
Speedy Ortiz – Foil Deer, out on April 21. Intricately textured guitar riffs and layered lyrics are what Speedy Ortiz is all about, and there's about to be twice as much of it in existence when this album drops.
Wire – Wire, out on April 21. Okay, sure, a new album from post-punk pioneers Wire doesn't mean the same thing in 2015 as it did 30 years ago, but aren't you curious?
Yelawolf – Love Story, out on April 21. Most of Yelawolf's white-rapper-to-beat heat got subsumed by the freight train of Macklemore many moons ago, but America is full of second chances.
Blur – The Magic Whip, out on April 28. When Pulp reunited a few years, they toured the hits but didn't make new ones. Britpop rivals Blur, on the other hand, have a reunion album to their credit, their first new music in 12 years.
Raekwon – F.I.L.A., out on April 28. Wu-Tang Clan has been in steady decline in recent years and it's been no fun at all to watch. If anyone can break the cycle, however, it's Raekwon, whose Cuban Linx Pt. II surpassed all expectations nearly six long years ago.
Derek special, premieres April 3 on Netflix. If you cried during the post-season specials for both Gervais's The Office and Extras, just what do you think is going to happen this time?
Mad Men, premieres April 5 on AMC. Strap on a whiskey feedbag and cover every inch of your body with nicotine patches as the greatest, most vice-laden workplace drama of our time winds down forever.
Wolf Hall, premieres April 5 on PBS. Hilary Mantel's novel turned the Tudor saga on its head; now you can watch it if reading is too time-consuming.
Louie, premieres April 9 on FX. Last season, Louis CK had a six-episode arc on his show. What will he do this season? Anything he wants, obviously!
The Comedians, premieres April 9 on FX. Billy Crystal and Josh Gad play the titular comedians who share their same first names. Perhaps they'll teach us—and each other—that being a comedian isn't all funny business.
Daredevil, premieres April 10 on Netflix. Superhero TV shows. So hot right now. This is the first of many coming to Netflix, and perhaps it will win back fans disillusioned by the much-maligned Ben Affleck film of 12 years ago.
MTV Movie Awards, premieres April 12 on MTV. Amy Schumer hosts, everyone who has a big movie coming out this summer presents, and perhaps a surprise guest or two. You know the drill.
Game of Thrones, premieres April 12 on HBO. Some of the people who are not dead yet are going to die in the forthcoming fifth season of Game of Thrones, which is said to be the first one to deviate significantly from the trajectory of George R. R. Martin's books.
Silicon Valley, premieres April 12 on HBO. Mike Judge's Emmy-nominated brogrammer hit returns with a second season that promises even more dead-on accuracy about the goings-on near Cupertino.
Veep, premieres April 12 on HBO. Julia Louis-Dreyfus cemented her status as having the most successful post-Seinfeld run—well, her and Larry David—with her consistently hilarious turn as Vice President Selina Meyer on this show. As Veep enters its fourth season, we'll see how the character's handling her recent level-jump.
Living With Lincoln, premieres April 13 on HBO. Finally, there's a way to find out what that was like! My guess: "hilarious."
Turn: Washington's Spies, premieres April 13 on AMC. The revolutionary series returns for its second season, and I mean "revolutionary" mainly in that it concerns the actual American Revolution.
Knock Knock, It's Tig Notaro, premieres April 17 on Showtime. Obviously, you're going to answer the door. It's Tig Notro, a/k/a the best.
Orphan Black, premieres April 18 on BBC. Clones, clones, all types of clones. Hippy, soccer mom, assassin, bookish clones. The apparently inexhaustible Tatiana Maslany is back for a third season of her acting showcase.
Inside Amy Schumer, premieres April 21 on Comedy Central. There will be jokes about genitals!
Happyish, premieres April 26 on HBO. Steve Coogan stepped into the dearly departed shoes of Philip Seymour Hoffman for this new show from author Shalom Auslander, costarring the great Kathryn Hahn.
The Casual Vacancy, premieres April 29 on HBO. J. K. Rowling's first major post-Potter novel gets the adaptation treatment in this joint venture between HBO and the BBC, the Gryffindor and Hufflepuff of broadcasting, respectively.

Dina Gachman – Brokenomics: 50 Ways to Live the Dream on a Dime, out on March 24. Because creative people need creative ways to stretch a dollar.
Jo Nesbo – Blood on the Snow, out on April 7. The latest from the international thriller novelist concerns a contract killer in Oslo.
Lisa Genova – Inside the O'Briens, out on April 7. Like her novel Still Alice before it, Genova's latest concerns a family dealing with a degenerative ailment, only this time it's a father and Huntington's disease.
Ann Packer – The Children's Crusade, out on April 7. This incisive new novel examines internal strife in a California family over the course of five decades.
J. K. Rowling – Very Good Lives, out on April 14. Rowling is here to teach you what you can learn from failure, which is probably why this book is literally only 80 tiny pages long.
Jon Krakauer – Missoula, out on April 21. One of our foremost nonfiction writers investigates the shady dealing at the University of Montana during its recent rape scandal.
Toni Morrison – God Help the Child, out on April 21. The latest from the Nobel Prize-winning author is her first novel set in the present day, and it concerns the long shadows cast by what happens during childhood.
Kate Bolick – Spinster, out on April 21. The long-awaited companion to Bolick's lauded "All The Single Ladies" piece in The Atlantic finally arrives.
Oliver Sacks – On the Move: A Life, out on April 28. The social scientist, who recently revealed he has terminal cancer, writes his memoirs.
Jane Smiley – Early Warning: A Novel, out on April 28. The Pulitzer Prize-winning novelist offers a midcentury tale of one family in Iowa.
Karl Ove Knausgaard – My Struggle: Book 3, out on April 28. Your struggle to contain yourself until the concluding volume of Knausgaard's comedically comprehensive trilogy is over.
Ian McEwan – The Children Act, out on April 28. The master storyteller's latest concerns a High Court judge experiencing a rift in her decades-long marriage.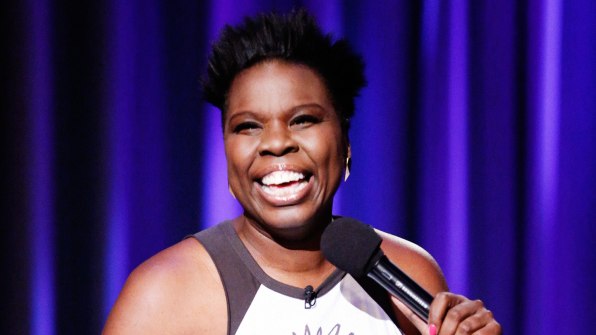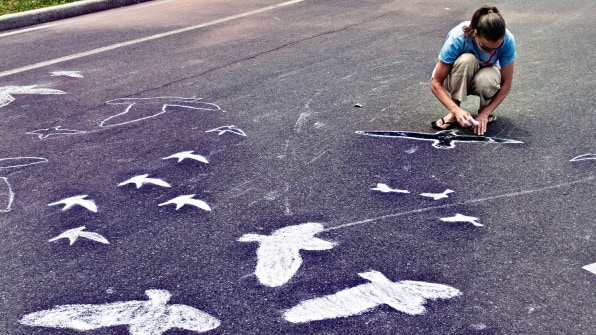 Hug a Newsman Day, April 4. Start with Brian Williams! He is both pro-hug and in need.

Draw a Picture of a Bird Day, April 8. They say bird drawings are the windows to the soul.

Hairstyle Appreciation Day, April 30. There will literally never be a better time for you to get a risky haircut. Nobody can tell you you don't look amazing! Carpe diem with your follicles!