I've never seen a CEO so eager to do manual labor as Randy Nicolau, chief executive of Poppin. Tall and barrel-chested, with close-cut salt-and-pepper hair, Nicolau jumps to action at the sight of a dismantled Poppin desk lying in pieces on the floor.
"Want to do an assembly real quick?" he asks Jeff Miller, vice president of design. "We'll show you how it works."
We're standing in a makeshift photography studio at Poppin's Manhattan headquarters; to the left, camera flashes bounce off an infinity wall. Miller holds a set of desk legs upright while Nicolau slides two metal poles into holes at the top of the frame. They lock the "clever levers" designed to hold the poles in place–patent-pending–before sliding another set of desk legs onto the poles' opposite ends. Then Miller sets down the first tabletop, and Nicolau places the second. In a matter of minutes, they've put together a double-desk that would look at home in any modern office.
The desk, part of a debut furniture collection launching today, is a far cry from the copycat silk blouses that founding investor J. Christopher Burch was shilling at C. Wonder, the women's apparel and accessories company that he founded shortly after Poppin. Burch, a serial retail entrepreneur, previously provided wife Tory Burch with the capital to start her eponymous women's apparel and accessories company, today valued at over $3.25 billion. After they divorced, Burch sold his stake in Tory Burch LLC and rapidly launched C. Wonder stores across the country, filling them with dresses, handbags, and shoes remarkably akin to ex-wife Tory's Palm Beach-meets-Park Avenue aesthetic. Critics pounced, calling the brand "revenge retail," and shoppers never materialized. C. Wonder closed its doors in January. "I'd just rather not talk about it anymore," Burch told The New York Times. Will Burch succeed in office furniture where he failed in women's clothing?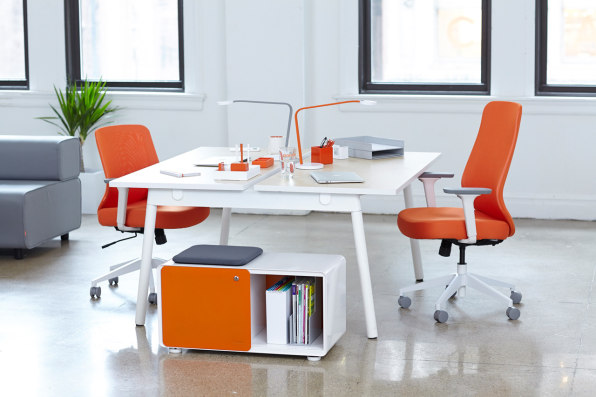 Poppin was founded in 2009 with the goal of providing affordable, high-quality, easy-to-ship office products. Companies today want to both create productive, convivial work environments and nimbly adapt to changing priorities, Nicolau says, and Poppin's founders saw an e-commerce opportunity in serving those dual, and sometimes conflicting, needs. At first, Poppin designed and manufactured color-happy desk accessories–notebooks, rulers, staplers, and more–all available in the startup's signature rainbow palette. Fashion bloggers cooed their approval; retailers like the Container Store made room for Poppin on their shelves; and corporate customers like LinkedIn began presenting new employees with a welcome pack of Poppin products in branded blue-and-white, according to Nicolau. In a world where corporate managers increasingly recognize the role of design–witness Fast Company's very own March Madness-themed office throwdown–Poppin had struck a chord.
"The supplies that they offer, even the ones as simple as the stapler, fit into the culture that we have," says Adrian Rodriguez, the office manager for OpenDNS, a San Francisco-based startup that leases space in a converted warehouse, complete with views of graffiti just outside the oversize windows. Rodriguez installed 10 of Poppin's orange filing cabinets soon after he joined the company in 2013, and has recently started buying custom desk accessories for new hires. "I wanted something fun and a little funky," he says. "Everyone comments that the file cabinets cheer us up and give [the office] some personality. I think we actually bought out all of their orange."
When those vibrantly hued filing cabinets became a bona fide hit–at $229, they're Poppin's top-selling product, in terms of total dollars–Nicolau was emboldened. Furniture, always a part of the startup's original vision, found its way onto the product roadmap.
"You have to sell a lot of $2 erasers to equal a $3,000 conference room table. It's the big opportunity area for us," he says. Last August the company raised an additional $17 million from Burch Creative Capital, First Round Capital, and three additional investors, bringing its total funding to $34.1 million, and began preparing to remake itself into a vertically integrated, one-stop shop for growing offices. "The furniture launch now becomes the tentpole for Poppin, because the furniture is the foundation of any office. The other accessories and decorative items play a supporting role."
That foundation will take center stage today, as the company debuts its furniture collection. Pieces include a roller chair for $289, an LED desk lamp for $129, and modular configurations of desks and lounge sofas that won't break the bank. It's a step up from Ikea and a step down from Knoll for companies interested in the convenience of speedy delivery and easy assembly.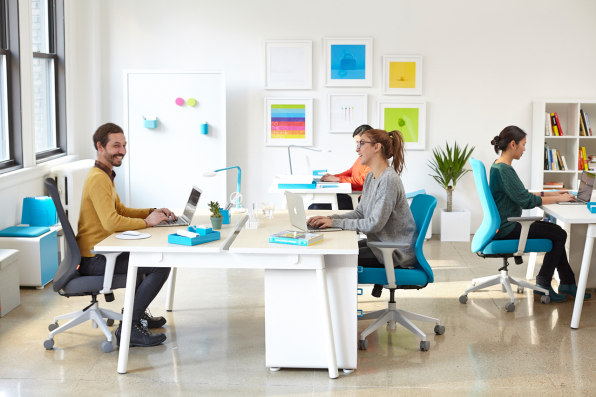 "We've been educated by all of the other products, and now we can have the furniture make the whole story," says Miller, an industrial designer who previously worked for clients including Herman Miller and Itoki, the Japanese furniture maker.
Small details reveal the care that Miller has taken in his study of contemporary work habits. That LED lamp, for example, contains a USB port for easy phone recharging. Folding chairs are 1 inch thick for compact storage. And the backrests on the lounge sofas are firm on top and pillowlike on their sides, so that perching for a quick conversation is as comfortable as leaning back with a laptop.
Perhaps most important, from a business perspective: The designs are all modular, positioning Poppin to grow alongside its customers and more easily manage its inventories.
"The unique thing about our business is that it behaves very much like a subscription business," Nicolau says. "Once you start using our notebooks and our pens—the average B2B customer buys from us six times a year." Adjust those numbers for furniture, with its lower-order frequencies but higher-price points, and Nicolau expects the company to be profitable in 2016.
There are still hurdles for Poppin to overcome. Some customers may be hesitant to buy their furniture online, without visiting a showroom. Noncreative industries may never warm to the company's candy-pop aesthetic. And as startups grow up, they may migrate upmarket or source custom solutions.
But Nicolau is confident that macroshifts in work culture will carry Poppin forward on the wave of success. "Our mission is to enable companies to create modern, inspiring offices that allow people to work in the way that want to work," he says. By the time Poppin is done, he says, those customers will be able to "outfit an office for 20 or 200 people with just a couple clicks."