On a recent weekday morning, Lauren Zalaznick was sitting at a table at the Tower Bar in West Hollywood staring intently at her smartphone. She wasn't checking email; she was digging for news for her weekly e-newsletter, the LZ Sunday Paper, a newsletter for and about women making waves in business and entertainment.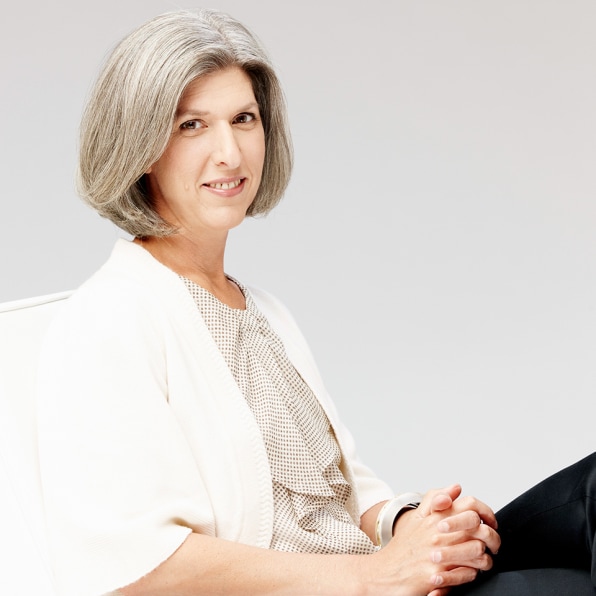 The deeply influential former NBCUniversal executive–the force behind such cultural game-changers as Project Runway and Top Chef–has been publishing the LZ Sunday Paper for a year now, joining the ranks of people like Jason Hirschhorn, who created the popular REDEF e-brief about all things tech and media; and Danielle Weisberg and Carly Zakin, the women behind the sassily bundled news digest TheSkimm. Unlike these entrepreneurs, however, Zalaznick does not see the LZ Sunday Paper as a business. Even as the newsletter, which was initially just sent to friends and colleagues, has grown into "many thousands" of subscribers, Zalaznick says it remains very much a hobby. Granted, it's a hobby that takes up most of her waking hours.
Since leaving NBCUniversal in 2013–where she dramatically refashioned Bravo into a hit-generating network and cultural touchstone for young, hip viewers, and later oversaw the conglomerate's digital strategy–Zalaznick has filled up her calendar with board seats (Shazam, Penguin-Random House) and advisory gigs (Refinery29, Greycroft Partners). But she spends most of her time sitting at her home office in Manhattan, sifting through the Internet.
"It is just me at my desk, crazily pulling links into this big email repository every week," says Zalaznick, who's dressed in a stylishly low-key black top and pants. "All week long, I'm literally emailing things to myself as I see them. Or I have tons of things ripped out of newspapers and magazines in a folder that then I go and find the link to and send it to myself. But literally, they're, like, ripped . . . things." She rolls her eyes. "It's silly."
The method behind the LZ Sunday Paper may be antiquated, or at least rudimentary–she openly complains about her frustrations with the email service MailChimp–but its purpose is, like Zalaznick herself, a bit headier. A lifelong student-slash-specialist-slash-advocate of women's issues and how they get played out across the culture, the newsletter advertises itself as "Some of the Most Important News About Women." This means stories like the Kleiner Perkins sexism case, the tech world's gender imbalance, and a Slate profile of "feminist icon" Leslie Gore. Because the newsletter is published only once a week, Zalaznick doesn't look to break the news. Instead, she looks for stories about those subjects that have, she says, "the most impact, cultural impact, personal impact, context, different points of view on the same subject." (Not that there aren't the occasional calorie-free snackable items, like a Mashable item about Kim Kardashian going blonde and "Completing [Her] Transformation Into Harry Potter Wizard.")
You could call it required reading for a joint feminism and media studies major. Or you could call it a syllabus that successfully mixed high- and low-brow material, as well as more- and less-established outlets, in an effort to paint an accurate portrait of where things stand today for one-half of the population. Though if that makes it all sound in any way dry or didactic, be reminded that Zalaznick as a curator is anything but. The newsletter carries the heavy imprint of her trademark deadpan wit and whimsy–this is a person who frequently caps off words with an authoritative-sounding "ish," and who, after expressing her meh feelings about 50 Shades of Grey, writes that she will "continue to analyze my lack of interest and focus on all things grey that I do enjoy. My hair. My brain cells. Most of my clothes."
Interestingly, Zalaznick confesses to hating writing the personal, often humorous, observations that appear in the blog post that precedes the links. "I don't like writing the top at all," she says plainly. "I don't like writing the blog post at all. It is really unfun for me. It's super unfun. I feel like I don't have to do it, and then when I don't do it, or I do it less, people say, 'Oh, well that's the only thing I want to read, anyway!'"
The idea of a former high-profile entertainment executive and movie producer (before going corporate she produced Kids and Girls Town) suddenly dedicating herself to self-publishing a weekly email blast just for the hell of it may seem surprising, but in many ways the LZ Sunday Paper is an extension of what Zalaznick has been doing her whole life.
At Bravo, she brought a high-brow touch to the low-brow reality genre with shows like Project Runway and Top Chef. And this is hardly her first exercise in cataloguing the world as a way to make sense of it, all the while keeping a watchful eye on gender representation. There was the year she spent tracking the New York Times's obituary pages, entering the names of the deceased, their profession, age, cause of death, and gender, into an Excel spreadsheet. "I had a theory that apparently even though science said it was always approximately 50% male, 50% female, that for some reason only men were dying, according to The New York Times," she jokes. "And the only women who died were flappers from the twenties and wives of famous people and Princess Diana. That's the only people who died that year, according to the Times."
The next year, she did a similar study on the Times's Op-Ed pages, discovering that "there was not a single humor piece by a woman–obviously, because women aren't funny," she says dryly. Zalaznick being Zalaznick, none of these tasks were taken lightly. When she traveled out of the country, she would have her mom save a copy of the paper for her, worrying that the international edition of the Times would have copy from the day before and that it would "throw off my stats."
Next up was The New York Times Magazine–whose cover she graced in 2008–which she examined to find out many cover stories were by and about women (she was one of the few). "That was easy," she says. "It was only 52 weeks. It was a part-time job."
The real origins, though, for the LZ Sunday Paper can be traced back to NBCUniversal, where, as chair of Entertainment & Digital Networks, she oversaw Bravo, Oxygen, Style, and Telemundo, as well as the digital properties DailyCandy and Fandango. To better understand female viewers who were increasingly distracted by smartphones and tablets and nonlinear entertainment options, and who "were gonna fall out of orbit if we kept saying, 'Watch this thing on this night at this time,'" Zalaznick helped start a newsletter. Called Women at NBCU, it was for anyone at the company "who touched women's content," as well as advertisers, vendors, and producers.
"It was a small list," she says. "You knew every single person on it. And it was meant to highlight one amazing research study we did. So it would link to the amazing research and have a few things about it that were easy nuggets of information about that one thing. Women and their relationship to cars and the Detroit advertising market and what that meant. That was a newsletter topic. A digital version would be women in relation to this new thing that's emerging called e-commerce. What's that? And then there'd be a thing about how women use their devices for e-commerce. It was a range of interesting things about a topic.
"When I left, I really was intrigued still, was very committed to doing a little more observation and a little more communication about women in business. Pure and simple. It was a goal."

In a way, the LZ Sunday Paper has been Zalaznick's own graduate course. Not just in the warp-speed, digital news age, where to publish a newsletter once a week feels "ridiculous," she says, only half-joking. ("This is like 10 years ago when magazines were like, 'No, no, we're saving that for the cover.' Oh. OK. Well, that's still me. I'm waiting 'til Sunday.") It's a forced study of the subtle and not-so-subtle inflections in how things are evolving both on the page and on the screen for women in this warp-speed age.
And how are they evolving? She points to male reporters at PandoDaily–which was founded by a woman, Sarah Lacy–who are writing important stories about sexual discrimination in Silicon Valley. And she calls a recent New York Times A-1 that featured above-the-fold stories by and about women, along with a female-focused cover photo, "a win" as well as "an interesting moment in time."
That finding women above the fold constitutes a "moment in time" suggests there's still much work to be done. But the free-for-all nature of today's news environment, where blogs are as avidly read as The New York Times, provides some hope. Discussing the recent racist incident at an Oklahoma fraternity, which first became known via a Twitter video, she says: "Those stories are real stories. They're 100% true, and they're getting surfaced in ways that I think, on balance, are better for the whole culture. Publishing the Pentagon Papers created a lot of problems–it's Edward Snowden 50 years later–but in theory that's what you're supposed to do."
Zalaznick has no pretensions about her newsletter and how it figures into the larger media landscape–at one point she refers to it as "this teeny, one little thing"–but it's clear that right now, or at least this Sunday, it's what she feels she's meant to do.