Inspiration often comes from the unlikeliest of places. For me and my team, it came from former world champion boxer Paul "The Ultimate" Vaden.
I began training with Vaden long before I founded my company. As a boxing fan, I knew of his impressive accomplishments: a 23-year boxing career with 29 wins, three losses, 16 knockouts, three international titles, his induction into the California Boxing Hall of Fame, and a world champion title in 1995. After he retired his gloves, Vaden went on to develop a transformative training and mentorship program that helped me become a more thoughtful leader and a stronger CEO. I wanted to be able to share that experience with my team, so last year Vaden became a regular at our office.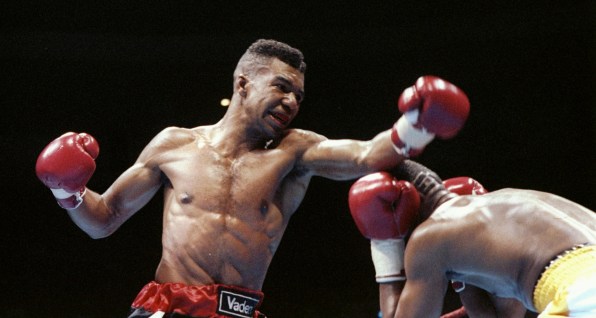 It isn't uncommon for companies to bring in outside business consultants or life coaches to take their organizations to the next level. Zappos has a life coach on staff, and Auction Systems has benefited from an in-house life coach for six years. Richard Branson once said that mentorship is what distinguishes a promising businessperson from a successful one, and after having Vaden around the office, I can attest to that.
He's brought the perspective and mental strategies of a world-class athlete into our company, and we're so much better for it. Here are just a few of the valuable business and leadership lessons Vaden has taught us:
Vaden has always been incredibly open with our team about his personal struggles. He's a boxing world champion, but he lost his first fight. And when his opponent Stephan Johnson was gravely injured during their fight for the United States Boxing Association junior middleweight title, Vaden battled intense guilt and depression for years after.
He's since found ways to cope with those emotions and channel his energy into positive pursuits, but according to Vaden, the sooner we can open up about our struggles, fears, or uncertainties, the sooner we can focus on the things that really matter.
You don't become a three-time champion by taking the easy way out. In boxing, there are no magic shortcuts. It takes real grit to go to the gym every day and keep pushing to succeed despite sore muscles, injuries, and losses. The same is true of business. While it can be tempting to look for quick fixes, Vaden says, "The weight of achievement is measured in hours, days, even years of preparation."
It's easy to get locked into work mode and develop tunnel vision, but having a mentor who is separate from the business can offer a fresh perspective, challenge you, and give you a much-needed break from day-to-day tasks.
Once a month, our different departments train with Vaden in the ring to get fit and gain the type of mental toughness you can only get from boxing. Vaden's championship mind-set and "friend to all" approach have inspired employees at every level and given our company a serious edge.
Vaden is an expert at instilling the art of being exceptional. He regularly discusses his dreams to remind us of the importance of pursuing those goals that seem far away.
In business, it's easy to get so focused on this week's meeting or project that we forget to make time for our bigger dreams. But according to Vaden, "Life should have that 'Thriller' sound, that Disney feel, that Ali determination."
Vaden credits his success as a boxer to hard work and determination. In his book, Answer the Bell, Vaden talks about how scared he was to fight men twice his age when he became a senior boxer at age 16.
"There are moments in your life when challenges beat you down and you have a minute to make a decision," he says. "Answering the bell is getting up in the face of life's challenges when that bell rings… Once you relent, you become like everyone else."
To achieve excellence, you can't circumvent challenges or "hide behind your gloves" to avoid failure. You have to meet obstacles head on to achieve your goals.
While getting business advice from a retired boxing champion may seem unorthodox, sometimes the unlikeliest of allies can make the biggest impact. Having Vaden around has truly transformed our culture and provided unparalleled motivation to our team.
My advice is that you seek mentorship outside of your industry to get a fresh perspective on your greatest challenges, learn new strategies, and reignite the passion you need to take your company to the next level.
—Jason Kulpa is the CEO of Underground Elephant, one of the fastest-growing performance-based providers of online marketing technology and customer acquisition solutions. He is a member of the Young Entrepreneur Council (YEC), an invite-only organization comprised of the world's most promising young entrepreneurs.